Nowadays, all documentation of products has shifted to a digital form. Among the most popular ways of documentation, PDFs are the most popular. With a PDF format file, you can keep the information and data safe and secure.
That's why many audiences utilize PDF files to share and seek information all around the globe. Since the PDF trend became popular, companies have launched uncountable PDF software. Among them, UPDF's efficiency and functionality are remarkable.
Prime Features of UPDF Desktop Version
UPDF is a unique PDF editor available across all platforms, including macOS, Windows, iOS, Android, etc. In this section, we'll enlighten you with the key features of UPDF's desktop version. On top of it, the best part is that all these features are available at an affordable price. Amazing, right? Let's get straight into it. Also, we'll announce good news, so stick to the very end of the article.
Editing Text and Image in PDF
Not only does it have a stunning and appealing user interface, but it also advances editing functionality. By using UPDF, you can effortlessly edit text and images in PDF. You can select a text and change its appearance by altering its color, size, style, and more. It is effortless to add text via a textbox and comments.
In addition, you can add, replace, and extract an image of an existing PDF. UPDF also allows you to crop, rotate, and delete images.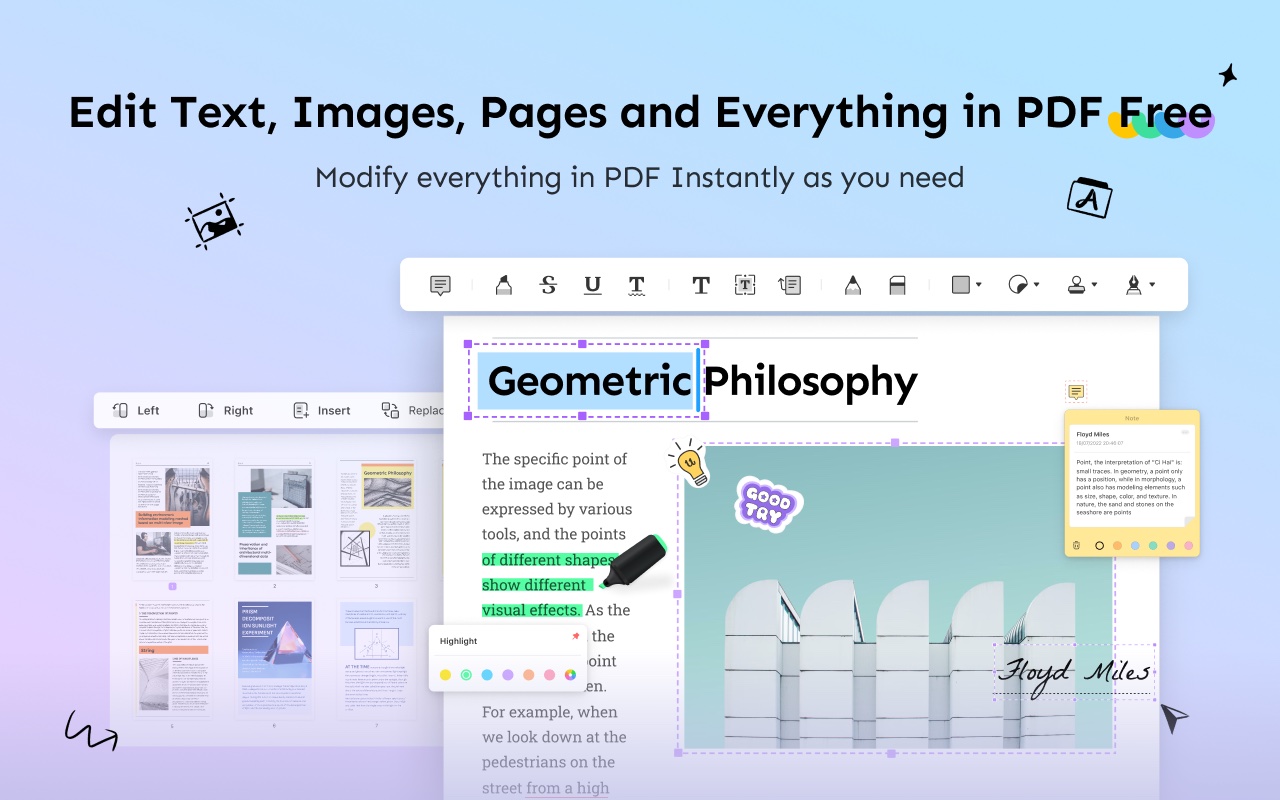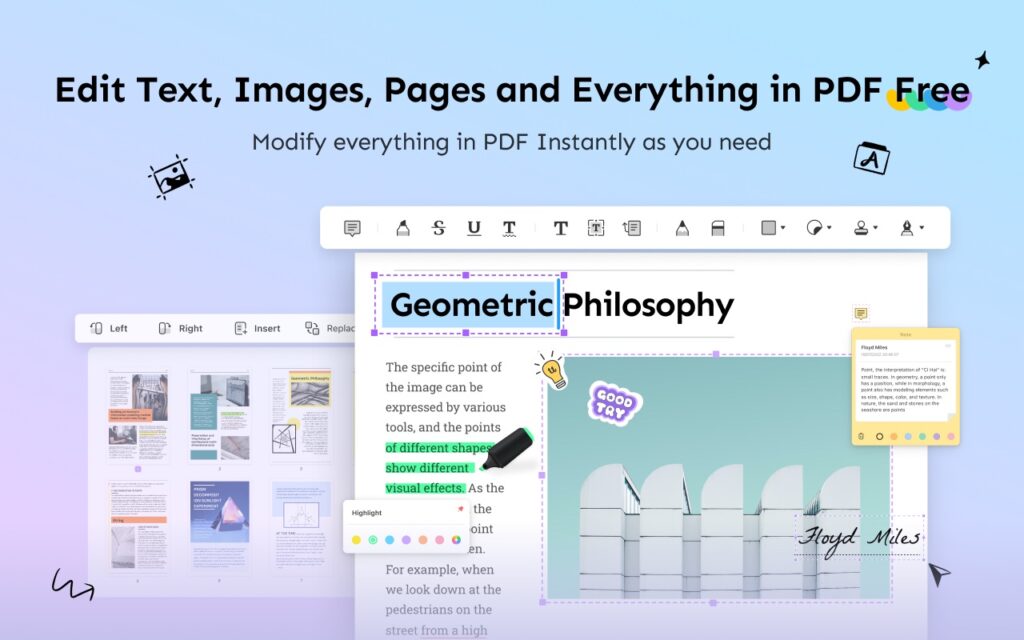 Convert PDF to Other Formats
Most software allows you to convert PDF into other formats online or with expensive payments. That's not the case with UPDF. Whether you want convert PDF with OCR or other formats like .docx, .ppt, .png, etc., UPDF can offer you all offline at very low cost. You can also use OCR (Optical Character Recognition) to convert scanned PDF to editable PDF by recognizing over 15 languages. On top of it, you can even convert your PDF file as PDF/A.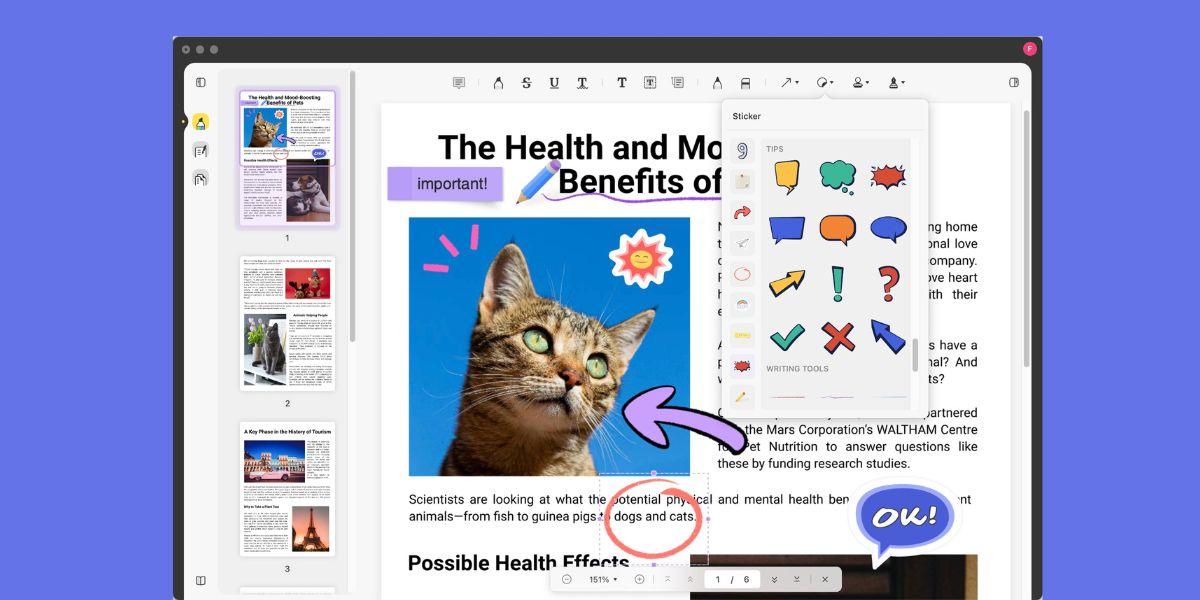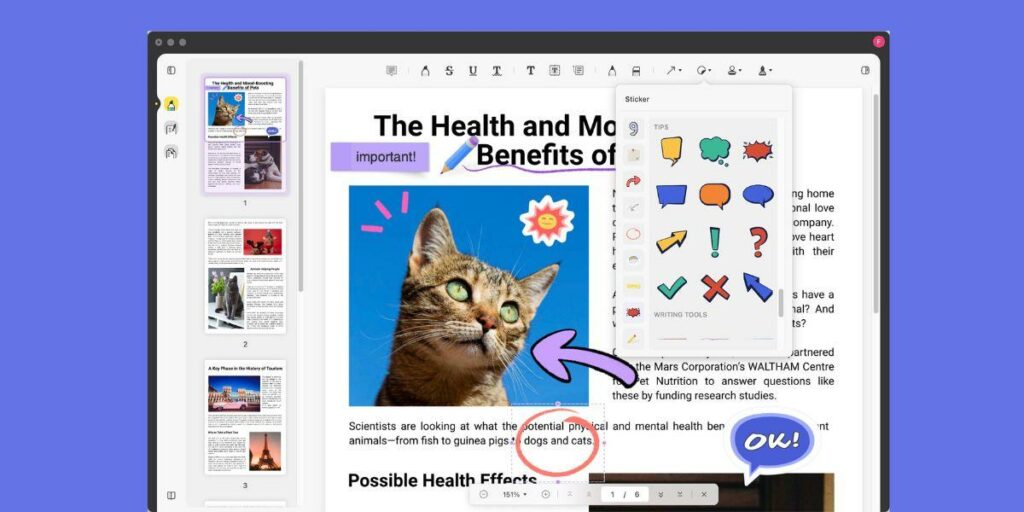 Annotate PDF
Annotation is a crucial part of close reading, where you require total concentration. With UPDF, you can highlight, underline, and even strikethrough the text. It also allows you to add various stamps and stickers to the PDF. If you want to add some comments to the PDF, you can do via textbox, sticky notes, callouts, shapes, etc. Also, you design your own patterns by drawing on your PDF.
Page Management
Page Management enables you to organize your PDF files efficiently. With UPDF, you can rearrange pages in PDF. You can insert, replace, extract, rotate, and remove pages. You can also create multiple files from a single PDF by using the Split PDF option and even rearrange pages in PDF. Including that, you can even put a range on your documents.
Share PDF
You can share your PDF in two ways. Either you can convert PDF to link and share it on platforms, or you can share it via email.
Prime Features of UPDF iOS and Android
Here are some key features of UPDF that are mainly present in iOS. However, UPDF is making an effort to upgrade the Android version too.
Scan to PDF
You can scan and create PDFs in two ways with UPDF iOS App. The first way includes taking photos from your gallery and creating a PDF by scanning them. The second way is by taking real-time photos on the spot. The AI technology automatically identifies the relevant object of the picture and crops the rest. Next, you can add more files to the PDF and even replace or delete some pages.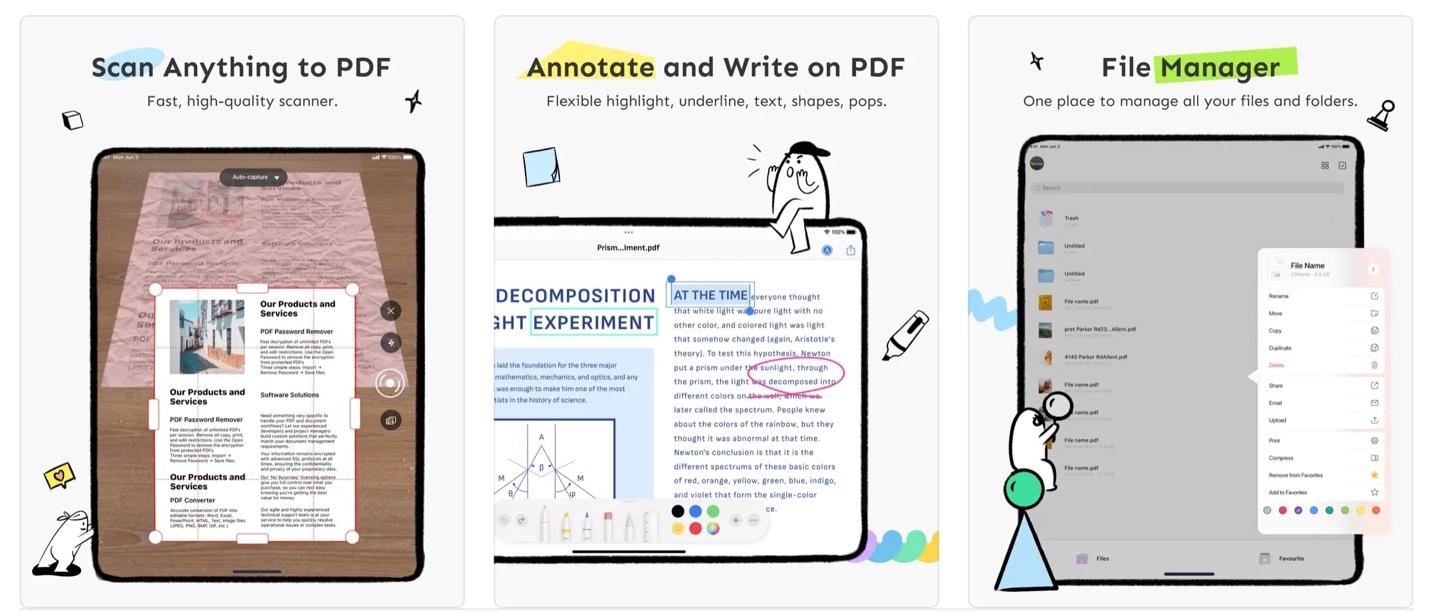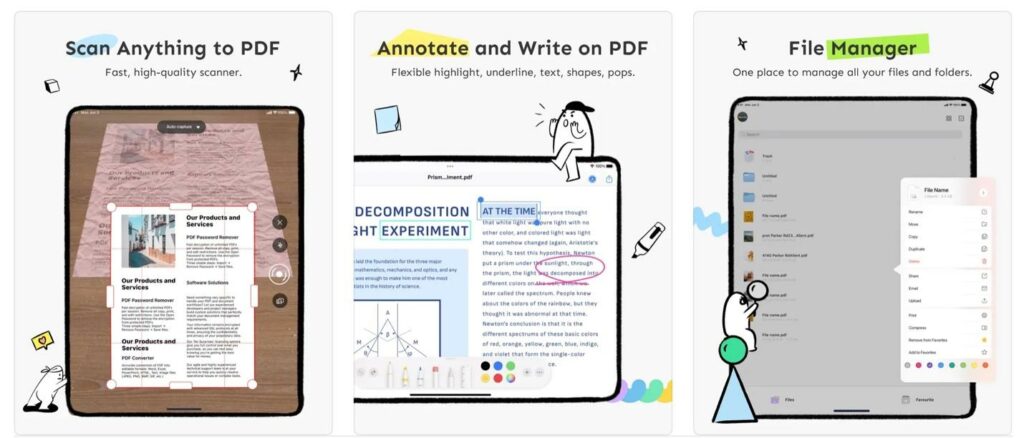 Sign on the Go
UPDF for iOS allows you to perform an e-signature. You can add signature to your PDF files by typing them or performing a signature in your own handwriting.
View Various Format Files on Your Phone
UPDF is a versatile application for your phone. It can view PDF files and read files in other formats like .xlms, .ppt, .docx, video, audio, etc.
Create PDF
UPDF allows you to create a PDF on your iOS device with a slight touch. However, you'll need to select a background first. There are over five background options; choose what suits the content the best. It can even be a blank or grided background; it's totally up to you. After creating one, you can take your creativity to a new level by editing, annotating, and more.
Compress Files to Zip
Traditional PDF files tend to occupy huge space on your phone. UPDF has solution to your problem. With UPDF, you can compress multiple PDF files into a single zip file. The zip file will only be equal to several thousand KBs. However, the original PDF format may occupy thousands of MBs. Also, you can extract the documents from the zip file anytime, anywhere.
Perks of Purchasing UPDF
Here are some benefits that you'll receive by purchasing UPDF:
Affordable Price
UPDF has the most affordable price packages. You can pay it quarterly, annually, or once; it's up to you. The yearly plan is $29.99, while the quarterly and one-time payment is $14.99 and $49.99. The plan is available across all platforms.
Appealing and Convenient Design
UPDF doesn't have a boring interface like other PDF software. The design is stunning and eye-catching. On top of it, it is convenient to use. You wouldn't be bothered with a complex design that is very time-consuming.
Quick and Responsive Service
Maintenance is the prime quality of UPDF. If you ever encounter a problem with UPDF, you can quickly contact them via email, etc. They will respond to you quickly and find a solution to your problem.
Fast and Non-Time Consuming
UPDF doesn't lag even when tons of users are utilizing it. Also, the features increase the efficiency and workability of the software and save you a lot of time.
Giveaway
Here's good news for those who want a chance to get UPDF for free. Invite colleagues or friends to use UPDF, both of you will get 1-month free license. Also, Fossbytes gives all readers exclusive 20% off UPDF Pro with all features at no limits.
Conclusion
Summing up, after reading this article, you might have a clear-cut view of the functionality of UPDF and how you can use it to your benefit. It also allows you to add an open password to your file or open password-protected PDF, and convert scanned PDF to editable PDF.