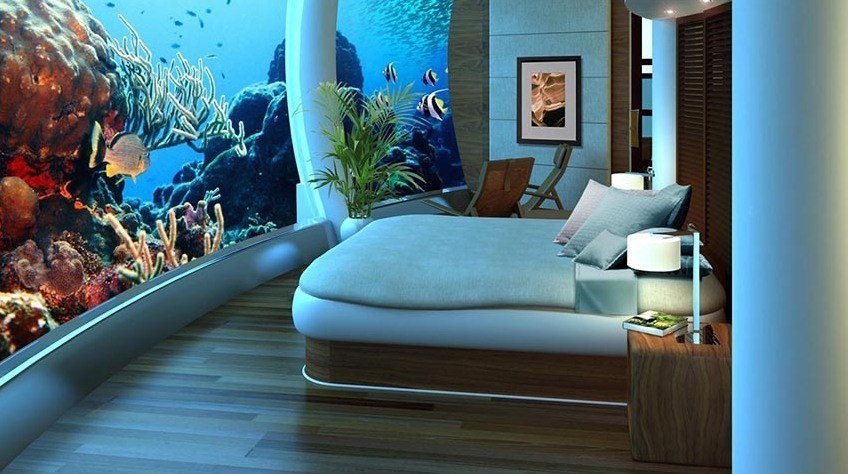 Due to global warming and other climatic changes, our sea-shores aren't much safe. Thinking about the same and adding some fun element, an American construction company is busy making underwater houses.
This company named U.S. Submarine Structures is working on undersea projects which include residential and commercial buildings. They are making an underwater resort named Poseidon in Fiji. POSEIDON (puh-SYE-dun or poh-SYE-dun; Roman name Neptune) was the god of the sea, earthquakes and horses.
See Also : IBM Working on Sunflower-Shaped Dishes to Generate Electricity and Drinking Water
Due to the overwhelming response of the people they are now searching a location for their second resort i.e. Poseidon II. According to their official blog, to date over 150,000 people have already registered to be notified when they will start taking reservations. The Fiji Resort, Poseidon will take 7,200 reservations per year.
The project is still incomplete and people are ready to pay a weekly sum of $14,000 for the stay in resort.
Apart from this commercial usage, they are also building underwater houses for residential purposes. According to their website, the residential version known as H2OME is available for booking and people are showing interest in it. It is spread over an area of about 3,600-square-foot round house and will be in water as deep as 60 feet.
See Also : NASA Buliding the Most Powerful Rocket to Date, SLS will Take Humans to Mars
Company is betting on the curiosity of the people and beauty of the sea. They plan to provide numerous services like a 1,000-foot luxury submersible, scuba diving in pristine waters, marine-focused spa treatments and meditation, dining establishments, along with a library, theater and conference room or wedding chapel. They also aim to provide fitness amenities in the form of a nine-hole executive golf course, tennis courts, private splash pools and a fitness center.
Watch this video for a virtual tour :
Source : poseidonresorts.com
Excited to see this? Tell your views in comments!