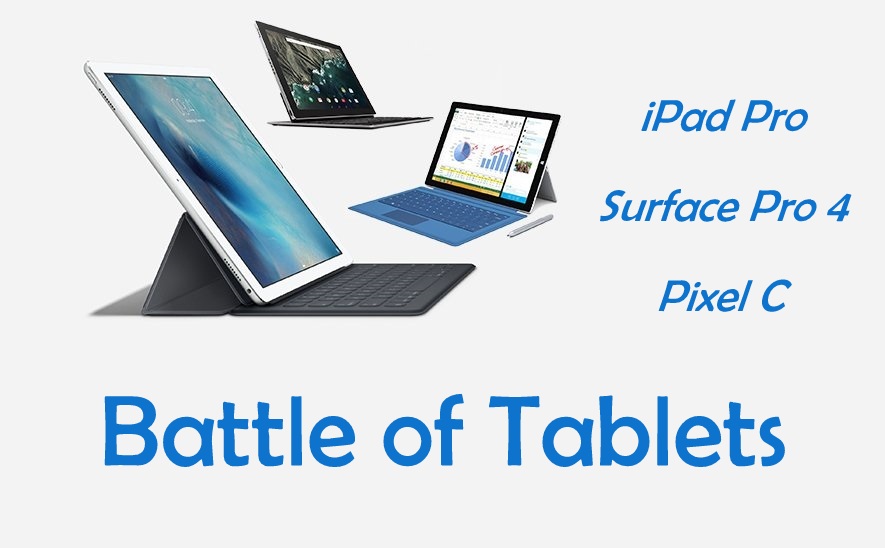 Short Bytes: All big companies are battling each other to become winners in the race of the ultimate hybrid tablet. Taking inspiration from Microsoft Surface tablet, Apple and Google have revealed their new products. Let's take a look at this ultimate battle: Apple iPad Pro vs Microsoft Surface Pro 4 vs Google Pixel C.
E
very big company seems to be betting on the huge tablet/laptop convertible for the future of personal computing. Whether we look at the newest offering from Apple, Microsoft or Google, what we see is a big tablet, by big I mean bigger than the 10-inch standard 'large' tablet size, with a keyboard accessory that can be bought separately. Now it's a tablet, now it's not! The magic trick is getting a bit old now but only now have the devices reached the kind of polish that can make consumers ditch their real laptop notebooks and buy a hybrid one.
Before we begin, one thing I don't understand here is that if you are pitching a device as a laptop/tablet hybrid then at least ship the keyboard in the package; instead we get an 'optional' keyboard accessory at a price of around 150 bucks. So very uncool!!
With that out of the way let us compare the 'surfaces' from the biggest tech companies and find out which one is the best buy.
Also Read: Microsoft Surface Book Vs. Apple MacBook Pro – Which is the Ultimate Laptop?
Let us first take an overview of the three devices:
Apple iPad Pro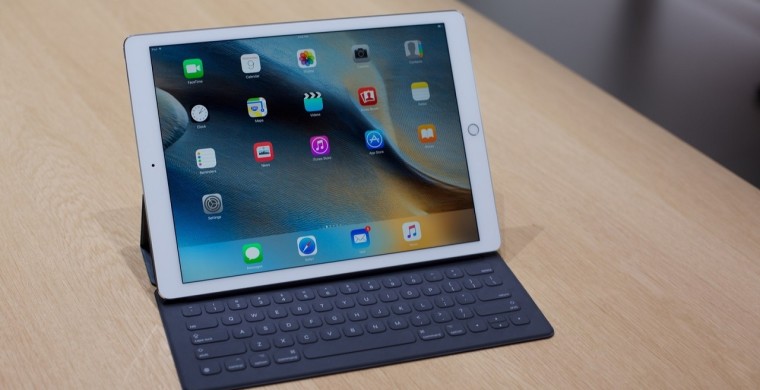 12.9″ Retina Display (2732×2048 resolution ~ 264ppi)
Apple A9X processor
8 MP iSight camera at the back
1.2 MP FaceTime/Selfie camera
Touch ID fingerprint technology
iOS 9.1
9-10 hour battery life
~ 710 gm
$169 Keyboard accessory
$99 Apple Pencil
$799 for 32GB model
$949 for 128GB model
Microsoft Surface Pro 4: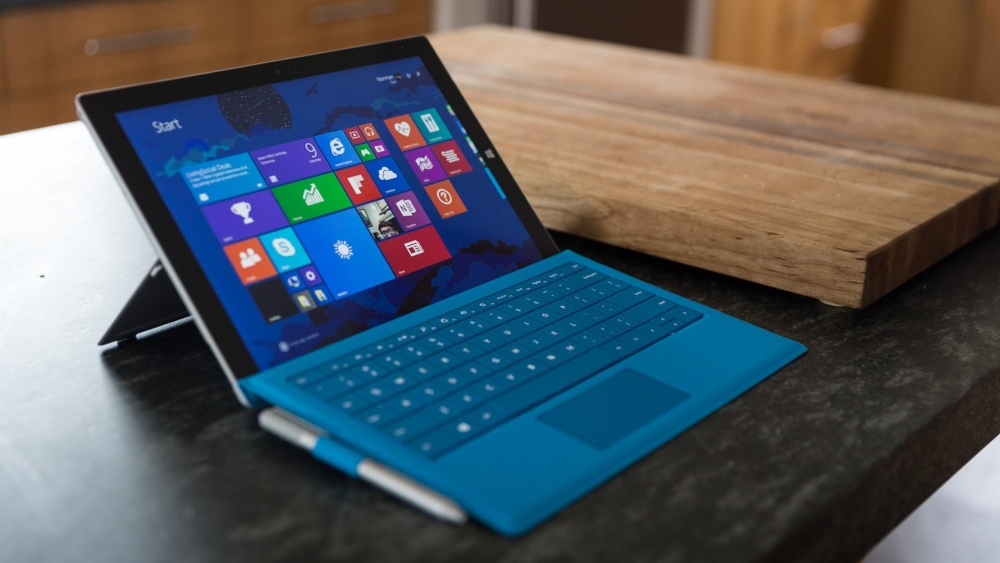 12.3″ PixelSense Display (2736×1824 resolution ~ 267 ppi)
Intel Core m3, i5, i7
8 MP at the back
5 MP on the front
Fingerprint ID built into keyboard accessory
Windows 10
9-hour battery life
~780 grams
$129 for keyboard accessory ($149 for the one with fingerprint reader)
Surface Pen included in package
$899 Core M3, 128 GB SSD, 4GB RAM
$999 Core i5, 128 GB SSD, 4 GB RAM
$1599 Core i7, 128 GB SSD, 4 GB RAM
Google Pixel C: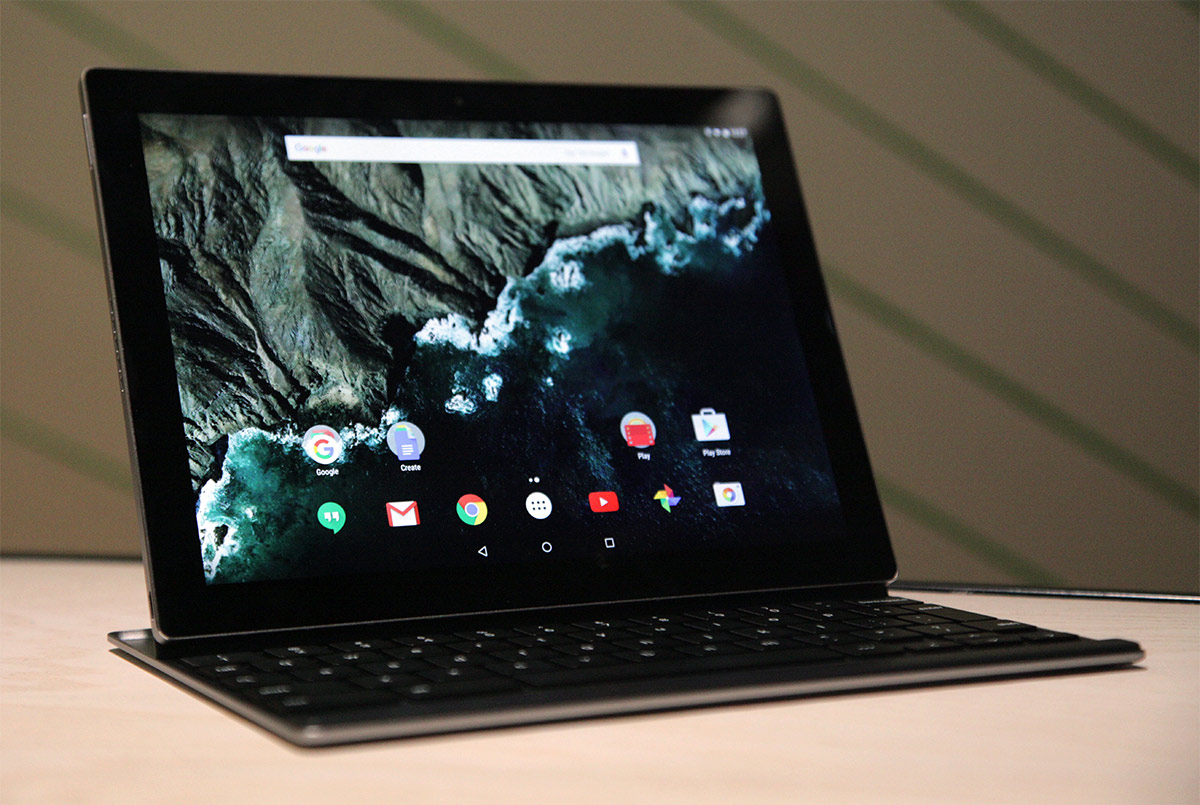 10.2″ Display(2560×1800 resolution ~ 308ppi)
Nvidia Tegra X1
No Info on Cameras or fingerprint reader
Android 6.0 Marshmallow
10-hour battery life
$149 for keyboard accessory
$499 for 32 GB
$599 for 64 GB
The Comparison: Apple iPad Pro vs Microsoft Surface Pro 4 vs Google Pixel C
The devices we have here for comparison are vastly different from each other, probably the only thing common between them is the touchscreen is big and high resolution and all are wannabe laptops.
Google's Pixel C has me least convinced to replace my laptop with it. Android is not yet ready to provide the level of functionality a user desires from a laptop. The keyboard technology that Google has built for it is commendable, but most users would like to use a 10″ tablet as a tablet rather than a laptop. Even with Marshmallow the operating system is not for the laptop format. Also, the hardware is nearly not as powerful as one would like to have on a laptop to get some decent productivity. It is cheaper than the rest but considering that it is more of a tablet and less of a laptop, shelling out $750 for a tablet is not advisable.
iPad Pro and Surface Pro 4 are worthy competitors. Even though it is Apple's first attempt in the convertible market, they learned from the mistakes of their enemies and have built a great device. On the other hand, Surface Pro 4 has seen iterative development over the years and is now at the peak of its growth. Windows phone is no match for iOS but to compete with full Windows 10, Apple knew it had to pull many bunnies out of its hat. Hence, iOS 9. The newest iOS has adapted (read copied windows features) to the needs of the laptop environment by providing multiple apps on screen and app in app functionality. Also, the performance of the new A9X chip is 'desktop class' according to Apple which they proved by editing four streams of 4k videos simultaneously on the new iPad.
Surface Pro 4 is the laptop/tablet hybrid Microsoft had dreamed when it launched the first surface. The keyboard is fantastic, the pen is much better, the OS is a pleasure to use on a touch screen, everything is smooth and slick. It is pretty much the perfect windows device for on the go needs. Be sure to buy the i5 version at least to get decent performance. This will set you back for $1150 because of course you will have to buy the keyboard separately. In comparison, iPad Pro 128 GB model with keyboard and pencil will cost the same. On another note, Microsoft was onstage at the iPad Pro unveiling to say how good the tablet is for using its Office Suite. So if you mostly use Microsoft Office you can't go wrong either way. Also, I am not comparing the main snappers because if the camera on a > 12″ tablet affects your buying decision then I cannot help you.
The Verdict:
So, in the end it all boils down to a clash between Windows desktop vs iOS and I am giving this one to Windows. If any device replaces my laptop it should be able to do everything I did on my laptop exactly the same. This is the most important thing when looking for a replacement, you want the other thing to work the same that your original device did. If I get additional touch screen goodness with it then it is a plus. On the other hand if I get a whole bunch of touch screen goodness and then have to compromise on my laptop productivity; Sorry I am not interested. I will just buy a tablet instead. iOS could be the 'most advanced' mobile operating system but on a notebook I would like a desktop operating system. Had there been OS X when you needed a laptop and iOS in touchscreen mode, Apple would have taken the crown. Perhaps, sometime in the future.
Which do you think is the better laptop/tablet hybrid among the three?
Tell us in the comments section below.
Also Read: Microsoft Surface Book Vs. Apple MacBook Pro – Which is the Ultimate Laptop?