Ugreen is known for its variety of device accessories. From USB Type-C chargers to dongles, hubs, and adapters. Ugreen has carried a selection of USB-C hubs and has now launched the 13-in-1 USB-C Docking Station.
Specifications
As the name suggests, the docking station boasts a broad collection of connectivity features, including 4K and 8K display output. In addition to the connectivity options, the Ugreen docking station flaunts compatibility with both Windows and Mac OS, including the M1-based MacBook models.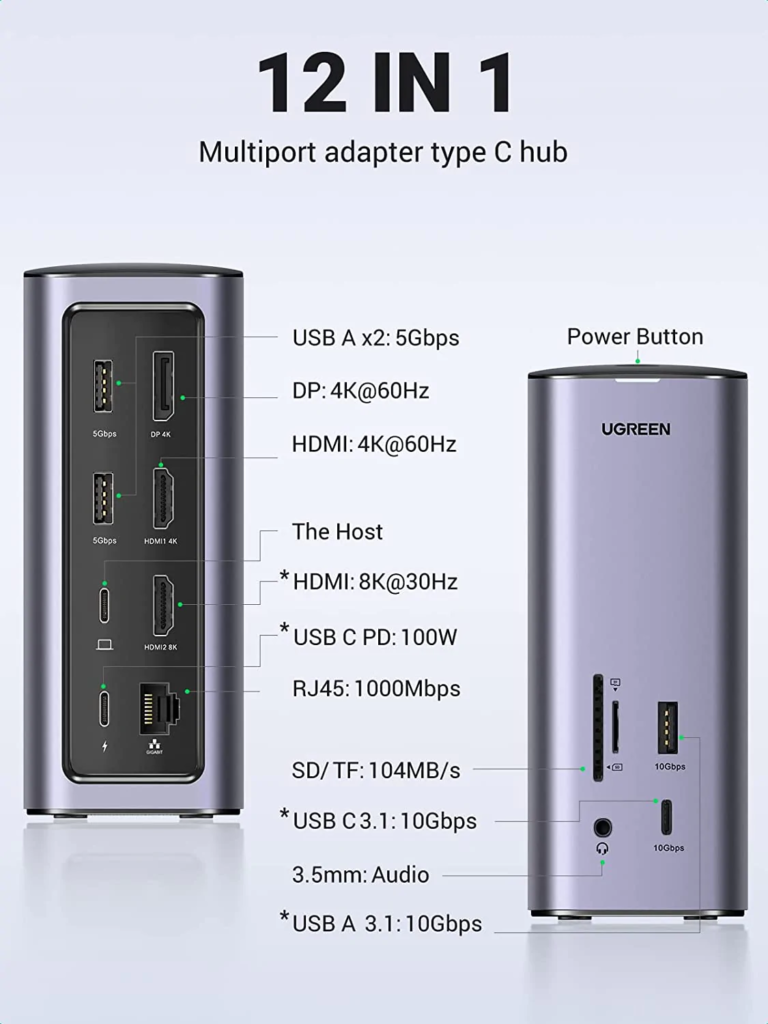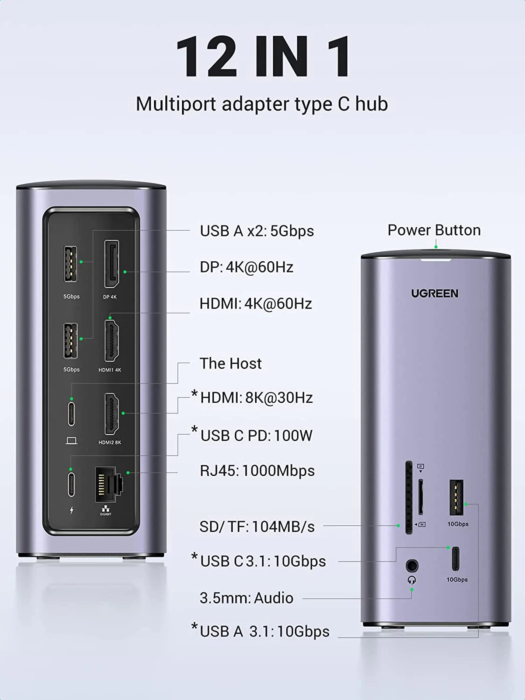 The Ugreen docking station's port roster is as follows:
Front
1x USB 10Gb/s Type-C
1x USB 10Gb/s Type-A
SD/TF Reader 104MB/s*
3.5mm Audio Jack
Power Button
* Unclear if this should be Mb/s or MB/s.
Rear
2x USB 5Gb/s Type-A
1x USB Type-C to Host – Unspecified Speed
USB Type-C PD Power In (100W)
1x HDMI 8K + 1HDMI 4K
DisplayPort 4K
Gigabit Ethernet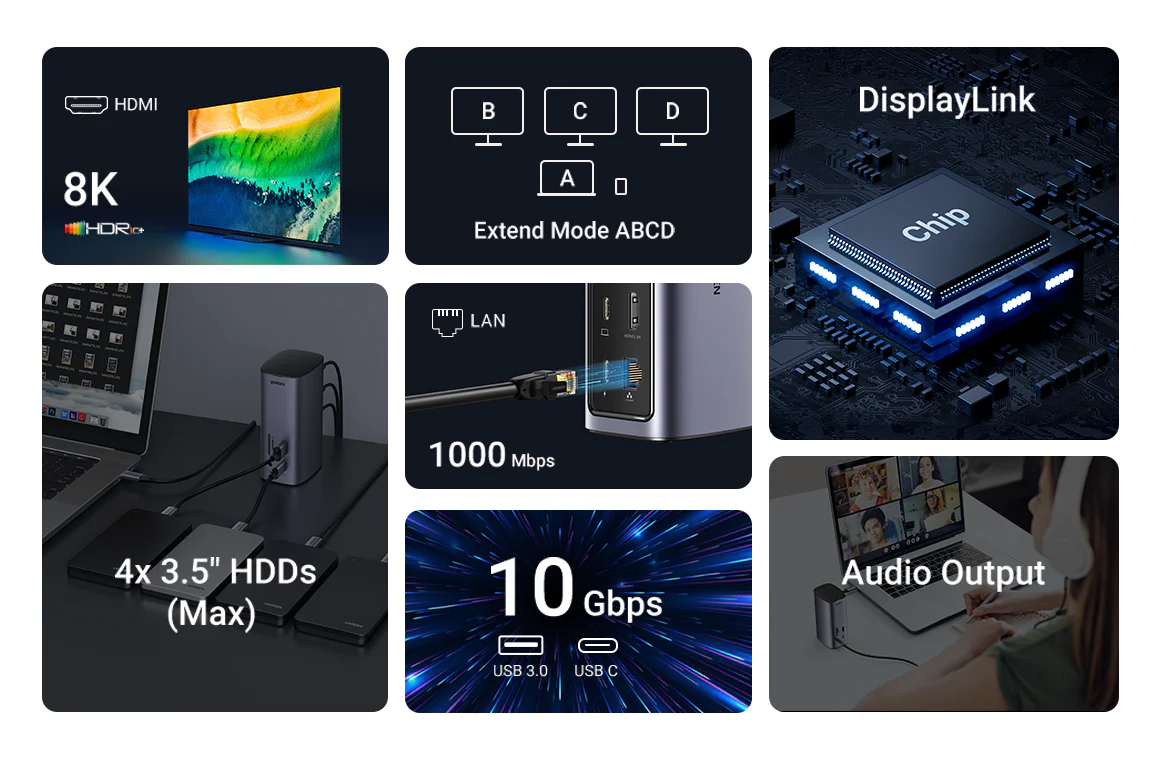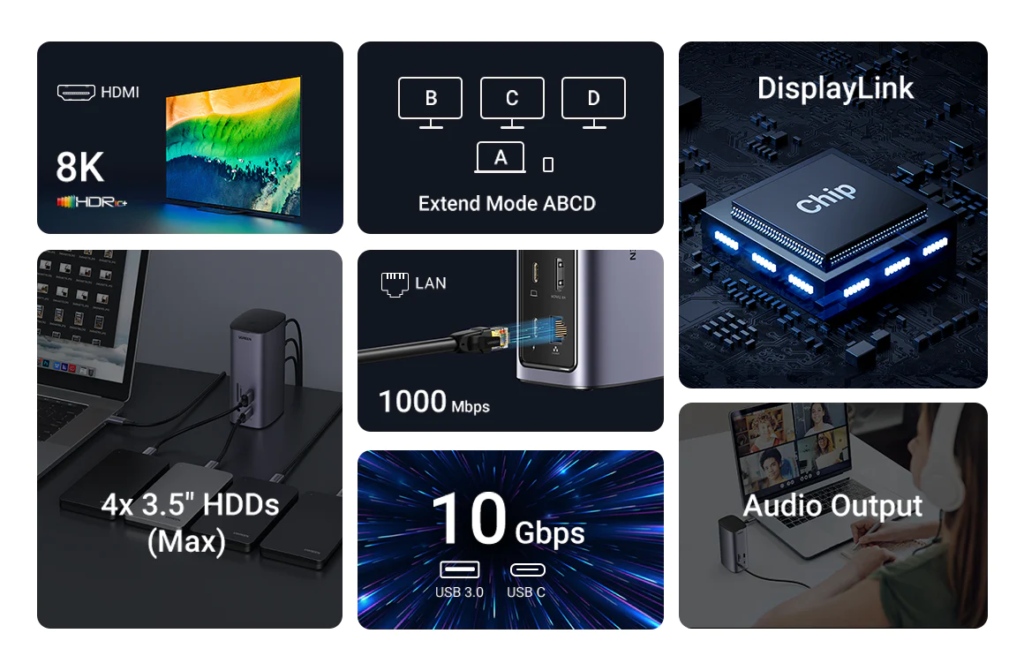 Some at home might realize that that adds up to twelve, not thirteen. And apparently, some at Ugreen would agree with you. The marketing materials for this product don't seem to agree on whether this is a 12-in-1 or 13-in-1 product. As far as I can tell, it's likely the SD card reader's full and micro sizes that are causing this ambiguity. Or it might be the power input, which could be argued as a feature.
Regardless of how you look at it, though, the Ugreen docking station does take a single port on a laptop and break it out into thirteen pieces of functionality. For some laptops, that single port is all they have, even for charging. So, the ability to use that single port to expand into thirteen connectors is very valuable. The power button on top, though I'm not so sure about.
Ugreen Docking Station First Impressions
Ugreen sent two Nexode GaN USB-C chargers for review a few weeks ago, and I was very impressed with the aesthetic. The Ugreen docking station follows the same design language: a slick, smooth, and nearly seamless look, with the only edges appearing between perpendicular faces. In the case of the docking station, though, I feel it bears a slight resemblance to the Apple trash can Mac Pro apart from the more rectangular shape as opposed to the more cylindrical shape of the Mac Pro. Ugreen might not like the comparison of their product to anything trash-can-adjacent, but in this case, it's surely a compliment.
The exterior of the docking station is a plastic and metal mix. The metal occupies a majority of the surface area, leaving the black/dark-grey plastic portions to act as the accents in the design. The result is a stylish and quality-looking device that looks professional and business-appropriate.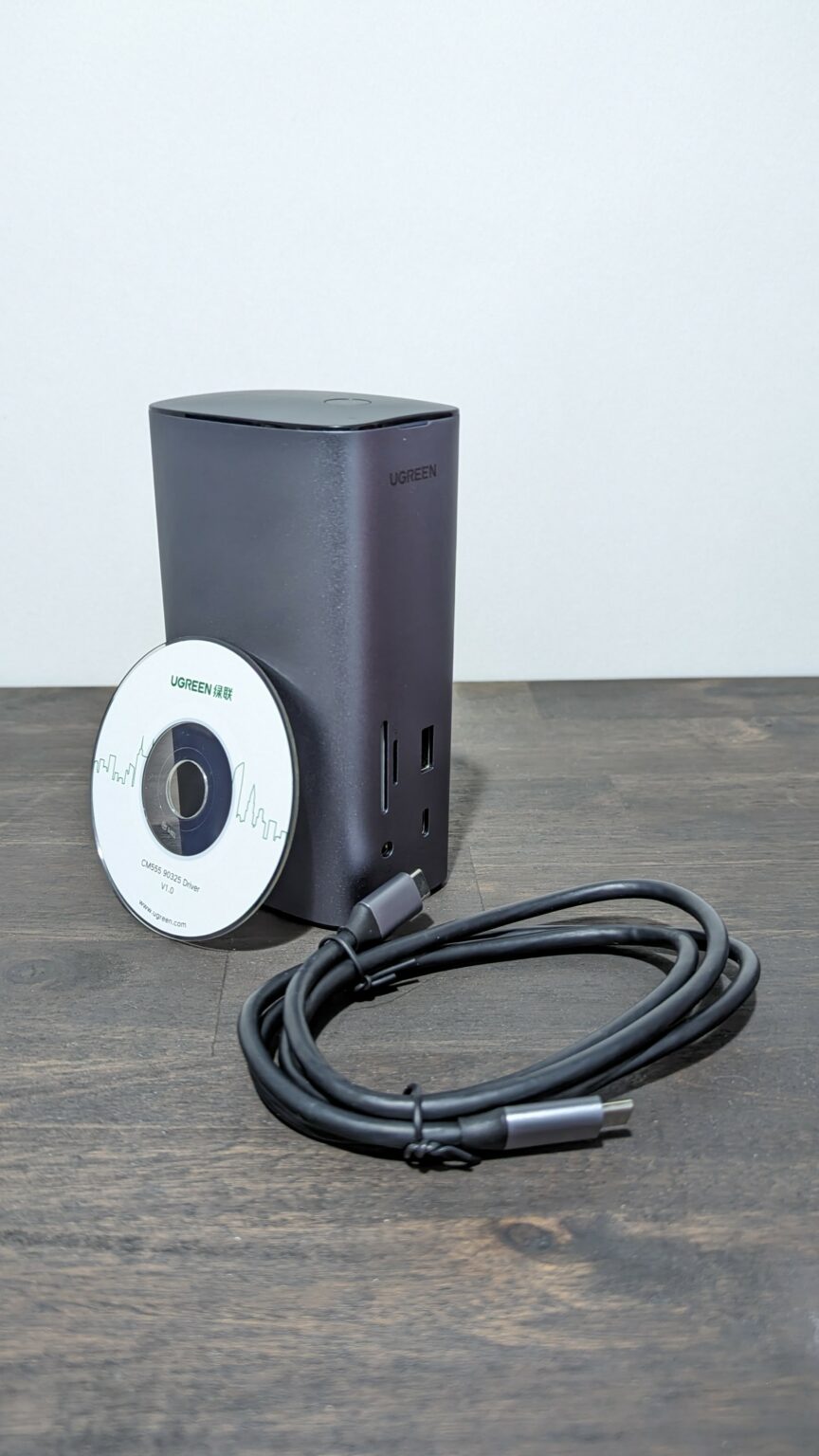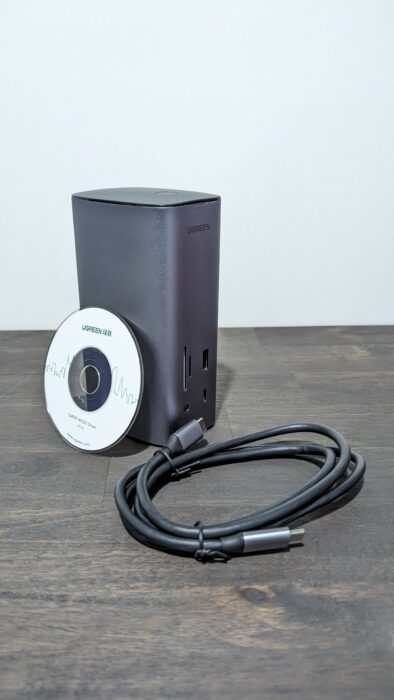 The Ugreen docking station feels well-made and has some weight to it. As with the Ugreen GaN chargers mentioned earlier, the quality of manufacturing shows in the attention to the seams and the tight tolerances between the various components. Highlighting this is the metal exterior wrapping completely around the docking station uninterrupted, without any seams.
The docking station is very compact. This is more of a subjective point, but I feel it might be a bit too small for something that is intended to be stationary. While it does have a surprising amount of mass to it, that mass is not quite enough to keep it still when cables are being disrupted. Adding to that issue is the tower-like aspect ratio leaving it prone to tipping when one of the higher-port cables is tugged or becomes taut. This, however, is a non-issue once cables are routed, managed, and settled.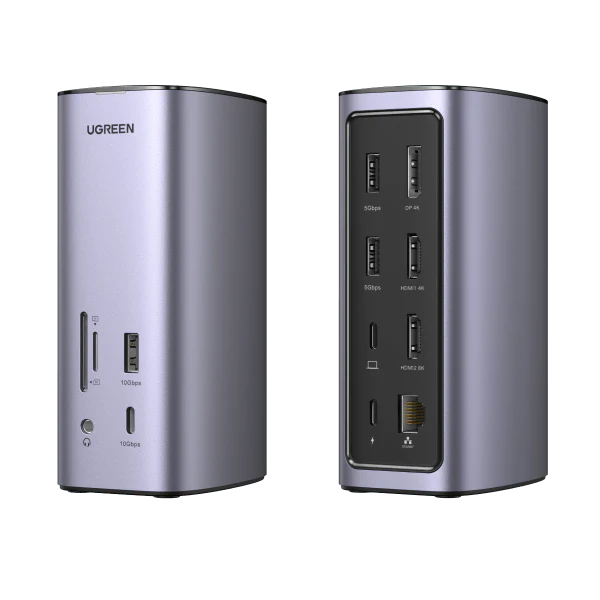 Beyond the aesthetics and quality, I do believe there are some limitations with the connectivity that are worthy of mention. There are only three USB Type-A ports, more on that later. And, I think this is especially true for a product at this price point; the ethernet should be 2.5Gb/s at a minimum. 802.11ac, or Wifi 5, introduced wireless throughput that is on par with, and capable of exceeding, under certain conditions, the throughput of the de facto gigabit wired connectivity of commodity consumer electronics. A 2.5Gb ethernet IC is available for about $6 USD in single quantities, while 10Gb ethernet ICs can be found for a little over $30 USD in single quantities on Mouser, a popular electronics components supplier. A product whose design, marketing, and price point all speak premium should not be accompanied by the limitations of lower-cost products.
In the Box
The contents list for this product is underwhelming. The unboxing experience is straightforward and lacklustre, but this is a piece of productivity equipment; it's not supposed to be flashy. That's not the underwhelming part. There's a 100W capable USB Type-C cable, which is to be expected. Arguably the most entertaining inclusion is the mini-CD that includes the driver. I haven't seen one of those in a while.
But the most underwhelming, and disappointing, aspect of the unboxing is the lack of provided USB Type-C power adapter. This docking station sells for $329.99 USD (though, it's currently on sale for $299.99 through some online retailers as of writing this). There are some that sell for half that price, albeit with varying connectivity, that come with a power adapter. Ugreen's 100W USB Type-C charger sells for $80 USD. That brings the total to $409.99 USD for the Ugreen docking station experience in contrast to the (admittedly off-brand) experience that costs as little as $110 USD. But that's a long-winded digression.
In summary, the box contents are:
Ugreen Docking Station
100W Capable USB Type-C Cable (2m)
Driver Installation Mini CD
(Power Adapter Not Included)
Daily Driving the Ugreen Docking Station
I've had the USB Type-C docking station experience at my day job for a while now. It's very convenient to have everything ready to go in a couple of seconds. I enjoyed it so much, actually, that I was set on having the same experience at home. Now, this inclination came about at the height of the pandemic-related supply chain issues and price hiking. In spite of all that, I found myself a white-label USB Type-C hub with USB-PD passthrough that was compatible with my work laptop. I didn't have the USB Type-C power adapter yet (I got one a few months later), but that was fine given I didn't need the DC barrel jack power adapter that came with my work-provided HP EliteBook because I had an HP docking station at the office. I was set, with a two-cable docking experience. It wasn't perfect, but it was close.
That is all relevant because when I received the Ugreen docking station, I decided to go all in with it. I removed my dual monitor arm setup. I then routed the monitor HDMI and power, mouse, and keyboard cables down through the monitor arms' mounting hole in my desk. They were run under the desk, routed back up through the cable grommet, and finally into the Ugreen docking station which sits only a few centimetres away from the grommet. The result is a desk that is almost entirely clear of cables. The only cables on the desk are the mouse and keyboard, which feed directly forward and disappear into the monitor arm base, and the USB Type-C cable that connects to the laptop. If I preferred, I could also leave the docking station below the desk surface
This, to me, is the docking station experience. The ability to connect to your monitors, whether that's just one or many. To connect your mouse and keyboard and whatever collection of peripherals you might have. As well as making external storage and wired networking available. In addition to providing device power. All of this, not only with a single cable but, just as importantly, with all other cables hidden. The real docking station experience, in my opinion, is being able to forget that the other cables ever even existed at all.
To that end, the Ugreen docking station does the trick. It has its shortcomings. Namely the lack of USB Type-A ports, which is something that I can be rather opinionated about. This can be remedied with a USB hub, but that starts to defeat the purpose of the docking station at that point. The docking station should have everything a user requires. The Ugreen docking station suffices for me, but for someone that needs additional peripherals, like a quality microphone and web camera, they would quickly find themselves out of USB ports given that a wired mouse and keyboard consume two-thirds of the USB Type-A ports.
Hypotheticals aside, my time using the Ugreen docking station has actually been flawless (with the exception of a couple of times it fell over before I finished sorting my cables). My experience using it with two monitors has been without issue, even without the driver.
Ugreen Docking Station Conclusion
The Ugreen docking station is undoubtedly pricey, particularly when considering that the required power adapter is not included. At least for an individual user. Considering pandemic pricing has seen sub-$200 Thunderbolt docking stations rocket to price points over an incredible five times the MSRP, this might just be the new market water-level for office productivity equipment. It can also use some more USB ports and faster ethernet connectivity. Despite these shortcomings, it still boasts a bragworthy amount of connectivity.
If pricing isn't the issue for you, though, and you're looking for a stylish device to help you clean up your desk and achieve the docking station experience, then this is a product worth looking at.