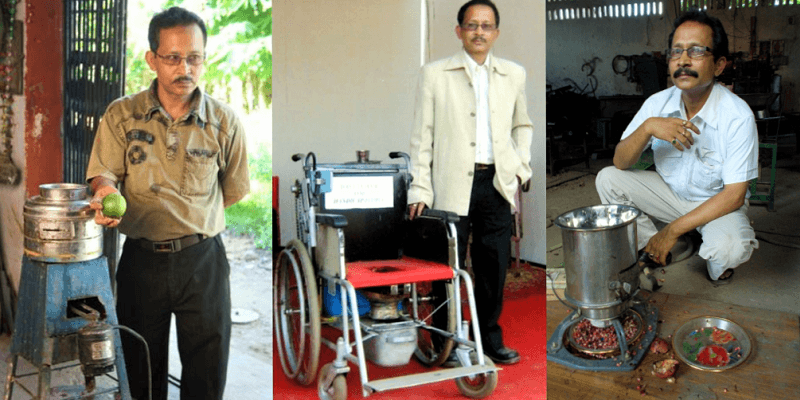 Short Bytes: Uddhab Bharali, a resident of Assam, India, has developed more than 100 machines since the 1980s. His job title 'innovator' suits him perfectly as he has devoted his life working as a grass root level innovators. Read more to know his inspiring story.
T
he importance of machines in the present era is no less than any other commodity. Machines are the backbones of industries. Engineers and developers are in a race of inventing better and cheaper technologies.
It is of great interest to know when all engineers of the world were busy in their research and development, a common man from India successfully developed 118 machines for basic uses. Uddhab Bharali from Lakhimpur district of Assam is known as "innovator" as he invented many useful machines on his own.
Uddhab was born in 1962 to a business man in Assam. He studied in a government higher secondary school. He was known for solving high-level problems and asking even more difficult questions to the teachers. Later, he studied engineering at Jorhat Engineering College. In 1988, Uddhab was going through poor financial conditions.
His family was in debt and he decided to start a polyethene making business. He had to buy the polythene-making machine which would have cost him more than four lakh rupees. Instead of purchasing the machine from the market, Uddhab made it himself. He invested Rs 67,000 in building his own machine.
This invention proved to be a kick start for him. After his brother's death, he was the only earning member in the family. He started making money through his innovations which were used in small scale industries. He realized that he could use his brain and save a lot of money. Since then, he has invented many more machines. His innovations include fruit de-seeders, nut peelers, juice extractors, bamboo processors, trench diggers, etc. His developments are generally focused on agriculture.
In the year 1995, Uddhab was recognized by media for the first time. Famous novelist and eco-technocrat Arnab Jan Deka wrote an illustrative article about Uddhab's works in the Assamese daily newspaper Dainik Assam. Later, his work was acknowledged globally and he was awarded as well. He received the 'President's Grassroots Innovation Award' in 2009. Before that, he was awarded 'Shristi Samman Award' in 2007. Uddhab also won 'Create the Future Design Contest' organized by NASA. He won this award twice – 2012 and 2013. In 2013, he also received the 'Rashtriya Ekta Samman'.
Currently, Uddhab is working as a research scholar at Indian Institute of Entrepreneurship. He also works as Technical Consultant at Rural Technology Action Group (RuTAG). RuTAG aims at improving the rural economy by developing technologies at Indian Institute of Technology, Guwahati. He was one of the speakers at TEDx ISM Dhanbad held in 2014.
Minds like Uddhab may be God-gifted, but his power of will, enthusiasm for technology and zeal to innovate are inspiring for the young engineers. His story shows that no matter how bad conditions are, talent finds its own way to achieve success the same way lack of facilities and exposure couldn't stop Uddhab from getting recognized.
Did you find the story of Uddhab inspiring? Tell us your views in the comments below.