With the help of existing solutions, running Linux virtual machines on Windows or other platforms isn't much difficult. However, there are some visible performance drawbacks that one can notice while performing some intensive task.
To make the overall experience better, Canonical and Microsoft have teamed up to release an optimized image for Ubuntu desktop. This new image can be grabbed from the Hyper-V Gallery. This has been made possible with Hyper-V Quick Create feature added in Fall Creators Update.
"This will give an optimum experience when running Ubuntu Desktop as a guest on a Windows 10 Pro desktop host," according to the official announcement post from Ubuntu.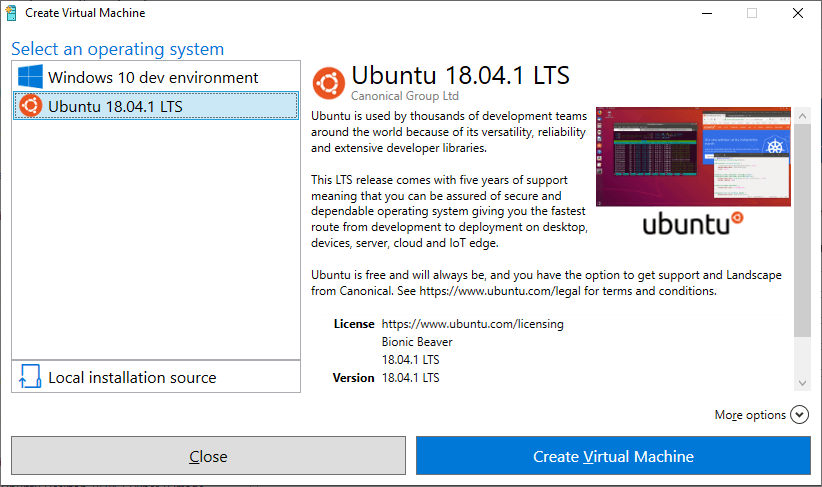 Explaining further, the post mentions that Microsoft has worked to add the support form Enhanced Session Mode to ensure a tight integration between Ubuntu VM running in Hyper-V and its Windows host.
As a result, the Hyer-V Gallery now contains the fresh Ubuntu 18.04 LTLS desktop image with the advantages like —
Better clipboard integration
Dynamic desktop resizing
Shared folder for guest and host
Seamless mouse movement between host and guest
All these features were made possible due to the newly-added support for the above-mentioned Enhanced Session Mode.
To get started, what you need to do is select Ubuntu from the list of operating systems listed in the Hyper-V Gallery and create its VM. You need to follow the simple steps that follow and get started.