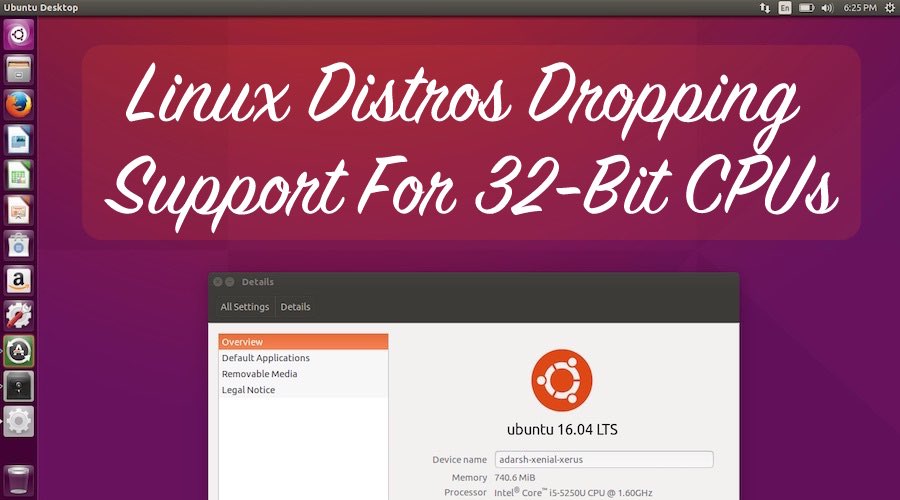 Short Bytes: Today, few people are using the hardware that can't run 64-bit CPUs. A recent proposal by Ubuntu's Dimitri John Ledkov states that Canonical will be killing the 32-bit hardware support soon. This move is also inspired by the fact that 32-bit testing needs double effort and turns out to be costly for an open source project.

V
ery few of you might realize that Intel and AMD released their first 64-bit processors more than a decade ago. With time, as a lesser number of computers run on 32-bit processors, this vintage architecture is becoming obsolete.
Moving along with time, various Linux distributions are now looking to drop the support for hardware powered by 32-bit CPUs.
Ubuntu is regarded as a key force in the Linux and open source world. Recently, Ubuntu project's Dimitri John Ledkov proposed to end the support for 32-bit processors.
Ironically, back in the 1990s, Linux was kickstarted as an alternative to Windows that needed lesser horsepower–systems with 32-bit processors–to operate.
It's also worth noting that three major players in the tech world–Google, ZFS, and Docker–have already cut the cord and ended the support for such systems.
Supporting his proposal, Ledkov said: "The key point here is lack of upstream software support and upstream security support on i386 rather than actual hardware being out of stock and/or old."
Similar emotions have already been expressed by OpenSUSE and Fedora in the past. These Linux projects have repeatedly said that 32-bit support doubles their testing burden and makes the overall development harder.
The Ubuntu project has already confirmed that the next Ubuntu release–Ubuntu 16.10 Yakkety Yak–won't be coming with a 32-bit image. However, users can install the 32-bit version on their systems via installers.
It's expected that Ubuntu 18.10 will mark the complete end of the 32-bit version of this operating system in 2018.
These steps made by open source projects are quite understandable given the fact that quality programmers are a costly affair for them. In future, we should expect similar steps from other software vendors and Linux distros.
Did you find this article helpful? Don't forget to drop your feedback in the comments section below.
Also Read: Slackware Linux 14.2 Released — World's Oldest Surviving Linux Distribution