Have you ever tried the very first release of the most popular Linux distribution? Well, this is exactly what I'm going to do for this article just before the latest Ubuntu 20.04 arrives. I will not discuss the evolution of Ubuntu and its variants but rather go back to the first release — Ubuntu 4.10.
If you know the pattern for naming the Ubuntu version, you may have guessed it right that the first Ubuntu was released on 20 October 2004. Since then, it's not only the favorite distro for beginners, but professionals also prefer it the most. So, let's know about the first Ubuntu Linux desktop in detail.
Ubuntu 4.10 "Warty Warthog" Review
Before we begin, you must have thought at some point, "What does Ubuntu mean?" Right? And why is Ubuntu called Ubuntu? Let's find out.
What Does Ubuntu Mean?
Ubuntu is an ancient African word that means "humanity towards others." As the name always reflects its ideas of creation and vision, Ubuntu distribution also aims to do the same.
Another interesting fact is that the founder of Canonical, maker of Ubuntu, Mark Shuttleworth, belongs to South Africa. So, you can perfectly guess why he chose the name for this open-source project.
Version Number And Naming Scheme
Since the beginning, Ubuntu is one of those Linux distributions that names every version based on pre-defined schemes. It helps to determine the release and its name easily.
For instance, giving version number using the year and month of the release and the codename using an adjective and an animal with the same first letter. Hence, the first Ubuntu was dubbed as Ubuntu 4.10 Warty Warthog.
Back then, it wasn't decided that Ubuntu would follow an alphabetical naming scheme. Starting with Ubuntu 5.10 Breezy Badger, which was followed by Ubuntu 6.04 Dapper Drake, Canonical decided to choose codenames alphabetically.
System Requirements for Ubuntu 4.10
The first thing that I checked before installing Ubuntu 4.10 was the requirement for system specification. Unsurprisingly, it has a very low requirement (compared to the current), but it meant something different in that generation.
Intel x86, amd64, or PPC-based processor.
32MB of RAM.
110MB hard disk space
Installing Ubuntu 4.10
Searching for the sixteen-year-old ISO was not that difficult, thanks to Ubuntu, who already stores all images since the first release.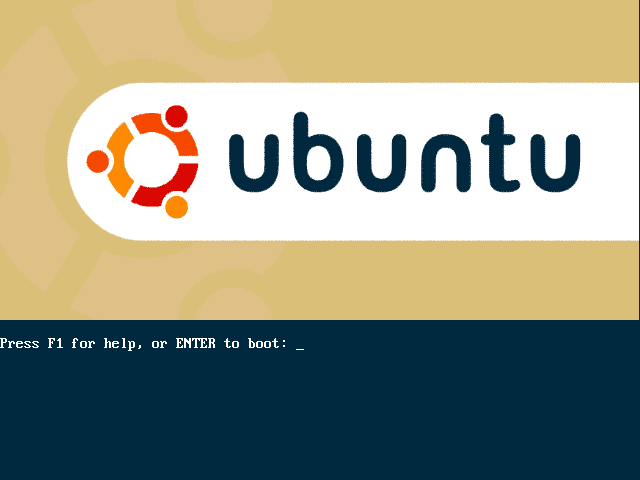 The most exciting thing that I found about the ISO is that you could get an Ubuntu installation CD mailed to your homes for free. Well, I was not fortunate enough to use their ShipIt feature, but some of you must have used it in the past. It was ShipIt that played an essential role in making Ubuntu a prevalent choice among youngsters in those early days.
Though these days they don't offer ShipIt, you can easily download the ISO from their website. The image of Ubuntu 4.10 is available in two formats: Install CD for Intel x86, amd64, and PowerPC and Intel x86 Live CD.
If you also want to download and try Ubuntu 4.10 right now, check out the full list of ISO images available here.
Installation was pretty simple, fast, and smooth with limited setting options. However, Ubuntu 4.10 does not have an elegant Ubiquity installer that makes the current Ubuntu installation more straightforward than other distros.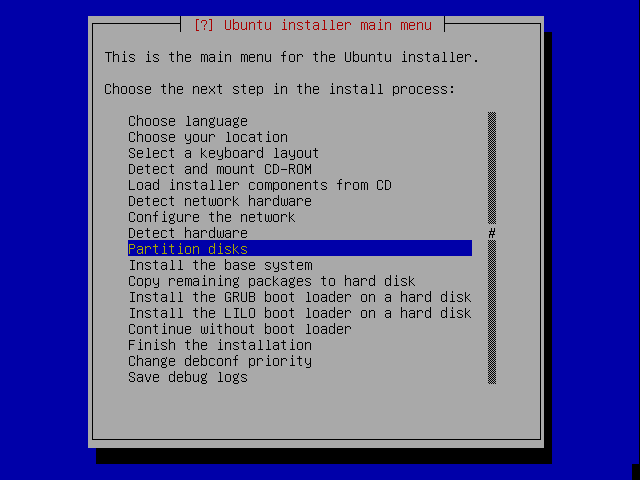 Warty Warthog Features
Debian is one of the oldest, most powerful and most stable Linux distributions but users still find it hard to configure. Hence, Ubuntu was derived from Debian to offer the most user-friendly Linux desktop. This is the reason Ubuntu is so popular among beginners.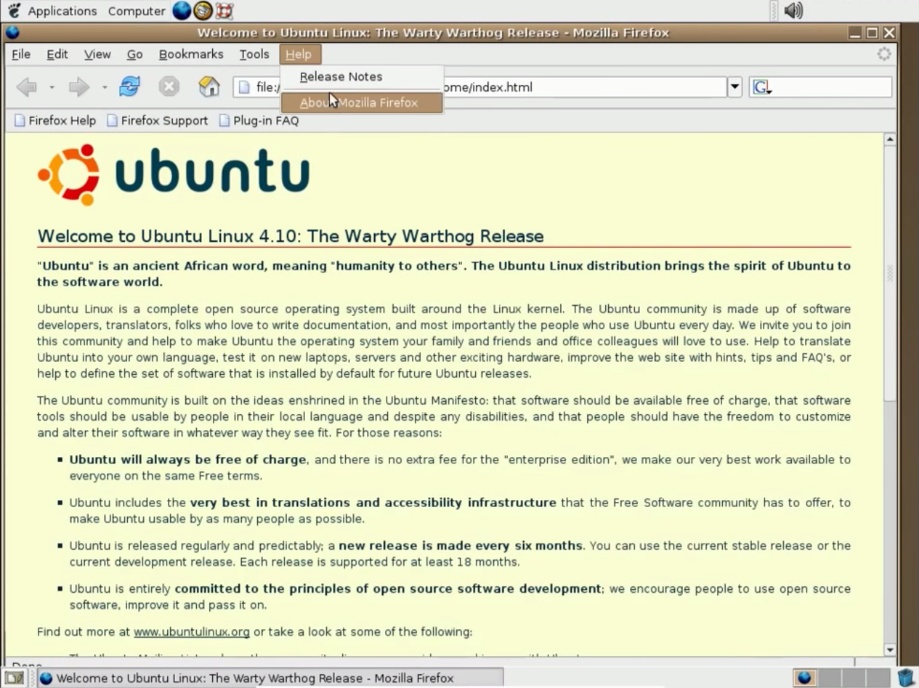 Another feature that provides Ubuntu 4.10 an appealing look and feel is the GNOME desktop environment. At that time, Ubuntu was the first Linux distro that featured GNOME 2.8 on the day of its release.
After that, even now, Ubuntu keeps up with the GNOME development lifecycle and releases a new version with full-fledged GNOME. Along the way, we also witnessed Ubuntu's own desktop environment Unity, which no longer comes as a default DE.
GNOME 2.8 looks more like the current lightweight Xfce desktop environment. Having the main categories at the top panel, it groups all software into two applications and computer options.
Applications contain software with further subcategories, for instance, Accessories, Games, Graphics, Internet, Multimedia and OpenOffice suite. Almost all software like GIMP or Rythmbox continue to be included in the current Ubuntu except the OpenOffice suite that has now been replaced with its forked LibreOffice.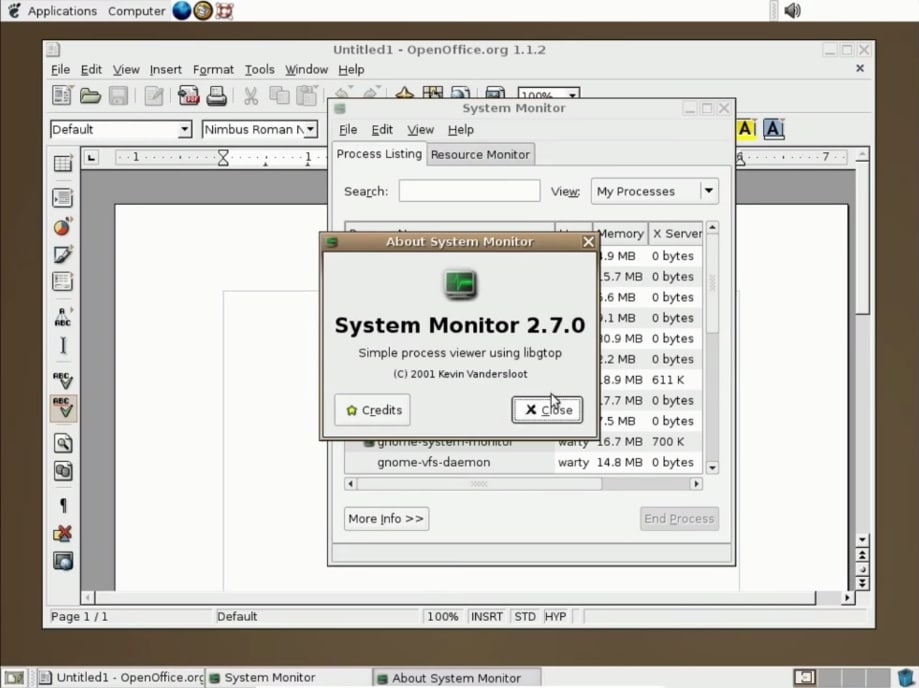 The computer mainly contains system configuration software such as disks, search for files, and desktop preference. Of course, it has evolved way better in the current GNOME 3.36 which now has all settings in one place. And don't forget the power of the GNOME tweak tool.
Here I'm listing the other key features of Ubuntu 4.10:
Firefox Web Browser 0.9
GNOME 2.8
GIMP 2.0.2
Rythmombox 0.8.5
Evolution 2.0 and OpenOffice 1.1.2
Security update with 18 months support
XFree86 4.3 with improved hardware support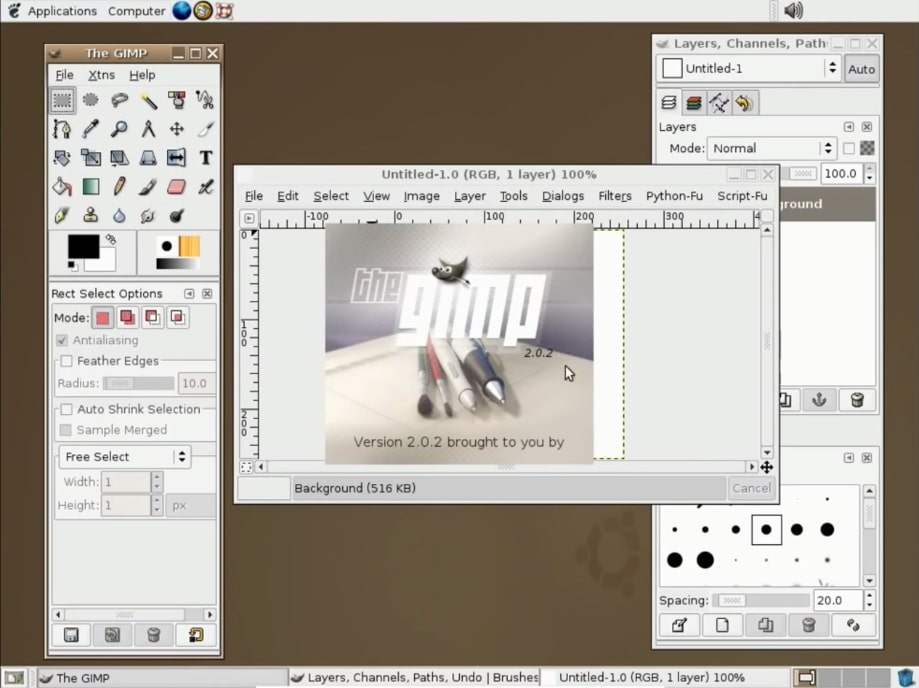 Lastly, the theme preference seems decent with several options. It even offers to install a theme from external sources.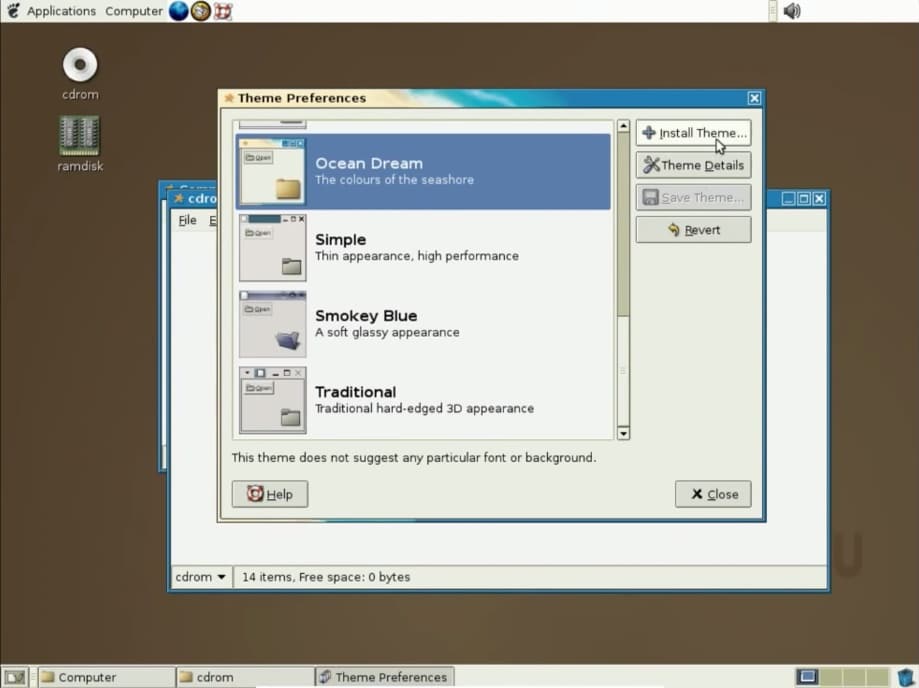 The first Ubuntu release was undoubtedly a revolutionary Linux desktop that changed the scenario of Linux distributions. Even regular users are now able to install Linux with an easy-to-use GUI-based desktop.
So, tell us your first Ubuntu version you tried and what the experience was.