T
he development of next Ubuntu LTS release, i.e., Ubuntu 18.04 Bionic Beaver (
here's the story behind codename
), has started. It was preceded by
Artful Aardvark
that marked a shift from Unity to GNOME desktop environment. For LTS users, who are currently running 16.04, Bionic Beaver would be a landmark release.
Daily Builds are here
The release schedule is now available, and the opt-in flavors will ship the first Alpha on January 4th, 2018. In the latest news, Ubuntu 18.04 Daily Builds are now available for download.
In case you're an Ubuntu enthusiast or a developer who wishes to know what would final Bionic Beaver release bring, you can go ahead and download the images and give it a run. As these images are very early in the development phase, make sure that you install it on a secondary machine or a virtual machine.
It's also worth checking out as Daily Builds are the only way to stay in the loop with the new features before the beta releases are pushed.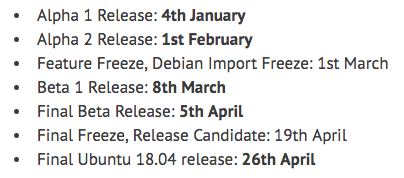 Ubuntu 18.04 new theme
As said above, 18.04 is going to be the first experience with a GNOME-based Ubuntu Desktop. The general feedback from the community is that Ubuntu GNOME Shell feels a lot like Ubuntu.
However, there have been some demands for a more drastic refresh of Ubuntu theme. So, going ahead with that idea, Ubuntu desktop development team has decided to get the help of the community to create the new theme.
This process of creating a new theme would involve a Shell theme, GTK2 and GTK3 theme, and an icon theme. Over the course of few months of 18.04 development, we'll be witnessing the changes.
In case you're willing to contribute to the new theme design process, feel free to take part by visiting this link.
Don't forget to share your current 17.10 experience and suggestions for the next LTS release.