2018 proved to be a rather exciting time if you are an avid Linux user. Canonical released the latest version of the most popular Linux distribution Ubuntu 18.04 LTS Bionic Beaver and after a short while, Ubuntu 18.10 Cosmic Cuttlefish with all the latest and greatest feature set.
Better yet, things didn't stop there as the ever so growing Linux Mint distribution also released the Ubuntu-based Linux Mint 19 Tara. We have already covered the topic on how to install Linux Mint 19 Tara. Now it's time to look at the method to install Ubuntu 18.04 Bionic Beaver and Ubuntu 18.10 Cosmic Cuttlefish.
Ubuntu 18.04 Bionic Beaver
Ubuntu is the most installed and trusted Linux distributions around the world owing to its emphasis on an elegant User Interface, rock-solid security, and stability. Furthermore, these set of features are more inclined towards the LTS title. The Long Term Support ensures the maximum stability and security updates for a full 5 year which makes it extremely suitable for server operations.
Ubuntu 18.10 Cosmic Cuttlefish
Yet again, the Canonical team has introduced the latest and greatest Ubuntu system with the complete set of the latest features and kernel updates below. Even though Ubuntu 18.10 is not an LTS release, this version of the Ubuntu Linux operating system focuses on bringing the latest software improvements and features to your system along with a support for 9 months. Most people have found the Ubuntu 18.10 experience to be rich with performance improvements and stability.
How To Install Ubuntu 18.04 Bionic Beaver and 18.10 Cosmic Cuttlefish?
In this article, we hope to give you the ultimate guide on how to install the Ubuntu 18.04 LTS and Ubuntu 18.10. The installation and upgrade process is pretty straightforward irrespective of whether you are a beginner or an expert.
You should know that the steps are very similar to that of the previous versions. Probably, some of you might have already put up with Ubuntu installations of the past and might recognize most of what is here. Still, it doesn't hurt to just make sure does it?. Onward with Ubuntu 18 System requirements then.
Note: The installation steps and pre-requisites imply to both the Versions so additional effort is not needed for either of them. The same can apply for the derivatives of Ubuntu like Ubuntu MATE, Kubuntu.
Know Ubuntu 18 System Requirements
2 GB of RAM.
15GB of disk space (20GB recommended).
1024×768 resolution.
USB Drive/DVD media.
Download Ubuntu 18.04 LTS / Ubuntu 18.10 64-bit ISO.
Create Bootable USB or DVD Drive
Creating a boot device can be done with either a DVD or a USB with adequate capacity (recommended 4GB or more). Preferably, USB devices are the most used ones nowadays due to their convenience and availability. Also, you can stick to burning the Ubuntu 18.04 ISO to a DVD if you are a beginner.
Creating a Bootable DVD does not require additional software as you can directly burn the ISO to the drive. However, USB booting requires other software, and you can choose the best one from top 5 bootable USB tools for Windows operating system.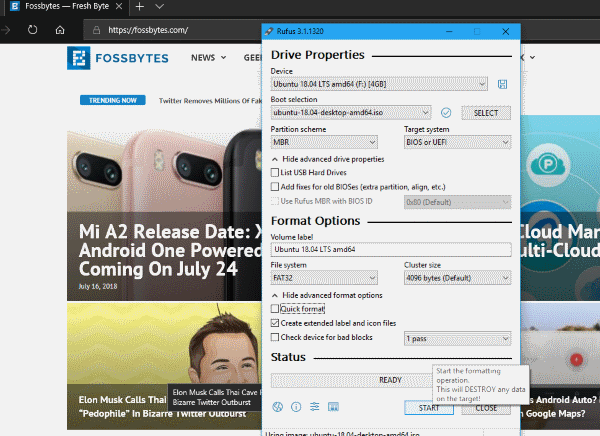 For Windows users, check out how to create a bootable USB media using Rufus or how to create bootable USB without any software.
For users with earlier versions of Ubuntu, know all about the 3 easy ways to create bootable USB media from ISO in Ubuntu.
Use these articles to know how to install Linux from USB and converting ISO to bootable media for Linux.
Boot from DVD or USB
Booting from specific USB drives at the time of system boot up can be a little tricky. By default, if the system is not set for booting from USB/DVD, you will have to enable it by going to the bios and changing the boot order. The process of booting into the BIOS varies according to the variety of the OEM or device Manufacturer (DELL, HP, ASUS etc).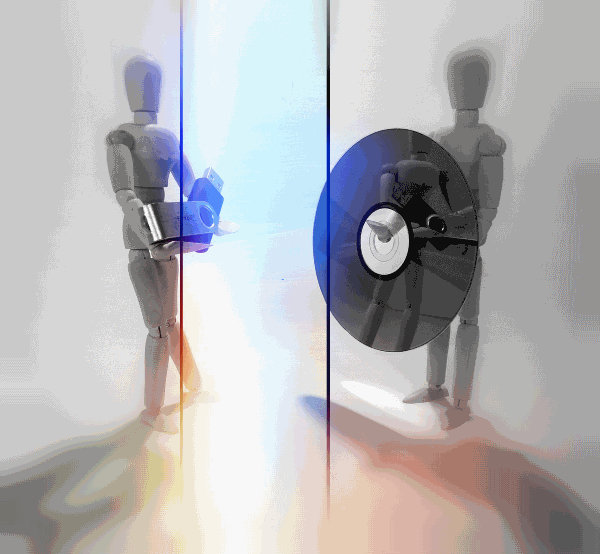 Otherwise, if you happen to be using Windows 10 operating system, you can boot into advanced startup options. Make sure the USB drive is plugged in and then you can choose to boot into the media directly. You can know how to do this by going to our article how to enter BIOS Utility (UEFI Settings) on all PCs and boot from USB.
(Note: Make sure that you disable Secure Boot or enable Legacy mode when looking to install Linux Distributions.)
Try Ubuntu 18.04 / Ubuntu 18.10 without Installing
The best thing about Linux distros is the well appreciated and tried out feature of being able to try out and work with the Ubuntu Linux system much before installing.
Before installing the distribution on your machine, you can always try out the whole Linux experience. So, if you are very eager to try it out, you can do this by selecting try Ubuntu 18 without installing when the USB media is booted up. That is usually the first option when it boots up.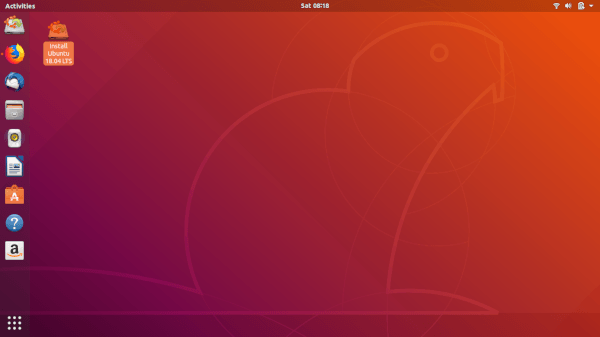 Once you have reached the desktop and the whole ubuntu interface, you can use Ubuntu 18.10 to get your things done without having to install it. Better yet, you can start the installation process as soon as clicking the application to install Ubuntu 18.04/18.10. Hence, enabling you to work or browse for help while Ubuntu 18 installation takes place.
If you want to install it right away instead of trying it out, Choose Install Ubuntu 18.04/ Ubuntu 18.10.
The steps for installing are the same for both types of installation methods.
Install Ubuntu 18.10 / Ubuntu 18.04
Now, the first screen that appears is the welcome screen allowing you to choose the language for the installation. Next is the keyboard layout selection, which will be pretty straightforward.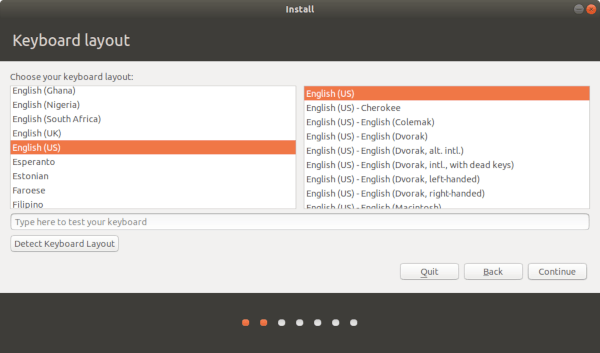 Consequently, you have the option to download the updates as you go through with the installation. This can save time after you install Ubuntu 18. on your machine. The optional choice to install third-party software for graphics, Wi-Fi, Flash, Mp3 and other media is the same as the one we explained in the Linux Mint installation article. So, we recommend you do the same here and enable the option.
Now here we are at the most crucial step of installing Ubuntu 18.10 /18.04 on your machine. There are a number of methods here on how to install the Ubuntu Linux Distribution. Options include Erase disk and install Ubuntu 18 and others, which are self-explanatory. The standard option automatically detects other operating systems installed in the machine. Therefore, it asks you to asign the partitions and carry on with the installation automatically.
For most cases, we would recommend choosing Something else. This type of installing Ubuntu 18 gives you the total control of the installation. Especially if you are looking for something like a dual boot setup with Windows 10 and Ubuntu, this is the way to go. Most people prefer having both operating systems so that you can have the best of both worlds.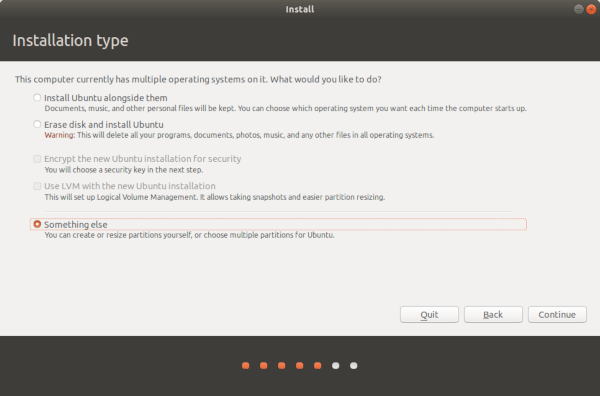 When you need to dual boot Windows with Ubuntu system along with this popular Linux distribution, you can set it up as given below.
Dual Boot Windows 10 and Ubuntu 18
There are tons of ways that you could set Ubuntu 18.04/18.10 partitions. Things would be a lot easier if you have already read our Linux Mint installation guide.
If so, this Windows 10 dual boot with Linux partition style would have a familiar ring to it. Similar to the Linux Mint installation partition guide, you need to set up two crucial parameters. Namely, Root mount point ( /)and Swap. Additionally, if you plan on storing more files, adding a home (/home) partition is highly recommended.
The Root partition is kind of like the Windows OS folder where all your installed software and crucial ubuntu OS files will be stored. So the size of the Root partition is completely dependant on your usage. We are giving the recommended for reference. For Root partition: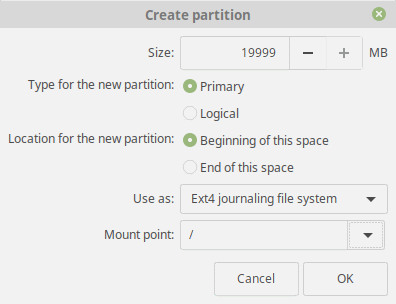 Size: 15 GB to 20 GB (Recommended)
Type for the new partition: Primary
Location for the new partition: Beginning of the space
Use as: Ext4 Journaling file system
Mount point: /
For Swap partition :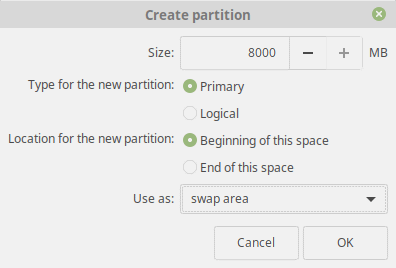 Size: Same as (or higher than) your current RAM size
Type for the new partition: Primary
Location for the new partition: Beginning of the space
Use as: Swap area
The Home partition is a lot like your other storage volumes of your hard drive in Windows 10. The main objective here is to have all your media files and documents in a separate partition other than the operating system files. Moreover, this can protect your files in case of an upgrade going wrong or corrupt system files. Its recommended settings are mentioned below: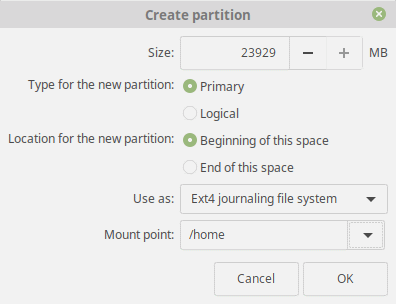 Size: Remaining space or depending on your usage.
Type for the new partition: Primary
Location for the new partition: Beginning of the space
Use as: Ext4 Journaling file system
Mount point: /
So let's set the ball rolling but before you do, make sure that the bootloader location is set to install to the main hard drive. And again, remember that the changes made are irreversible. So always make sure that everything is the way it should be before clicking Continue.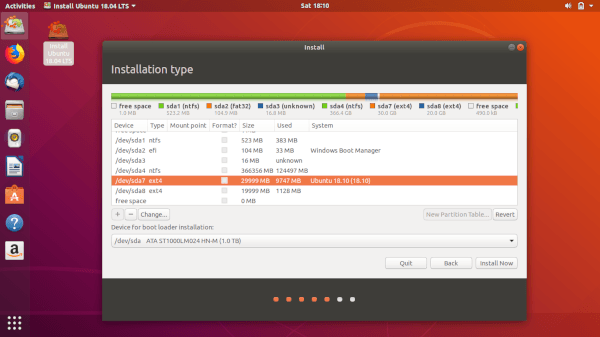 Finishing Touches
Moving forward, the next steps are the easiest ones for you and can be self-explanatory. Here, you pick your specific location so that Ubuntu Linux can provide you with the location-based services and localized preferences.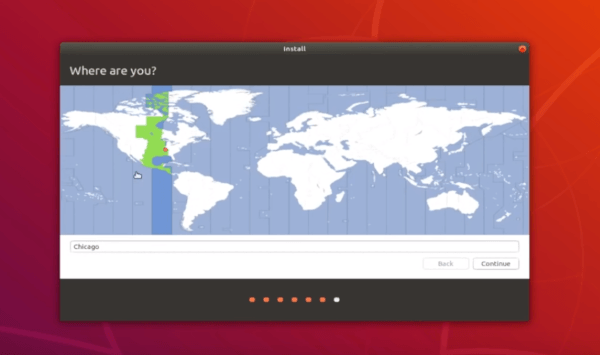 Now, the last step for you is to provide your machine login details. As the password will be used as the default super user administrator password, we recommend you to make sure that the machine is set to be secure from unwanted access. For some reason, the option of encrypting your home folder went missing in the Ubuntu 18.04 Bionic Beaver version.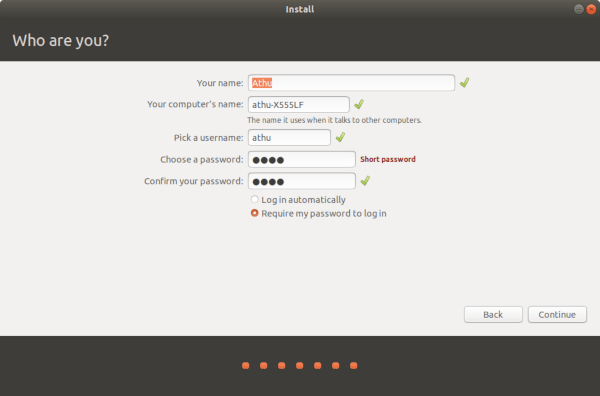 Finally, after clicking Continue, just sit back and enjoy the overview slides as the setup installs Ubuntu 18.04/Ubuntu 18.10.
Start using Ubuntu 18
And that's that. Finally when the installation is finished, you should make sure to remove the USB when the system reboots. Usually, a message will be shown showing particularly when to do so.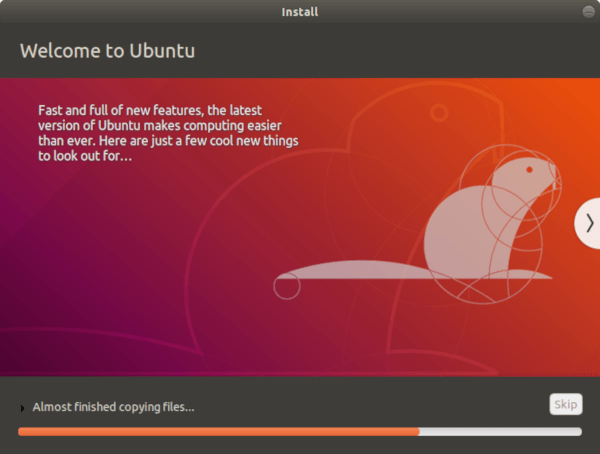 Finally, You can see the Grub Bootloader asking you to choose which OS to boot along with another compatibility options. But wait there's more.
That's it! You are now free to explore the wonderful world of Linux.
Want to know more? Let us know in the comment section below along with any queries regarding the Installation Process of your favorite Ubuntu 18. Ciao!