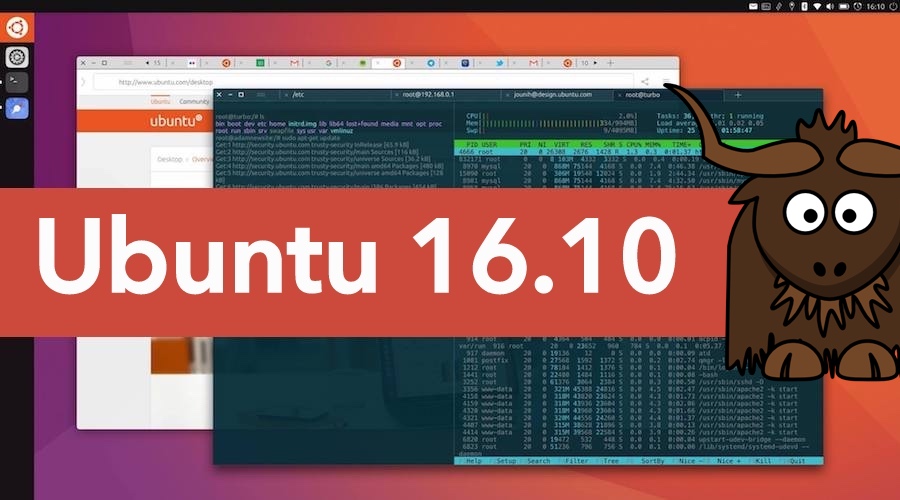 Short Bytes: After spending six months in development, Ubuntu 16.10 operating system has arrived. Now you can download the latest version of this open source operating system and experience an improved desktop. This release arrives with Linux kernel 4.8, experimental Unity 8 session, and better hardware support.
C
anonical, the parent company behind Ubuntu, has
released Ubuntu 16.10
operating system after six months of development. This release is codenamed Yakkety Yak and follows the
16.04 Xenial Xerus release
.
It should be noted that Ubuntu 16.10 is not an update for conservative users. This second major milestone release of 2016 is a standard release that will be supported for nine months. However, if you are a Linux enthusiast and you wish to try some new features and software, upgrading to Ubuntu 16.10 Yakkety Yak is the right choice.
The Ubuntu 16.10 release features a number of small improvements in the operating system that aim to make the overall experience more polished and better. There are refinements in Unity desktop, Compiz window manager, Nautilus file manager. There's the brand new Linux kernel 4.8, of course.
While we'll be covering the detailed features of Ubuntu 16.10 in another article, the major highlights are updated applications, better hardware support due to a newer kernel, and Unity 8 Preview Session.
Download Ubuntu 16.10 ISO and torrent files
To accommodate some more language packs, the final ISO size has increased from 1.4GB to 1.5GB.
While you always have the option to upgrade your existing Ubuntu installation, you can download Ubuntu 16.10 ISO files for 32-bit and 64-bit architecture. Just in case you're interested in grabbing the torrent links, they are also available for 32-bit and 64-bit machines.
Are you going to try out Ubuntu 16.10? Tell us your views in the comments section below.
Also Read: Linuxium Releases Ubuntu Builds For Small PCs Powered By Intel