Major tech giants respect our privacy, right? At least they say that they do, but we know the truth behind the statements "Privacy? That's iPhone" and "Google respects your privacy." For instance, Google says it collects data to "improve user experience," but it serves ads based on what you do, your search, or typing patterns.
Privacy is one of the growing concerns in the modern internet society. While most of us don't care about privacy because it's impossible to stop using the products of big tech companies, we can try to limit their products thanks to alternative apps.
For example, to replace your default keyboard, i.e., Gboard or Apple Keyboard, you can try out Typewise. Folks behind the same company reached out to us, and we were impressed by the app's design and features.
What Is Typewise Keyboard?
The name says it all. It's a keyboard app for Android and iOS but is a little different in terms of design. And that's for good reasons. It's not your usual QWERTY keyboard with rectangular keys and a space bar. Rather it's a keyboard with hexagonal keys, two space bars, and lots of gestures. The main goal is to increase your typing speed and productivity.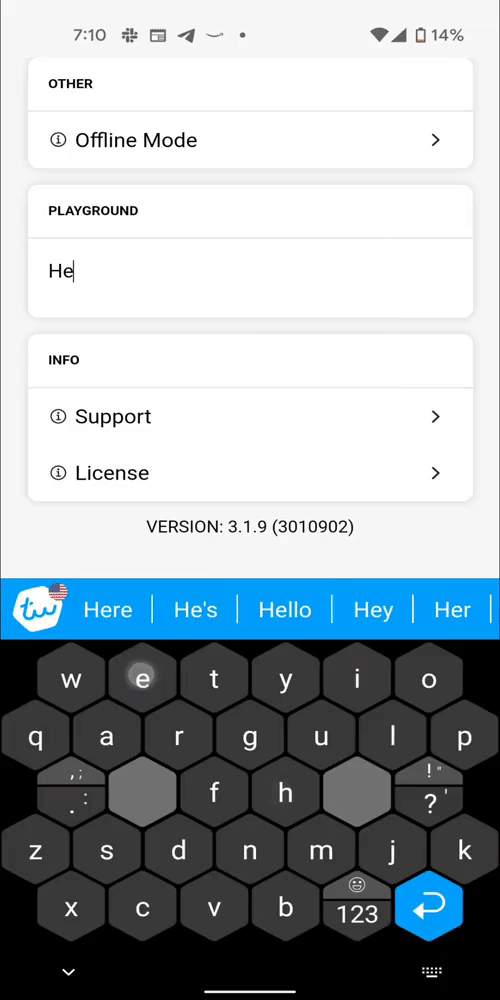 Here's what the CTO and co-founder Janis had to say about the keyboard and what inspired them to build it. "Despite the huge advances in smartphone tech, keyboards on phones are much smaller than physical keyboards for laptops and desktops. So, we built a keyboard optimized for one or two-digit typing on the smartphone's small screen. It does this with an improved layout and with our advanced autocorrect and text prediction AI."
Also, check out our list of best android keyboard apps that you can use in 2022 here!
Does Typewise Keyboard Really Improve Your Productivity?
The keyboard delivers what it promises. I've been using it for almost a week now, and my typing experience has been great so far. Sure, there's a learning curve involved, but if you've been using the QWERTY keyboard on your device, learning to type on Typewise isn't hard at all.
It took me a couple of days to get to my average QWERTY keyboard typing speed, but as I progressed, my speed improved. Of course, there were times where I was too intimidated into switching back to Gboard, but I resisted the feeling and kept using Typewise. I'm glad I did.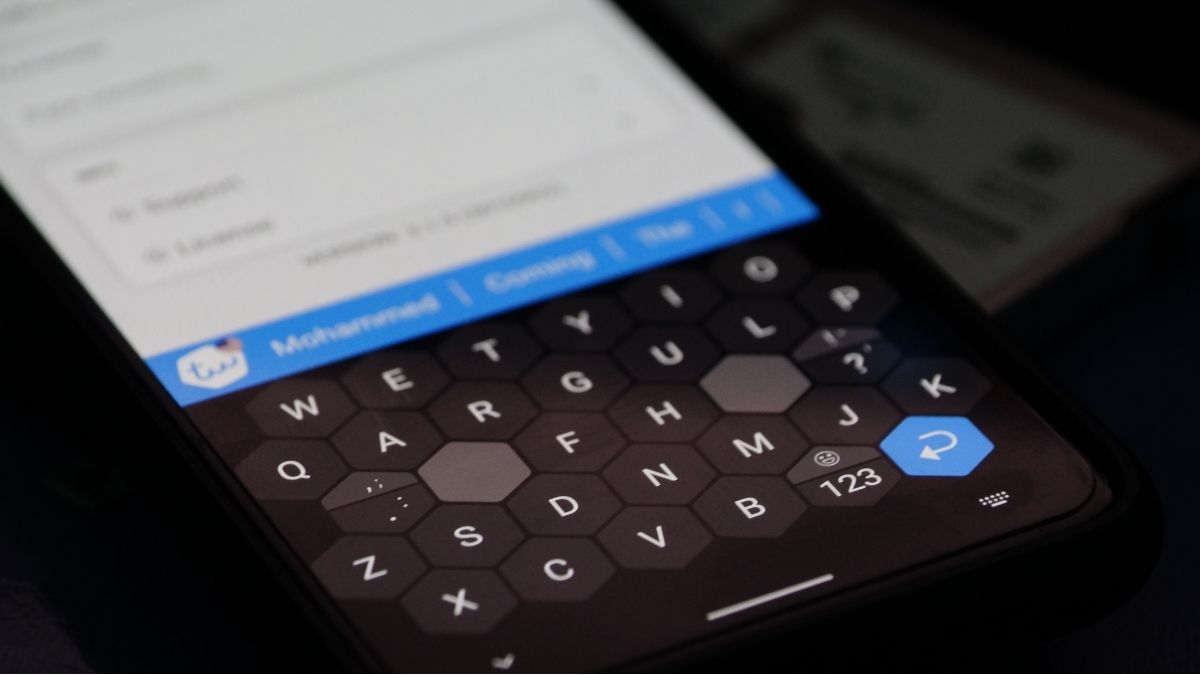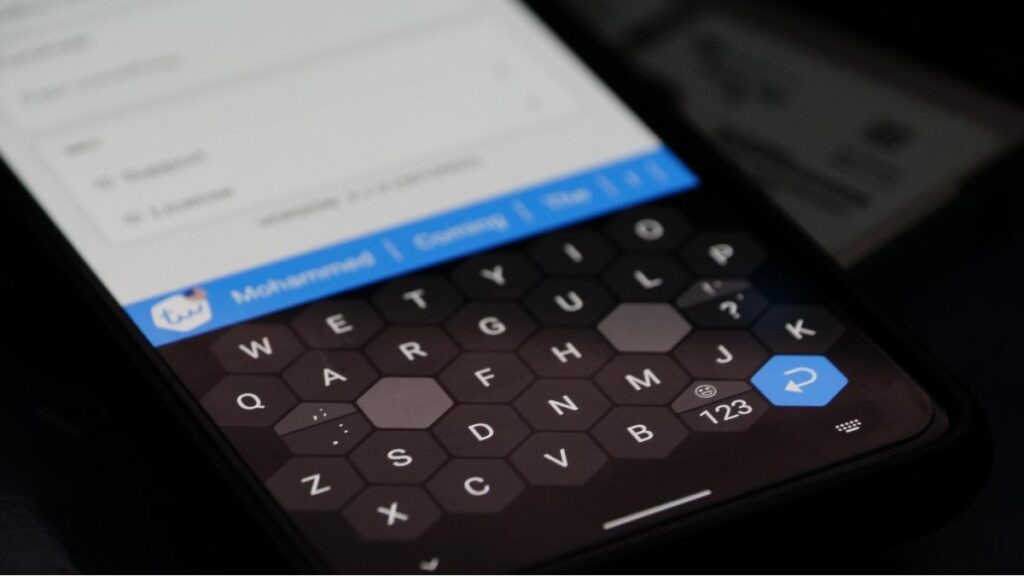 But why hexagons of all shapes? Janis says that the hexagonal design was finalized after a lot of research. It not only improves your typing speed but also reduces typos. Apart from that, the design is also a breath of fresh air.
Privacy
The issue with most of the keyboards of today's is that the apps ask for permissions that are not needed for a keyboard to function. Popular apps like Gboard and SwiftKey require access to your network, GPS, Storage, Camera, and Microphone. Whereas Typewise needs access to none of those.
When asked about law enforcement firms contacting Typewise for data, Janis said, "Typewise will not, and indeed – can not – collect any of your typing data. When combined with other privacy-focused software, Typewise keeps your typing data 100% safe, secure and private."
"With keyboards that transfer your typing inputs to the cloud, there is always a risk that your keystrokes could be used in ways that are detrimental to the user. We think the only way to eliminate that happening is to build privacy by design. So, because zero typing data is collected, there is no typing data to share with law enforcement or anyone else."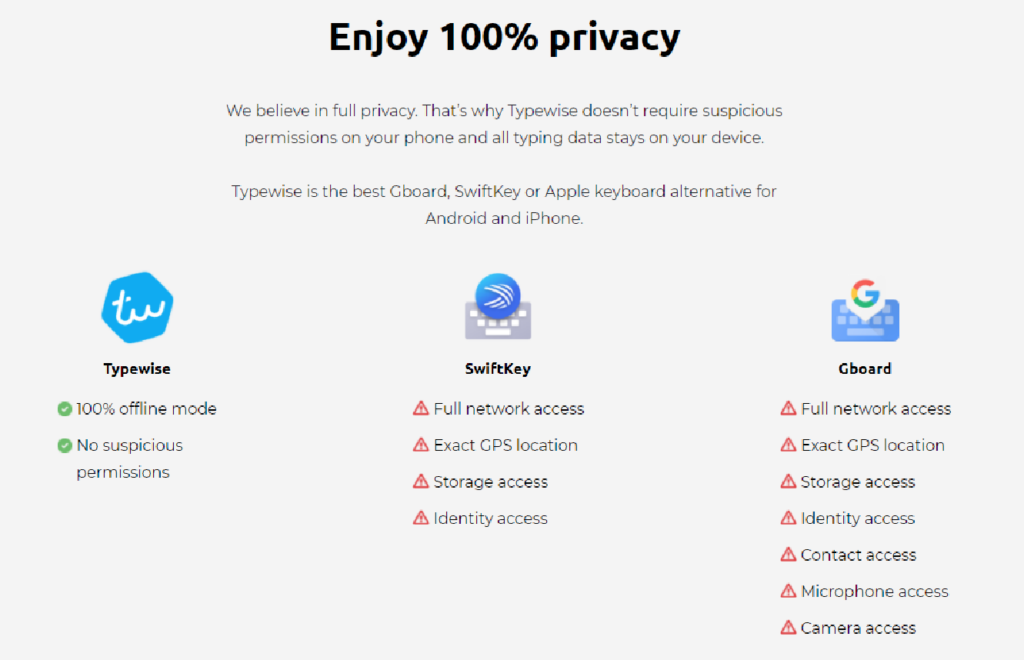 We'll have to see how the company's privacy notion holds up over the years. We checked the permissions, and Typewise actually doesn't ask for any permissions, which is good.
Features
There's also a Pro version of the keyboard which provides a handful of nifty features for customizing it and improving your experience. Here are the things that it unlocks:
1. Multi-lingual typing. This isn't what you think it is. When you type, the keyboard understands the language and adjusts autocorrection and prediction.
2. Personalized text predictions.
3. Extra Gesture — Swipe down to undo autocorrection.
4. Adjust vibration strength and size of space buttons, and make text replacements using shortcuts.
5. Personalize the keyboard with themes.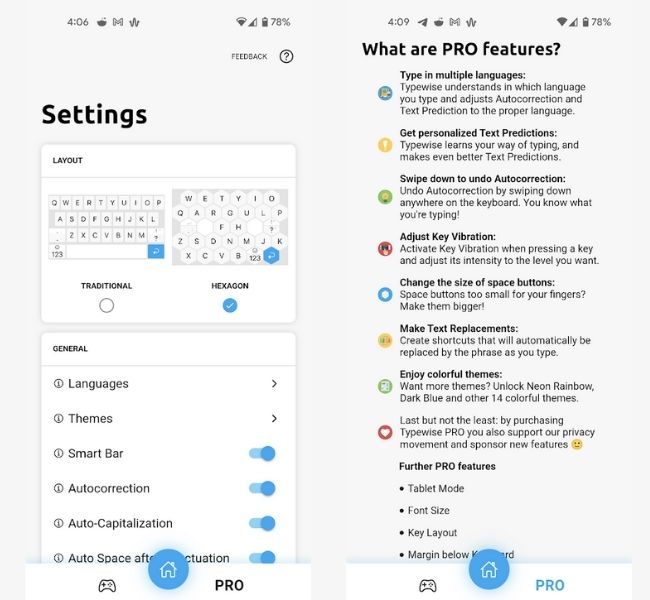 During the initial setup, you'll be asked to play a game that will verse you through the features of the keyboard. After the tour, you can either continue exploring other features or start using the keyboard by making it your default keyboard.
If you don't like the Hexagon keys, you can switch to a QWERTY layout with rectangular keys. Apart from that, the keyboard comes with features that you'd expect in a typical keyboard app, like Autocorrection, Auto-Capitalization, Auto Space after Punctuation, Font Size, etc.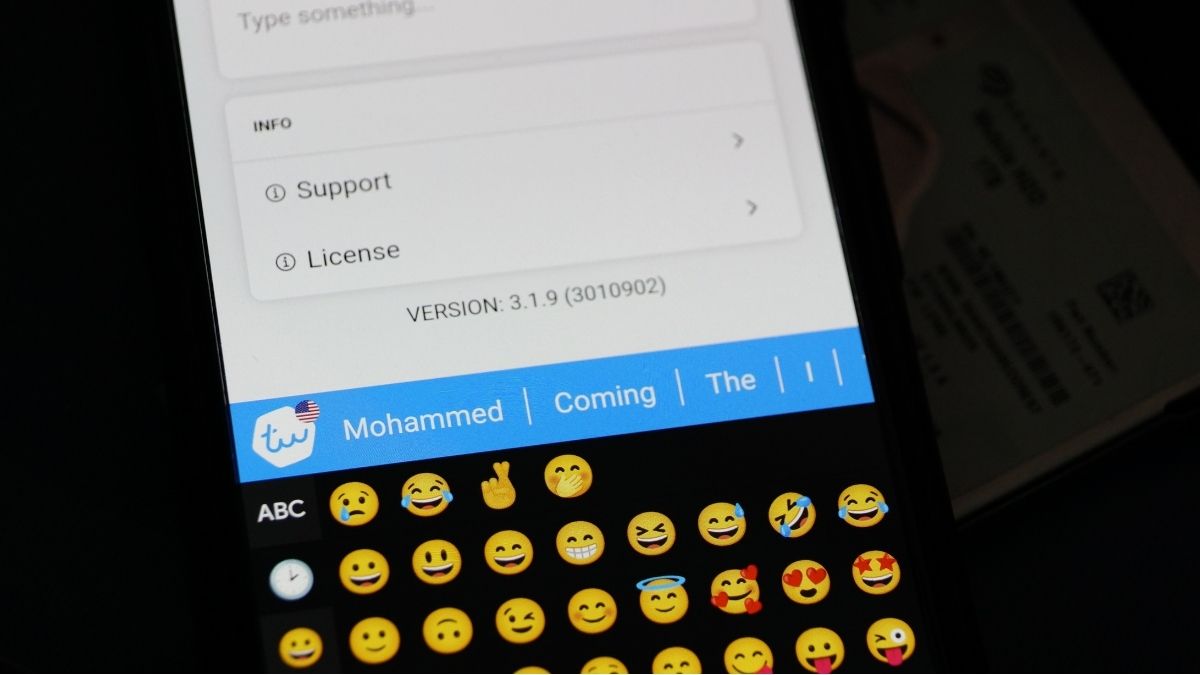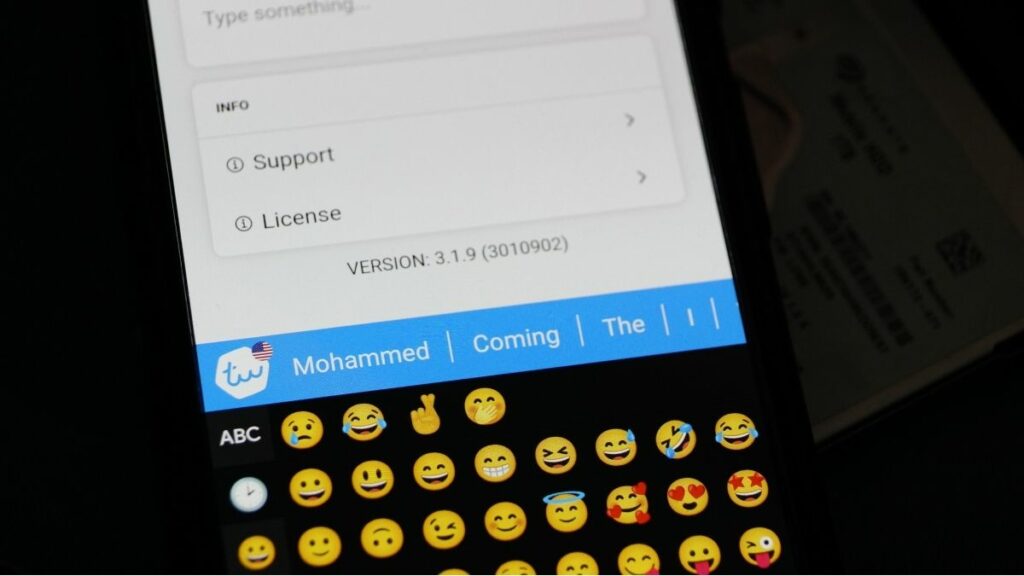 Talking Growth And Platforms
Typewise claims that it has grown immensely over the past year with over 1.4 million downloads. In addition to that, the firm's also building B2B products and API, Keyboard SDK, and Browser extensions for other companies to implement in their apps.
As of now, Typewise is only available for Android and iOS. When asked if it's coming to Windows, Janis replied, "We would love for Typewise to be available on all devices, but as a small startup, we're focussing on building other features because we prioritize functionality that is requested the most by our users via our forums."
"Windows might need an adapted version to provide the best possible user experience. However, our advanced autocorrect and text prediction AI technology will be available for Windows as an SDK so that developers of Windows applications can also use it for their products."
Typewise Keyboard: Challenges And Solutions
Like with any other company, one of the significant challenges that Typewise is facing is onboarding new users. This could be due to the learning curve. "We've found that once people adapt – they love Typewise and stick with it, but we know some users struggle at first."
Janis says, "We're tackling this in two ways; firstly, we give users the option to switch to the traditional QWERTY layout so that they still benefit from our advanced autocorrect AI, language auto-recognition, and 100% privacy – while using the layout they are familiar with. We're also working on new onboarding flows to help users adapt quickly."
What Lies Ahead For Typewise?
The firm is focusing on the adoption of the Typewise keyboard and building out B2B products. In September 2021, it was able to raise over €1.3m from more than 500 investors. In a statement, Janis says, "This confirms the confidence in our products and vision, so we have plenty to be working on right now!"
Which keyboard app do you use and why? Are you willing to make a switch? Let us know your thoughts and opinions in the comments section below.