A 3-year old video-post from BJP politician T. Raja Singh has been flagged by Twitter for violating its policy. The action comes in after TechCrunch asked the platform about the questionable tweet.
Both Twitter and Facebook have now acted on posts from the same politician. In a video-tweet, Singh urged defense Minister Rajnath Singh to remove Rohingya migrants from the country. He asked for the removal of those "who support terrorism" and said they would become a "headache for the country."
T. Raja Singh's Twitter and Facebook posts were addressed to Hindus and other Indians, addressing them to make his posts viral. Another tweet from him, asking for the deportation of Rohingyas, is still active on the platform.
Singh is tagged as a 'dangerous individual' by Facebook, permanently banning him from using Facebook and Instagram.
Twitter, Facebook, Politics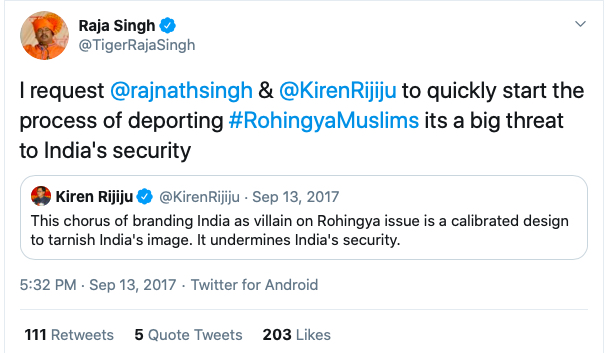 Facebook was earlier critiqued for letting the ruling party practice hate-speech on its platform. Now, Twitter's delay in action is in question. It's a known fact that both the platforms have been blamed for neglecting content moderation in India and other parts of the world.
A similar turmoil is seen regarding social media and its influence on a global scale. While Facebook has seen a spree of resignations in protest to its policy, Twitter received backlash from US President Trump.
BJP, the ruling party in India, has been accused of using Twitter to wrongfully gain support for the controversial citizenship law. It was found that people affiliated with the ruling party had posted misleading tweets to gather support for the amendment.
The most recent shock to Facebook came from a 6,600-word internal memo from a fired employee. The memo raised questions about the company's delayed response and ignorance enabling global political manipulation.
In another similar mishap in last December, #SnowfallInKashmir was trending on Twitter. It suddenly disappeared after journalists raised questions on how posts from Kashmir, which was in an internet blackout, were trending on Twitter.