Twitter Birdwatch, a much anticipated fact-checking system from the microblogging site. It first surfaced in August 2020, after which the company confirmed it was working on a feature to control misinformation.
Now, the Twitter birdwatch fact-checking system is officially released and has made its way to the U.S. The program is running as a pilot in the U.S. for now.
What Is Birdwatch By Twitter?
Birdwatch is a feature that will let Twitter users add notes, context, and flag other tweets that can spread misinformation. While Twitter has been fact-checking and labeling tweets itself, the platform wants to follow a community-driven approach.
For now, the feature works as a different website where users from the U.S. can add context and notes to tweets. Twitter eventually plans to bring it to the social media site. Twitter says that birdwatch "notes will not have an effect on the way people see Tweets or our system recommendations."
Birdwatch And Transparency On Twitter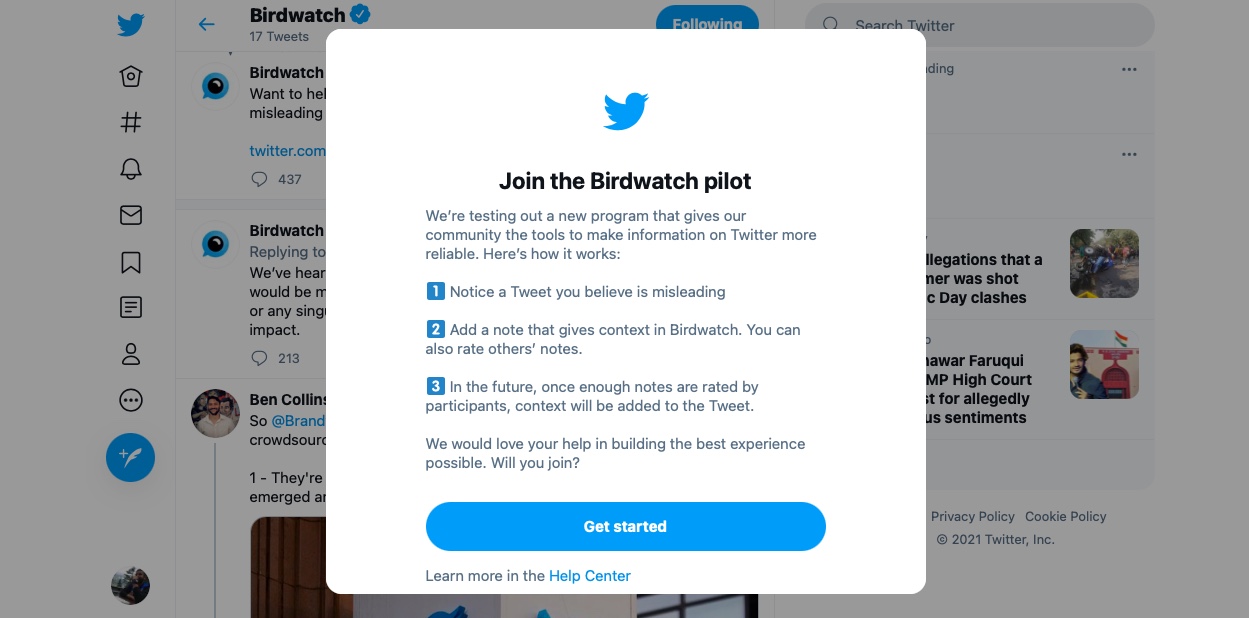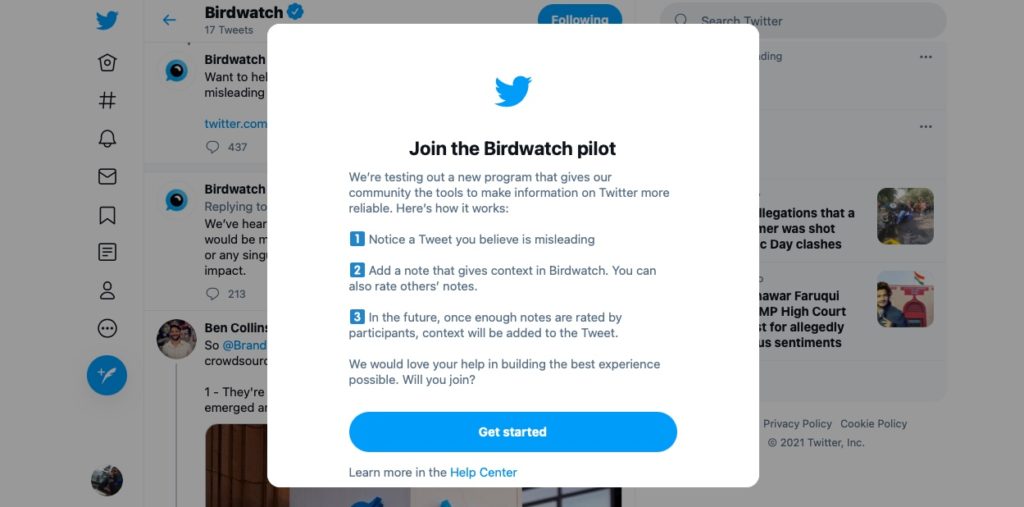 Birdwatch is a system that lets Twitter users moderate the platform by completing information, adding context, notes, etc. For instance, if you Tweet about the U.S. building a wall at the Mexican border, people can add context like Mexico didn't pay for the wall, or the wall is now being dumped since the U.S. administration has changed.
There's still no word as to what will happen to the tweets that get fact-checked or flagged by multiple moderators
That said, these notes will be publicly available and downloadable in TSV files. Twitter also says that it will publish the code that is being used for the Birdwatch system. While a publicly available system might become the new troll-favorite, Twitter says it has measures in place to counter trolls on birdwatch.
"We know this [Birdwatch] might be messy and have problems at times, but we believe this is a model worth trying. We invite you to learn alongside as we continue to explore different ways of addressing a common problem.

Twitter Blog
What Twitter Birdwatch Might Change?
Almost all social media has a public feedback system, in fact, some of them thrive just on it. For instance, you can report a Facebook or Instagram post, dislike a YouTube video, or report any of the content on any platform.
For the first time, Twitter has allowed the public to become fact-checkers and take user participation to the next level.
There's usually the problem of trolling, false ratings, and more misinformation fanning the flames of fake news. The platform has roped in academicians and industry experts to deal with the issues and strengthen the algorithms that power birdwatch.
In simple terms, Twitter is in the initial phase of letting the users moderate the platform. Twitter will probably find its way around the section 230 changes being discussed in the U.S.
We can say so as the U.S. was looking for a way to hold social media companies responsible for what's posted on their platforms. If the Biden administration works on the same lines, Birdwatch might come in handy for Twitter to rapidly fact-check and add context to posts that might otherwise escape moderation.