For all the music enthusiasts out there who want to learn any musical instrument, I have a great news. And the news goes like this: Now you can turn your mobile into any musical instrument that you desire to play. Isn't that great and surprising?
This is possible by using a gadget named Artiphon INSTRUMENT 1. It allows you to play hundreds of musical instruments on just one device and that too in a number of different ways using an iPhone or iPad as the controller. The device has been created with the goal to create the most effortless music-playing experience at any skill level – no matter if you are a beginner or a well trained professional – no worries. Interestingly, it has a beginner mode, where it can auto-play notes for you.
The device looks like a guitar's neck, and it is a MIDI compatible accessory. It can work with apps like Garageband and MIDI tools like ProTools on your PC or Mac, connected via a USB. This instrument provides you the feel of playing a musical instrument along with a lot of ease. It's simple body design makes it even easier to operate. Also, it comes with built-in speakers, so the sound is not going to come from your mobile but right from the device, just like an original musical instrument. Its digital strings are particularly innovative. They are pressure-sensitive and allow vibrato, multiple notes per string and capo-buttons to change tunings. You can use also mix up the way you play instruments- you can play guitar with the sound of piano keys or play piano with the sound of a banjo.
This device was developed by Mike Butera, who holds a PhD in sound studies and has been a product developer for stereo systems, at a time. The idea came to his mind when one day he was on the road with his band. He was carrying many instruments such as a viola, cello, guitar and an electric guitar. As he found it very hard to plug all of them, he thought of Garageband, which is a software, and so, it can sound like anything. That moment, he wanted something like that to exist as an instrument. This made him dream of Artiphon INSTRUMENT 1.
https://www.youtube.com/watch?v=K_l8VWztGiU
It took it about four years to become what we see today. Moreover, an earlier version has already debuted during the CES 2013.
AOL founder Steve Case was impressed by the idea and gave some investment for research and development. The device also interested Dave McClure, Eric Reis and some other musical personalities from Nashville. Butera took in a total of $700,000 and hired a team of engineers, along with co-founder and CMO Jacob Gordon. Thereafter, they started testing the device with various musicians. Bands such as The Weeks, Wild Cub, Moon Taxi, Mikki Ekko and even Moby, found it relishing.
Recommended article: 'Unsend' Your Text Messages With World's Most Secured Messaging App
The funding helped them much with the R&D process, but they needed much more working capital to manufacture it. So, they found a way by turning the Artiphon campaign into a Kickstarter campaign. Websites like Kickstarter and Indiegogo provide an insight to the newly crowd-funded projects each week with their 'Kickstarter of the week' column. In the recent time, we have seen many such new developments- for instance- the Oculus Rift Virtual reality headset and the Pebble smartwatch-which have emerged out of crowdfunding instead of investment via big companies. They became a part of it because of marketing purposes. Kickstarter provided Butera and his team with a platform to reach the interested masses. Moreover, it provided them the extra bit that they needed for kick starting the production.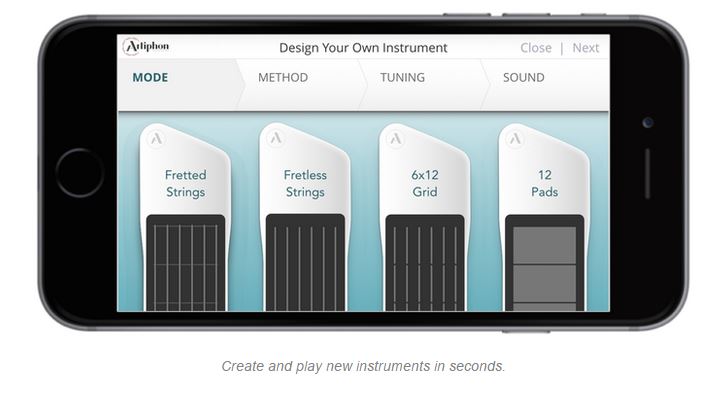 The starting price for Artiphon INSTRUMENT 1 is $349 and it comes mainly in white and black.The good news is that we will be having this amazing instrument for sale at our local apple stores by the next year. Butera confirmed that his team is under negotiations with Apple's retail arm and they are planning to add INSTRUMENT 1 to the retail outlets by late 2016.
According to the Kickstarter page, the developers are still working on the Android support. So, hopefully Android support will follow soon.
Via: Artiphon
Also read: The Best Place to Put Your Wi-Fi Router – Explained by Physics
---
 This is going to be something very new and amazing for all music lovers and tech fans. We hope that this device interests you. If it does, do tell us.
 Keep reading fossBytes for more tech updates and infotainment!
---