Trigkey is a mini PC OEM. I had not heard of them until they invited me to review their Speed S3 mini PC sporting the Ryzen 5 3550H with Vega 8 graphics (mobile APU). I'm a little surprised that something with an APU going back three generations is currently in its review cycle, but I figured it'd be nice to review a mini PC that wasn't a Beelink for a change.
Speed S3 Specifications
CPU
AMD Ryzen 5 3550H
4 Cores / 8 Threads
2.1GHz Base Clock, 3.7GHz Boost Clock
6MB Cache
Memory
16GB DDR4
Graphics
Vega 8 1,200MHz
Storage
500GB M.2 NVMe PCIe 3.0 SSD
Network Connectivity
Wifi 5 (AC), Gigabit Ethernet, Bluetooth 4.0
Front IO
1x USB Type-C 3.0
2x USB Type-A 3.0
3.5mm Audio Jack
Rear IO
2x USB Type-A 3.0
2x HDMI
2x Gigabit Ethernet
DC Power Barrel Jack
Internal IO
M.2 SATA/NVMe Drive Slot
2.5″ SATA Drive Bay
Operating System
Windows 11 Pro
Trigkey Speed S 3550H Specifications
As mentioned, the Speed S3 3550H uses hardware from three generations ago. Four generations if you count the Zen 5 Ryzen 7000 parts. That's not to say that the part is lacking performance, it just won't be at the same level of performance as the newer parts.
Unboxing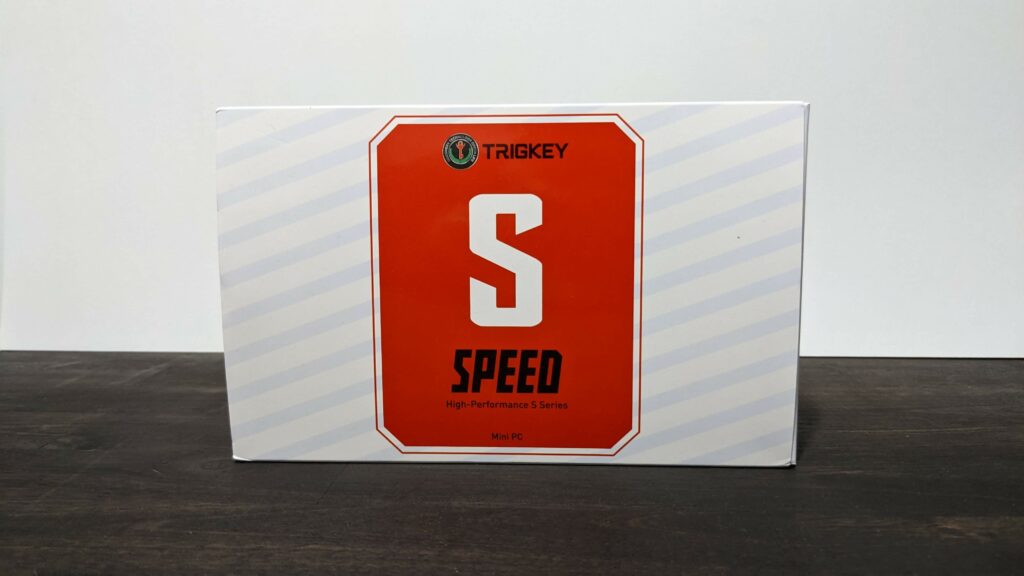 The unboxing felt very similar to that of the Beelink units. Everything was very minimalistic, with very little waste. But to say that it was familiar would be an understatement. It's honestly nearly identical.
Furthermore, the design language of the Trigkey Speed S3 is exactly the same as that of Beelink. It appears that they use a white-label supplier that simply doesn't brand their products. The same one that Beelink uses, by the looks of it, as well. In any case, this isn't meant to be discouraging. I've been happy with the products I've reviewed from Beelink.
Trigkey's Speed S3 comes with a bracket for fixing it to the standard VESA mounting points on the backs of monitors. This allows for a clutter-free desk. This is something that I'm a big fan of, but fail to achieve in practice, myself.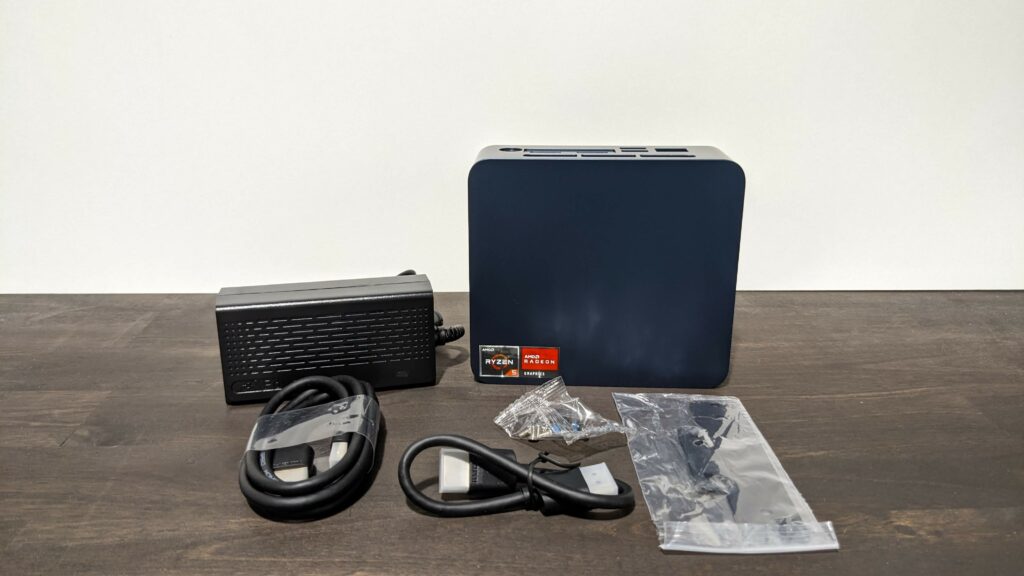 In addition to the mounting bracket, there is the power cable, two HDMI cables, the screws required for mounting, and a user manual. The Speed S3 comes with two HDMI cables because it has two HDMI ports, in case you missed that in the specifications table.
The Speed S3 comes in a plastic cover bearing a warning to remove said plastic cover, And that's about it for the unboxing. Like Beelink, it's not flashy. It's an appreciably simple and waste-free packaging system.
First Impressions of the Speed S3
The Trigkey Speed S3 is an ultra-compact computer. It's also very lightweight. The external walls of the Speed S3 seem a bit thin, but because of its small size, it still feels fairly rigid and durable.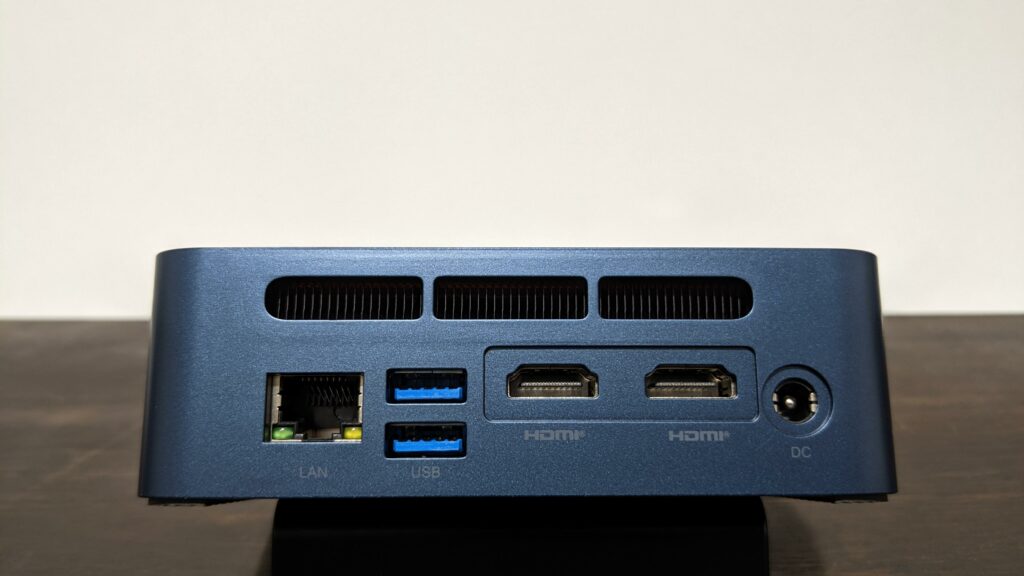 For those that would choose not to leverage the mounting option provide with the Speed S3, the rubber feet a the bottom will help prevent it from scratching your desk surface. If I were to use the Sped S3 as my daily driver, though, I would certainly opt for mounting it to my monitor. The included bracket makes for a very elegant solution.
The total of five USB ports (including the USB Type-C port) is likely enough for most users. But I, myself, can't help but feel as though that isn't quite enough. My desktop has four or five permanent devices, and I often find myself connecting more. Because of this, depending on any given user's usage, the five ports might not be quite sufficient. USB 3.0 hubs are much more affordable now than they have been in the past. However, I think a couple more USB Type-A ports could have been squeezed onto the back of the Speed S3.
Having two HDMI outputs on a small form factor computer is an interesting feature. One that's shared by the Beelink products, as well. Nonetheless, it is very much a noteworthy aspect of the Speed S3. This feature positions the Speed S3 as a viable productivity computer in modern office environments.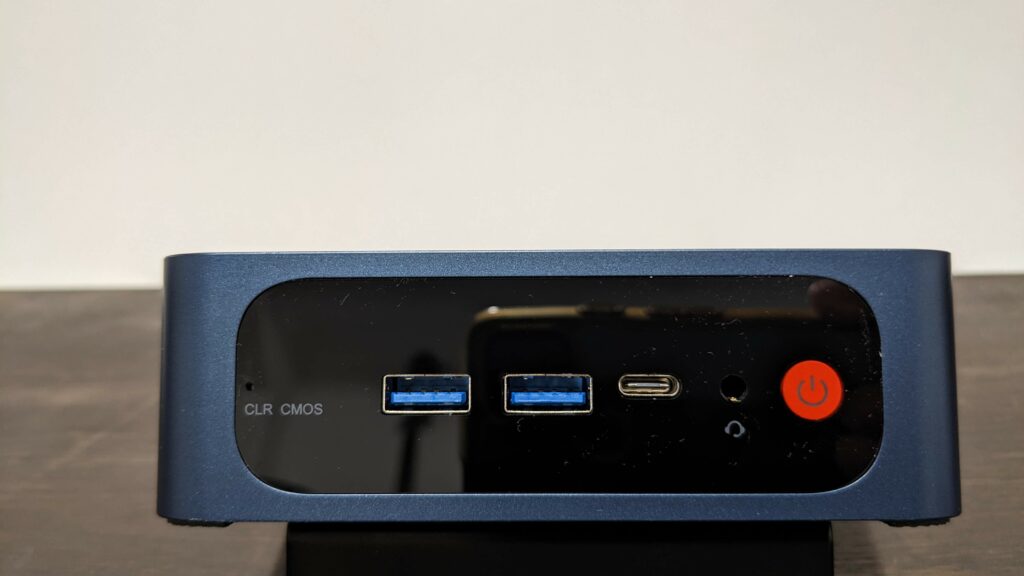 On the topic of office environments, the inclusion of Windows 11 Pro makes the Trigkey Speed S3 an excellent option for businesses that manage their workstations. With its combination of features,, it sits squarely in a sweet spot for enterprise IT.
Productivity Performance
The Trigkey Speed S3 might not compare very well to the latest Ryzen 6000 or 5000 CPUs. But it has a considerable amount of performance for a basic productivity workstation. The CPU is three or four generations old, depending on how you look at it. But, for my day job, I use a laptop with an Intel Core-i5 8250U, released in 2017, and it suffices for most of my work.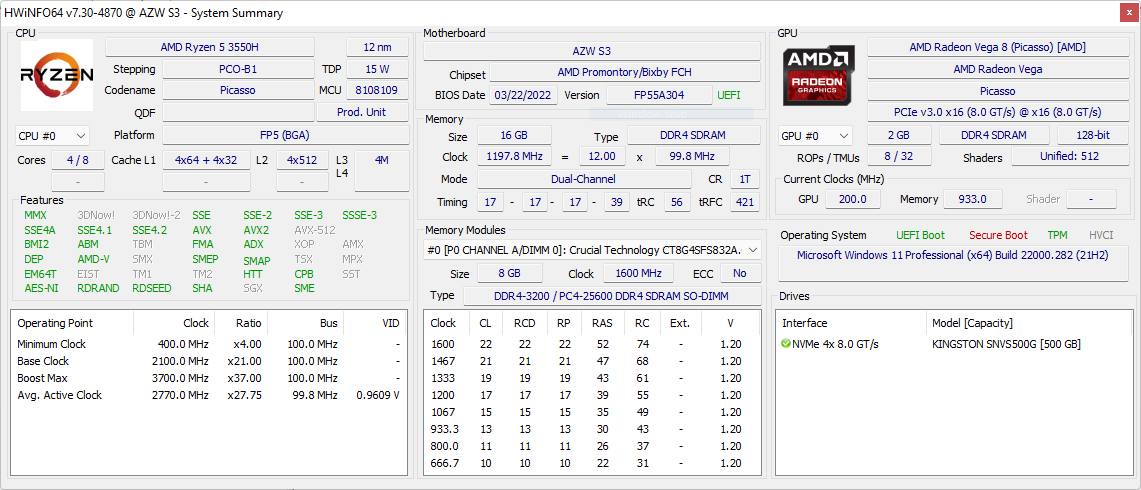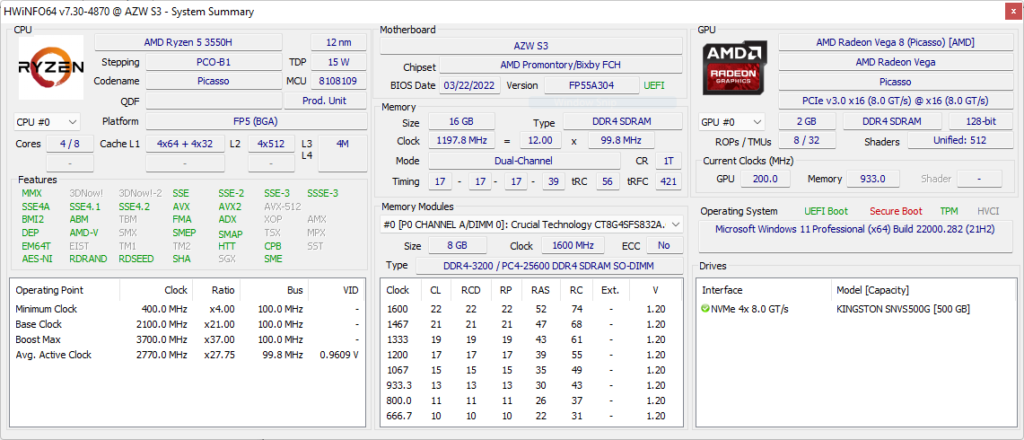 The KINGSTON SNVS500G that the Speed S3 is equipped with offers some serious speeds. The one I received appears to perform a cut above the rest in some aspects, but the averages observed online are still nothing to scoff at when they're pushing 2,300MB/s read speeds.
I did some productivity tasks on the Speed S3 and found that it was snappy and, overall, a good experience. More often than not, in most modern productivity tasks, the bottlenecks are storage and RAM. The Speed S3 comes with 16GB of RAM, which is solid for productivity. And the KINGSTON SSD keeps application load times to a respectably low delay.
Gaming Performance
It's worth repeating that the Trigkey Speed S3 has an APU that's several generations old now. The 3550H came out in 2019, which is why it's so surprising that a product based on it is currently within its review cycle. Despite that, there is still a considerable amount of value in the Speed S3, depending on what you plan to do with it, of course.
I was able to play both Stray and No Man's Sky with very playable settings. Stray needed more configurations set to low, but it is a more modern game. No Man's Sky did require some significant concessions (it has received many updates over the years, of course), but it was also very much playable.
The threshold of playability will always lie with the player in question. Therefore, I can't entirely recommend the S3 Speed for gaming. But I can say that it is certainly a viable emulation and light gaming option. The integrated graphics are not amazing, but they will definitely play many e-sports and retro titles without any issues.
Home Labbing
When I started reviewing These small form-factor computers, one of the aspects I found most appealing was the incredibly low power consumption combined with the tiny footprint of these products. This makes them excellent for students or professionals to run home labs with potentially several hosts.
There are definitely other options, like used computers. Electronic waste is a pet peeve of mine and I'm always looking to either make electronic devices last as long as possible or to put them in the hands of those that can make the most use of them. But sometimes, people don't have the space for a stack of old desktops. That's where I think these mini PCs shine.
The Ryzen 5 3550H's four cores and eight threads will allow for running a variety of services. The 16GB of RAM can support many workloads. And the SSD can support fairly high throughput. This all makes the Trigkey Speed S3 a really nice option as a virtualization server. With several free and open-source options to choose from like Proxmox, XCP-ng, or oVirt, you can get a (pseudo) HA virtualization cluster.
Conclusion
As always, mini PCs aren't for everyone, and no recommendation should be made with broad brush strokes. The day might come when mini PCs are almost universally suitable, but it hasn't arrived yet. The Trigkey Speed S3 has some notable features. I could definitely use it as a daily driver for work, myself, and I do a lot of power-user tasks like scripting and reporting with several productivity programs and Electron apps open.
If you're looking for a computer with a small footprint and decent performance for office work or some light gaming, then I would definitely recommend considering the Speed S3 among your options.