Apple's AirPods marked the beginning of an era where every tech company is launching its own truly wireless earbuds. We have seen Samsung's Galaxy Buds, Amazon's Echo Buds, Microsoft's weirdly shaped Surface Earbuds and many more. Amongst these well-known brands, true wireless earbuds of some lesser-known brands have failed to leave a mark on the users.
One such brand that I am testing today is Treblab. Treblab X5 truly wireless earbuds are an upgrade over their X2 and packs considerable features.
Here are the specifications of Treblab X5 Truly Wireless Earbuds:
Playtime: Up to 6 hours, an additional 4 hours with charging case
Charging time: 2 hours
Battery: Each earbud – 75mAh, charging case – 600mAh
Bluetooth version: 4.2
Signal Range: 33 feet/10m
Noise cancellation: cVc 6.0
Water Resistance: IPX4
Phone calls: Built-in mic with call audio only in right bud
Design – Sleek Yet Flawed
Starting with the aesthetics, Treblab X5 look similar to AirPods but with a slightly bigger size. The earbuds are conveniently designed and the fins impart a sporty look besides offering a comfortable fit.
I am particularly impressed with the sleek design of the case. It exudes a premium feel and has a very convenient form factor. You can easily slip it in your pant's pocket without an awkward bulge.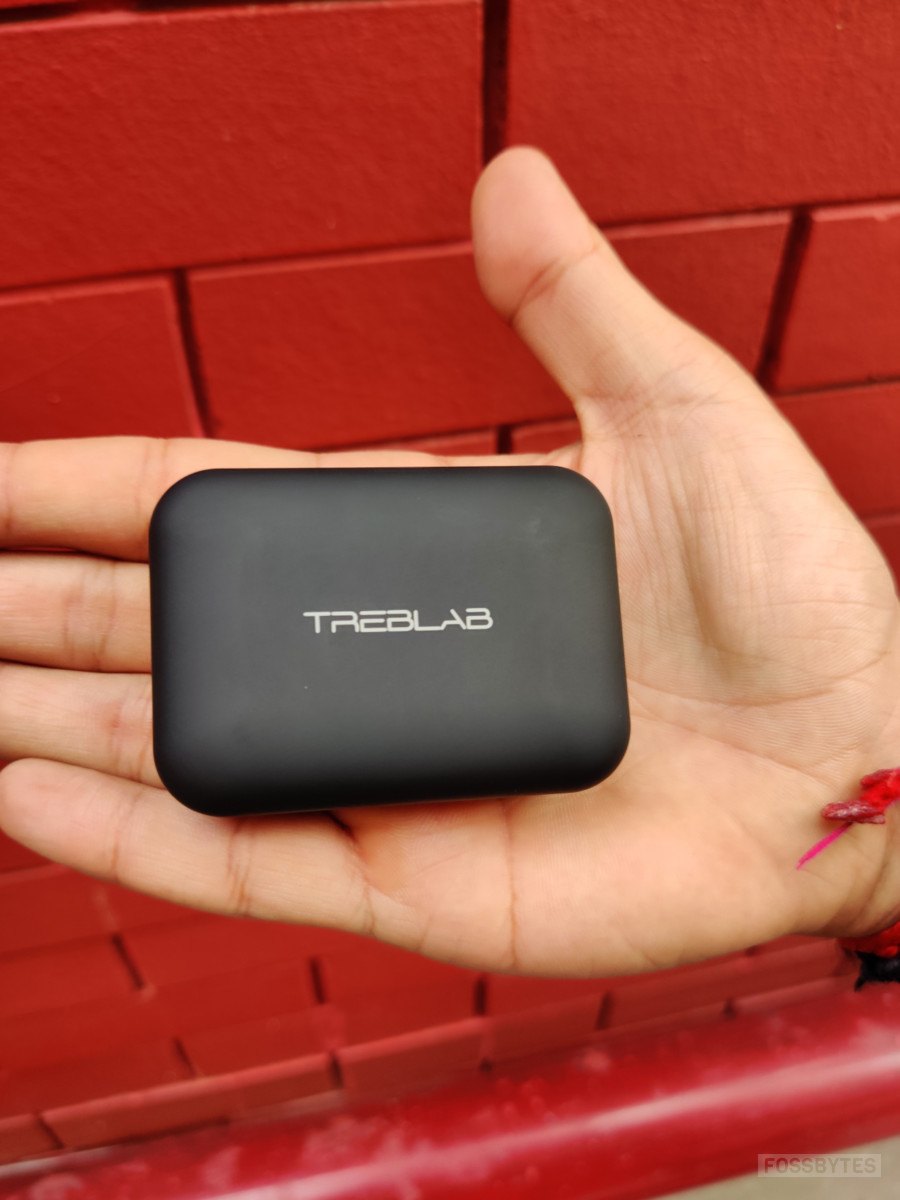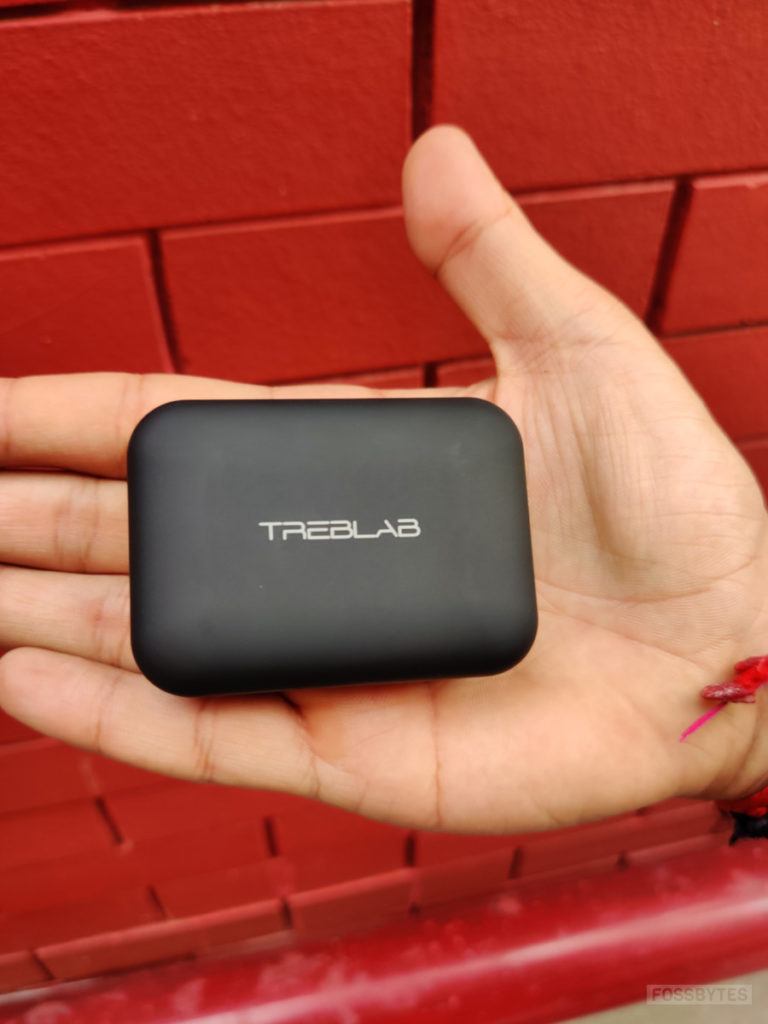 The case has two LED lights indicating the charging level, the push-to-open button that works flawlessly, and a micro USB slot for charging. There are two buttons on each bud with different functions like answering calls, increasing/decreasing volume and power on.
However, there is a design flaw in the case. When you open the case, the earbud in the right slot goes into the left ear and the one placed in the left slot goes into the right ear. This doesn't affect the music listening experience, just something I noticed.
Comfort
Treblab X5 have been designed by keeping sports enthusiasts in mind. The wingtip in the buds provides a secure fit and the buds do not fall off provided you have chosen the right size of wingtip and ear fins.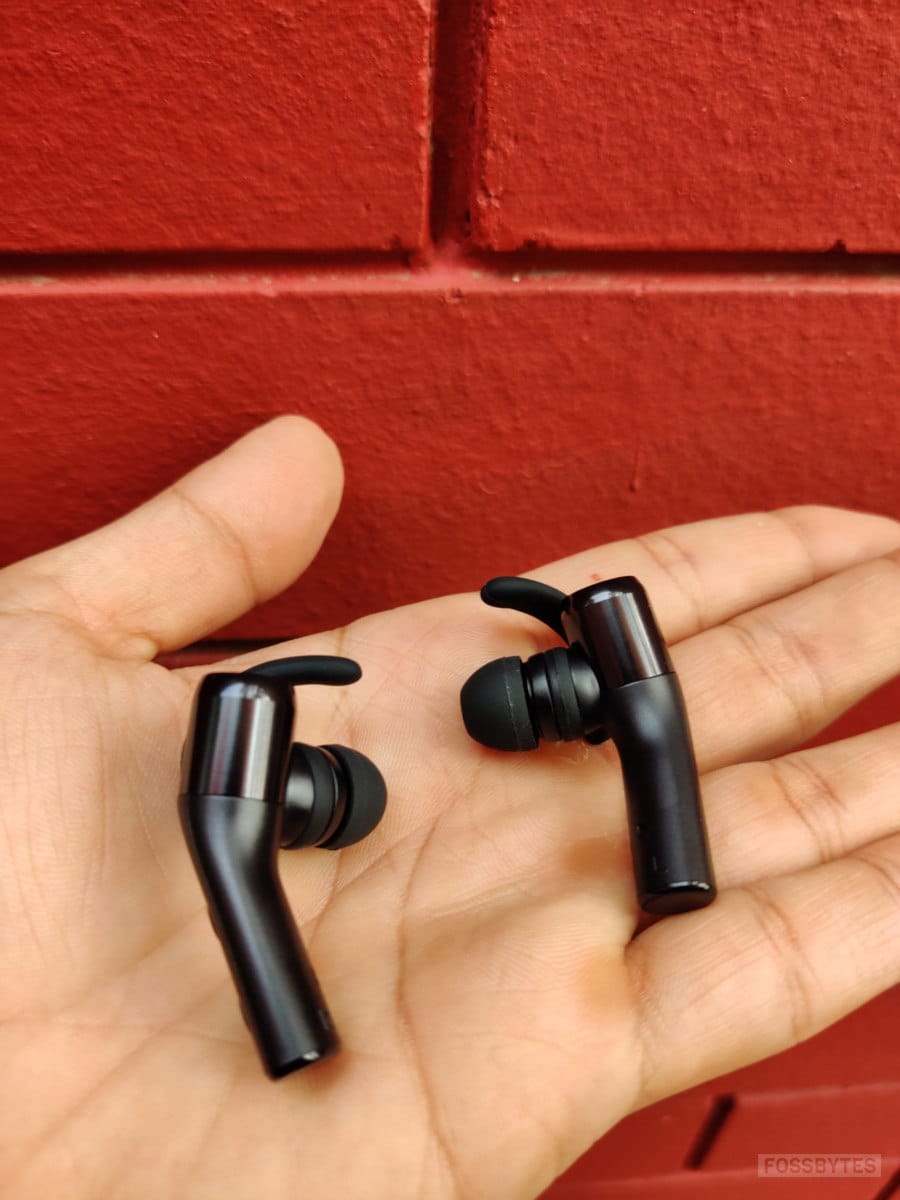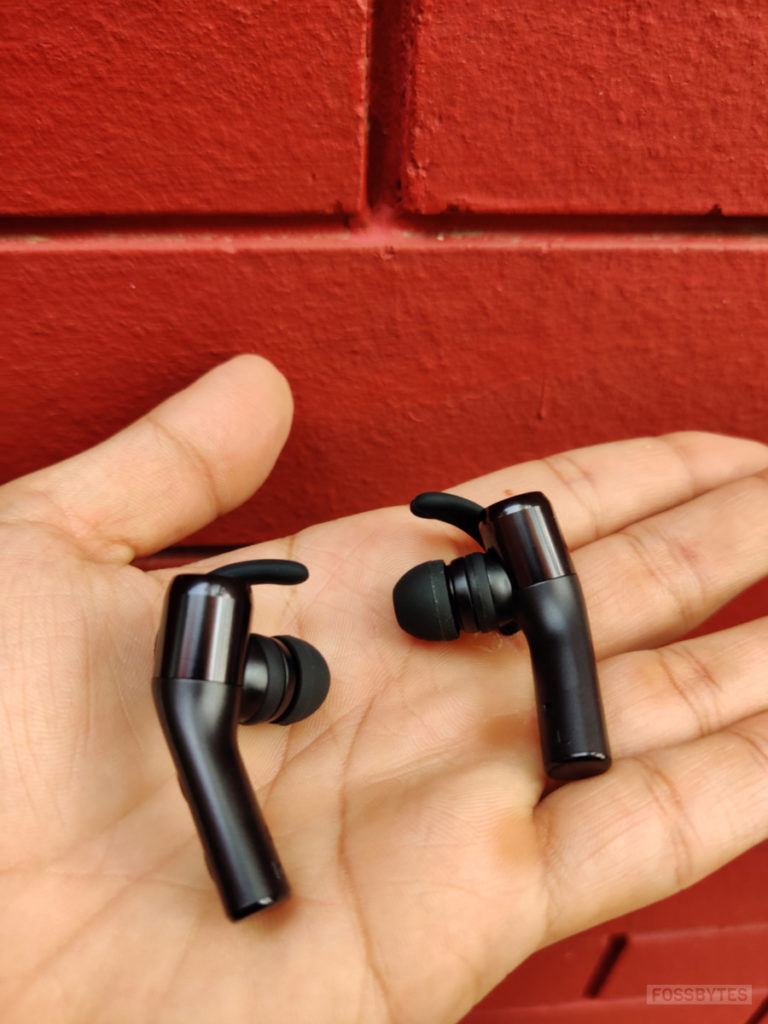 You can remove the fins if you want but we recommend using fins if you are out for a jog or in the gym while wearing these. There are 3 sizes of silicone ear tips, 3 expandable foam ear tips and 3 ear fins of different sizes in the box to choose from.
However, you might feel slightly fatigued after keeping them on for a longer duration.
Sound Quality
X5 feature high-end Beryllium drivers that deliver excellent quality sound. I tried different genres like Hip hop, country, pop and rap with these earbuds and I can say that these have one of the best sound qualities in the earbuds I have tested to date. These fair well in highs, mids and lows with crystal clear audio quality.
The advanced passive noise cancellation in these earbuds block outside noise even when you are in a noisy environment. You just need to pick the right wingtip and ear tip.
One thing that Treblab X5 lacks in terms of sound quality is bass. I felt that bass lovers will be a bit disappointed and should look elsewhere.
As with other earbuds in similar price range, I did not face frequent connection drops during my usage that spanned across two weeks. Despite the fact that these earbuds use Bluetooth 4.2 instead of the latest 5.0 standard, connection drops were almost negligible.
Battery Life
Treblab says that its earbuds offer 6 hours of music playback and with the charging case you can juice out additional 4 charges. In my experience, X5 delivered close to 5 hours of music playback with maximum volume and I don't think I can demand more.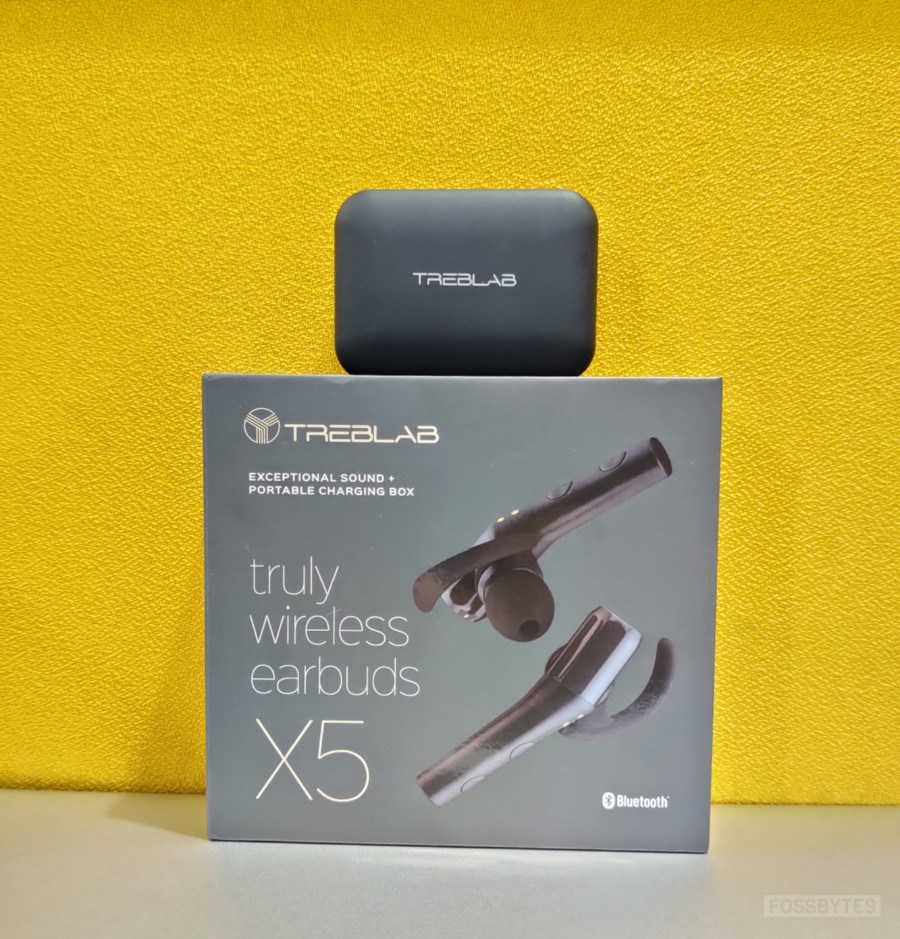 It takes 2 hours to fill up the charging case. Instead of micro-USB port, Treblab could have provided a USB-C type port with the latter becoming the standard.
Additional Features
Call quality
Disappointingly, you can hear call audio only in one earbud but both the earbuds are fitted with a microphone. However, I am not impressed with the sound quality during phone calls. Often, my voice sounded muffled to the person on the other side and I had to repeat my words to make myself audible. Overall, you won't be able to attend calls in a noisy environment.
Water resistance
Treblab X5 is IPX4 rated which means you can use these while working out without worrying about sweat seeping into the buds.
Support for Siri and Google Assistant
You can invoke the digital assistant in your smartphone by long-pressing the volume down button.
Cons Of Treblab X5
While these tick right on almost all the checkboxes if you are looking for true wireless earbuds, there are certain caveats as well:
Subpar microphone
Cumbersome form factor
Lack of USB-C type charging port
Not ideal for bass lovers
Should You Buy Treblab X5?
Treblab X5 packs scores full marks in case's design, battery life and comfort, but there is still scope in the sound quality department. If you can look past a subpar microphone and lack of thumping bass, these could be ideal wireless earbuds. Treblab X5 are available on Amazon as well as the company's official website for $69 currently.
Note: We are also offering a promo code to get you an additional 10% off on Treblab X5. Apply "Fossbytes" on Treblab's website and Amazon.com to avail the earbuds at a discounted price.