Updated (05.01.2017): Changes have been made to include the announcement of AirBar for MacBook Air.
Short Bytes: For those who have a non-touchscreen laptop, a new device called AirBar has come into existence. Created by a Swedish company Neonode Inc., the device is capable enough to transform any ordinary laptop into a full-fledged touchscreen device. Neonode Inc. announced AirBar for MacBook Air at CES 2017.
T
ouchscreens have been prevalent in the digital market for almost a decade, and they contribute towards a stupendous device experience. Almost every interactive device now boasts a touchscreen display so it can express its superiority against its outmoded counterparts.
But now, these non-touchscreen devices can perceive solace about their existence, thanks to an awesome gadget developed by Neonode Inc., which has its expertise in Optical Interaction Sensing Technology. They call it AirBar, and it is a simple plug-n-play device, which is like the fairy godmother for the laptops whose masters weren't tender-hearted enough to favor them with a touch functionality in the age where most of the modern laptops do feature a touchscreen.
The sensor uses zForce Air™ technology developed and patented by Neonode Inc. and finds its place on the bottom bezel of your laptop by magnetically attaching itself. It then emits some invisible light waves over your laptop screen which help AirBar sense any interaction between the user and the laptop screen.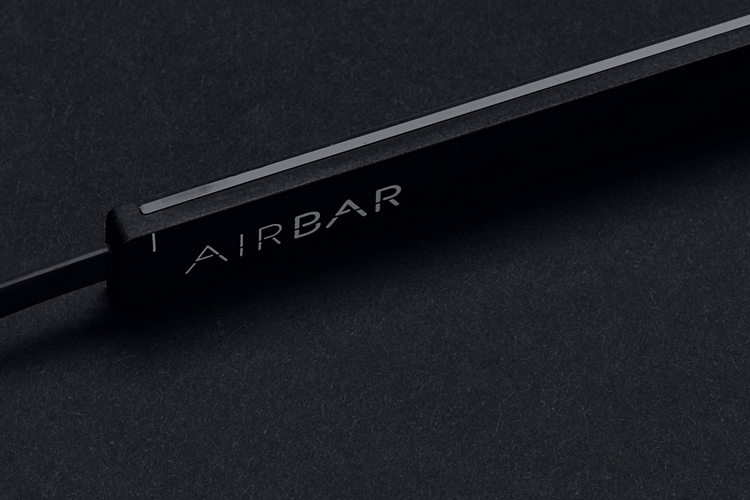 Basically, you are interfering the field of light waves emitted by AirBar, helping it to sense the point where you touched the screen. The signals are then translated into an appropriate format which can be easily understood by your innocent laptop feeling proud that it can now compete with its rivals and provide you a better experience.
Once your laptop's display has transformed into a fully functional touchscreen, you can feel free to touch it with your bare hands or if you want to use a paintbrush or you have long nails, go for it without a second thought. It'll surely work. AirBar will wholeheartedly assist your laptop to efficiently construe all the gestures like pinch-to-zoom, swipe, and scroll.
Imagine taking a non-touch PC, and within seconds making it a touch interactive device. Our sensor does not require installation of new drivers or lengthy instructions. The user simply connects AirBar and can then start to interact with the display immediately – it´s Plug and Touch. Compared with today's PCs with built-in touchscreens the AirBar sensor keeps your high-quality matte display glare free and without greasy fingerprints.
— said Remo Behdasht, Neonode's SVP Business Development.
AirBar uses the USB interface of your laptop to power itself and to transmit touch signals. For Microsoft Windows and Google Chrome OS, the AirBar was unveiled later. Currently, it's selling at a price tag of $69.
At this year's CES, Neonode announced a variant of AirBar for the 13-inch (13.3 to be precise) MacBook Air. After the hitting stores in March, it will be sold for $99. Also, a 14-inch AirBar variant for PCs running Windows will arrive at the same time.
How to setup AirBar:
How do you feel about AirBar? Drop your views in the comments.