I don't own an iPad but my friends do. I love Typewrites but I don't own one. I love Tom Hanks but I haven't met him.
Maybe, Tom Hanks heard my prayers and released a free Typewriter application for iPad. So, when I saw the Hanx Writer app at the top in their app store, I instantly downloaded it.
It was number one in productivity as well as in over-all apps list. The app ranked no. 1 in these lists with a rating of 4.5 and about 2000 reviews.
The app comes bundled with a feel of an old-school typewriter and it delivers a great typing experience. You get to hear the sound of the typing of keys just like a real typewriter along with the embedded convenience of a modern app, you get to save it, email it, edit it and a lot more.
You get a single font and color, and you can unlock more fonts and features by spending few bucks.
Hanks has revealed that he is a typewriter enthusiast and started collecting them in 1978. In New York Times Editorial, Hanks wrote in 2013: "I use a manual typewriter-and the United States Postal Service-almost each day. My snail-mail letters and thank-you notes, office memos and to-do lists, and rough-and I mean very rough-drafts of story pages are messy things, but the creating of them satisfies me like few other daily tasks."
Take a look at his tweets asking people to type love letters on the app. So, maybe you should download the app and 'Type' one :D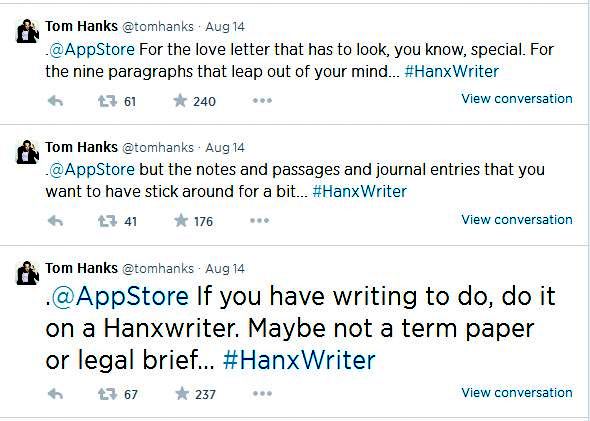 Hanks!