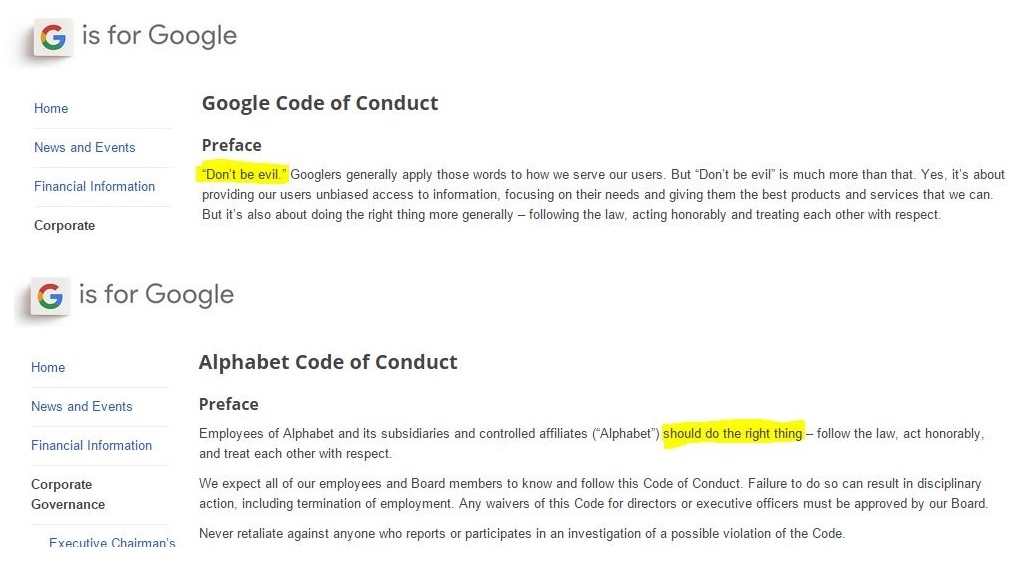 Short Bytes: After the restructuring, Google's iconic phrase "Don't be evil" has been replaced by Alphabet's "Do the right thing."
T
hings have changed at Google. Now the company has
completed its transformation
into a parent conglomerate named Alphabet. The company has also posted a
new code of conduct
online.
Google's existing code of conduct was best known for its first line: "Don't be evil." This was also included when Google went public in 2004. But, it seems like "Don't be evil" doesn't suit Google anymore.
From time to time, Google's slogan has been challenged as Google hasn't always lived up to it.
The new code of conduct for Alphabet doesn't have a mention of the famous phrase. However, the new code of conduct sets new standards for Alphabet's daughter companies. It says that companies "should do the right thing – follow the law, act honorably, and treat each other with respect."
This iconic phrase from Google showed its aspiration to be a different company that allows you take pets to the office. But, Alphabet doesn't need to follow that and it talks about the usual corporate standards.
It would be interesting to see how things will change in the upcoming times at Google after this restructuring. We can just hope that Google doesn't stray much from the "Don't be evil" slogan in the future.
What do you think? Tell us in the comments below.
Also read: If G is For Google, What Do the Remaining "Alphabets" in A-Z Mean?