A Kickstarter project is promising to transform your smartphone's camera into a powerful microscope, enabling magnification up to a whopping 1000x.
Going by the name DIPLE, this Google cardboard-like kit will enable users to examine microorganisms, bacteria, particles in engine exhaust, and even our own blood cells.
Following the standardized procedure, the user will have to collect a small blood sample and place it on the prepared slides. However, instead of requiring a pathological compound microscope, you will need a smartphone.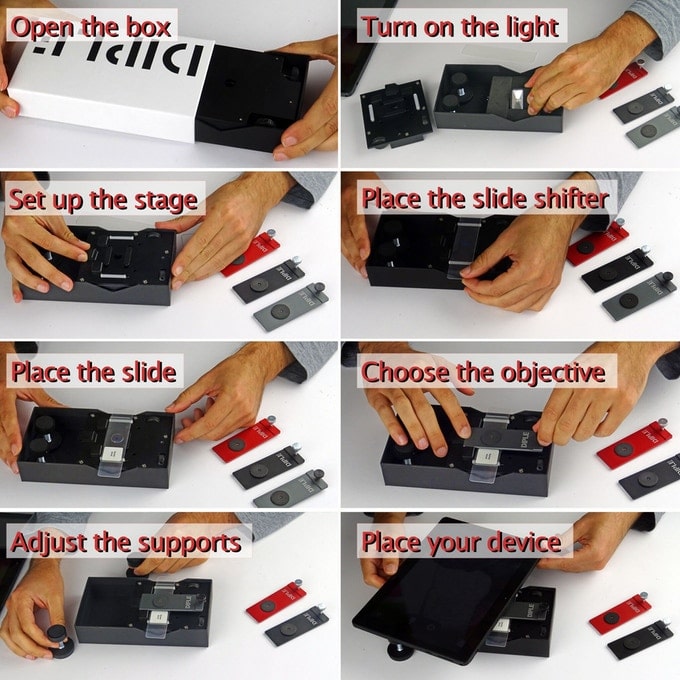 The portable kit offers three levels of magnification (35x, 75x, and 150x), which can be radically increased with the digital zoom of a smartphone.
According to the developers, achieving a pixelation free 1000x magnification will require a smartphone with excellent camera specifications. The setup works on both iPhone and Android smartphones. Furthermore, you need to install any app to get the microscope working.
The DIPLE developers claim that the kit can survive "a 10-meter fall and still work perfectly". Overall, the smartphone microscopic kit is a budget alternative for the standard microscope.
Interestingly, DIPLE is not the first project of the team. Previously, they developed BLIPS, which was mainly a bunch of stick-on macro smartphone lenses for the extreme close shots. While BLIPS was a successful project, it didn't offer the macroscopic levels of DIPLE.
Currently, USB microscopes are a popular alternative for budget microscope kits. However, the DIPLE team claims that all the other alternatives do not produce the same quality and detail in the images.
DIPLE is currently selling at $40 for the 35x zoom kit, going up to $120 for all the three magnification kits.