CrownCruiser is a high-performance e-bike from UK-based startup CrownCruiser Motors Ltd. It recently made its debut on Indiegogo where you can order it.
This electric bike offers an electric range of up to 100 miles and also it comes with an easily swappable battery.
From a design perspective, it looks like a mountain bike but is integrated with lots of smart techs. We can say there's an uncanny mix of retro styling and ultra-sleek space-age curves that makes this machine look simply amazing.
Its advanced high-tech pedigree has been developed with input from experts in the aerospace, sustainable energy, and motorsports industries.
Also, the material and built quality seem to be top-notch. According to its makers, it's "constructed around a lightweight, ultra-strong monocoque carbon fiber frame, riders can customize CrownCruiser's elegance with a choice of color palettes and bespoke skins."
Let's tell you in detail about CrownCruiser —
CrownCruiser Smart E-Bike: Specifications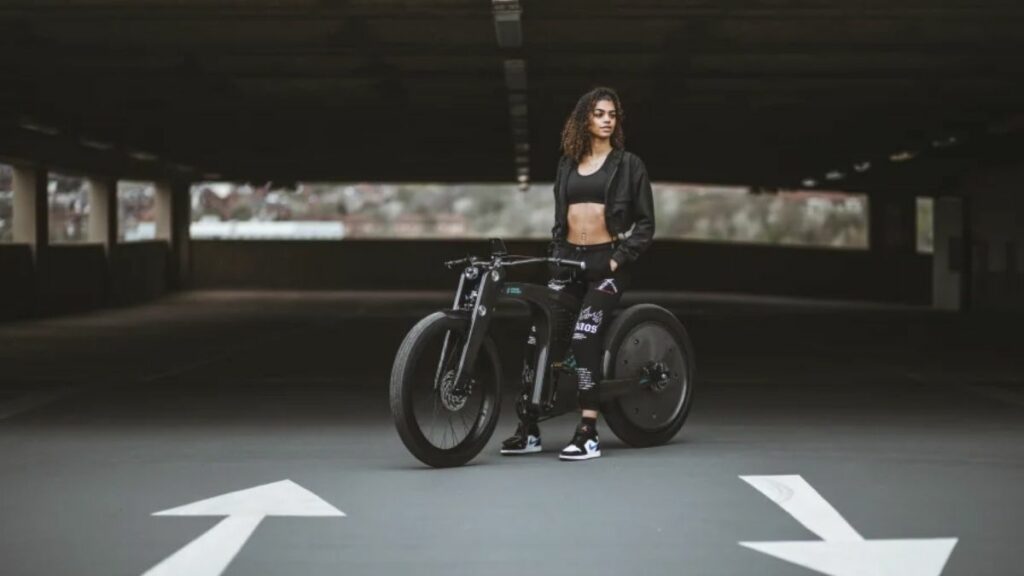 Performance
It comes with a powerful brushless DC motor with a choice of either a 250W or 750W motor. CrownCruiser can generate a maximum power output of 1000W.
Also, there are two-speed modes: the Pedal-Assisted System (PAS) and the Throttle mode. The PAS can produce speeds up to 15.5mph at 250W. Alternatively, combine the PAS with the throttle and the powerful 750W rear hub motor kicks in, allowing CrownCruiser to achieve speeds of up to 31mph.
Electric Range And Battery
CrownCruiser comes equipped with a Li-ion Battery with battery options. Customers can choose from 36V/ 11.6 Ah or 48V/ 14.5 Ah Li-ion Battery. Both the batteries are easily replaceable.
Speaking of the range, it can offer up to a 100-mile range when operated at PAS and a maximum speed of 15.5 mph.
Construction And Features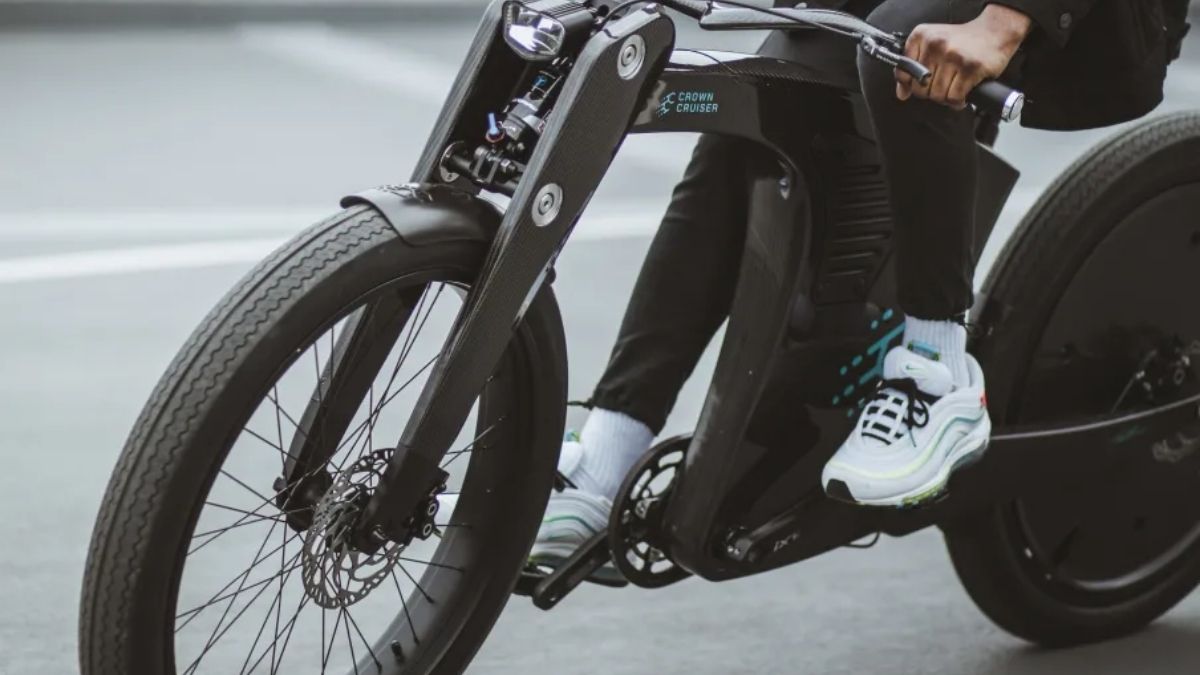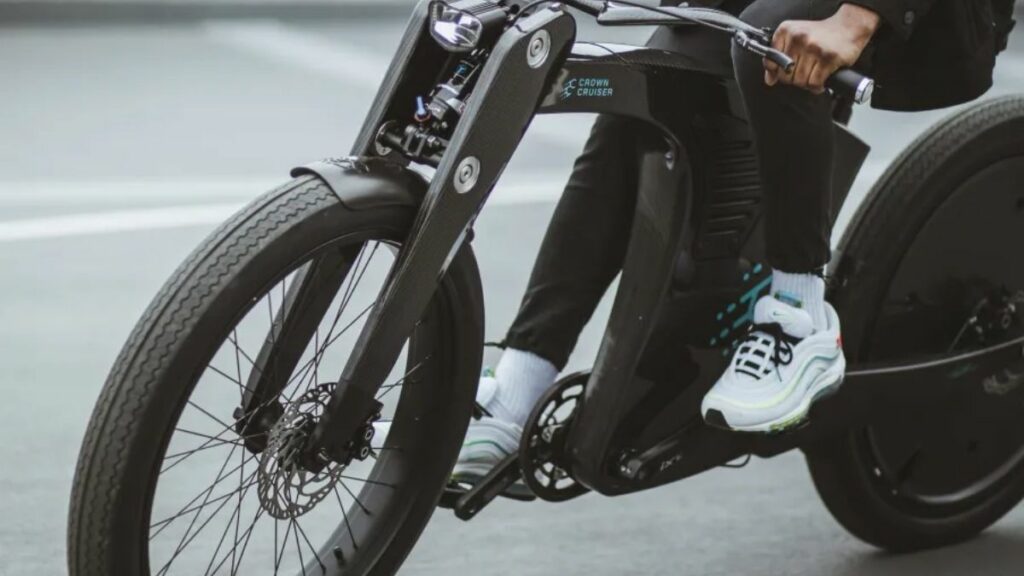 Frame: Monocoque Carbon Fiber Frame
Front Brake: Optional upgrade to 203mm Magura MT4 Estop
Rear Brake: 180mm rotor x 2.0mm
Headlight: CrownCruiser 2000 Lumen LED Headlight
Taillight: Seat clamp integrated taillight
Battery: Swappable 36V or 48V battery
Drive: Gates Carbon Belt Drive
Phone Charger: Integrated wireless phone charger
App: CrownCruiser App for iOS and Android
Warranty: 2 years Warranty on electronics, Lifetime Warranty on the Frame
Tyres: Tires: 26″ x 3" Front & Rear.
In addition, the e-bike weighs 25 kg (55 pounds) along with the battery.
Apart from this, CrownCruiser comes with rider recognition anti-theft defense, GSM location tracking, and Bluetooth, complemented by a powerful app that tracks riding statistics. It even has a gyro accelerometer sensor that can detect an impact or fall and will pin drop your location to your emergency contact.
There's also an option for customization. Customers can choose from a wide range of Frame Color options: Carbon Fiber, Yellow Carbon, Bubble Gum, Smokey Gray, Bad Ass Blue, Sunset Orange colors: Carbon Fiber, Yellow Carbon, Bubble Gum, Smokey Gray, Bad Ass Blue.
Price
Currently, the e-bike is available at an introductory price of $3,150 which is half the original price. Find out more about the amazing CrownCruiser on the official Indiegogo page.
About CrownCruiser Motors Ltd.
CrownCruiser Motors Ltd. is a UK based startup Founded in 2018 by Adebola Adeleye. It aims to encourage more people to adopt green transport with affordable, stylish, and technologically advanced urban electric transport.
Adebola has work experience in aeronautical engineering and has a passion for outdoor and eco-friendly transport.
Adebola says, "Here at CrownCruiser Motors, we've blended distinct styling and the latest technology to create the ultimate expression of the cruiser bike. We've worked hard to create a bike that our design-conscious community can ride where they want, safely and in style – with minimum impact on the planet's resources and their wallet".
Anyway, for the inductory offer price, CrownCruiser seems like a good option for those looking for an e-bike.