Short Bytes: Search your feelings and you'll end up wishing for a Lightsaber to kill some Stormtroopers on your way home from the theater after watching Star Wars: The Force Awakens. Well, we are here to help you by telling you a way to make a real-life lightsaber. An electrical engineer has created the device and shared the video on his YouTube channel. Take a look.
F
rom the last 40 years,
the spectacle of Star Wars
 has continued to amaze the audience and inspire the creative minds. People have watched the movies and imagined the real life versions of
Death Star
,
Millennium Falcon
, and Lightsabers.
Allen Pan, an electrical engineer, from a galaxy not so far away, has created a real-life version of Lightsaber. Watching the video below, this DIY creation might make you say – This is amazing. I want one too. Well, I'm pretty sure that Allen will love to say I Know, quoting Han Solo. Allen is already famous for making the real-life version of Thor's hammer that only he can lift.
If you want to make this device at home, let me tell you the things used. It works using nichrome ignition found in model rockets that takes place inside a 3D-printed enclosure. It uses a mixture of acetone and methanol as fuel and used butane as the propellant. The lightsaber sound effects are triggered by a button mounted on the handle.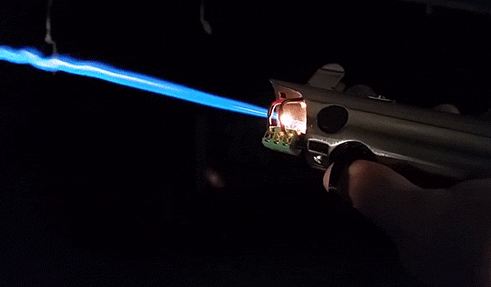 As some of you might get a bad feeling about this, we'll advise you to take precautions while trying to make it. Even though it won't cut flesh and kill Stormtroopers in real-life, it'll be the coolest lighter you are going to ever own.
Watch the video below:
Go make one for yourself. Try not. Do… or do not. There is no try.
Also read: How To Watch Star Wars In Command Prompt Via Telnet