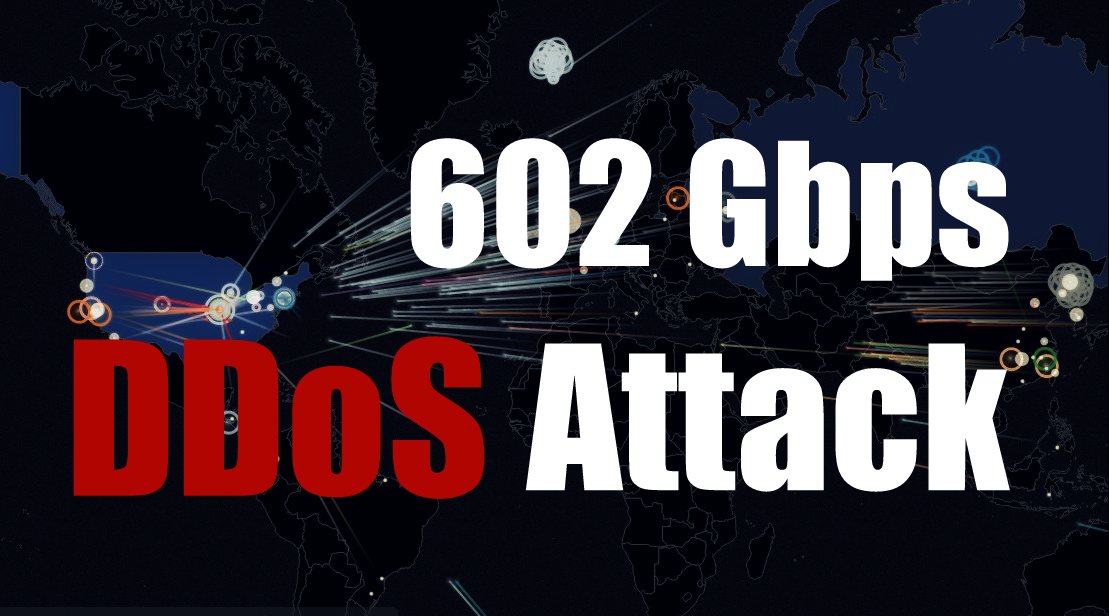 Short Bytes: DDoS attacks are one of the biggest enemies of a website admin. The year 2015 saw an unprecedented growth in the number of DDoS attacks. Along the similar lines, Arbor Networks recorded an attack peaking up to 334 Gbps. Well, things aren't looking good in 2016 as a hacktivist group has taken the responsibility of the DDoS attack on BBC website that peaked up to 602 Gbps.
O
n New Year's eve, the BBC website and iPlayer service went down due to a massive Distributed Denial of Service (DDoS) attack. The attack peaked up to 602 Gbps, according to the claims made by the New World Hacking group, who took the responsibility of the attack. In another recent attack, the Republican presidential candidate Donald Trump's main campaign website was also targeted by the same group.
Earlier BBC announced that the service failure was due to some technical failure. Later it rephrased that the New World Hacking group took the responsibility just to "test its capabilities."
602 Gbps – Largest DDoS Attack in History
DDoS attacks are conducted by flooding a web server with a torrent of traffic. These attacks are widely popular and often used by hackers with an aim to bring down the websites. For more, read our guide to know how DDoS attacks work.
The BBC websites including the Player on-demand service suffered at least three hours outage on Thursday due to the DDoS attack.
This group is calling itself a hacktivist group whose main target is ISIS.  One of the members of the group – calling himself as Ownz – has told ZDNet their real motives.
Read the statement here:
We aren't really attention seekers, then again this attack was only a test of power, but we didn't take down BBC because they had ISIS members on the site. We took down BBC as a test of our power. We use these attacks on ISIS mostly.  David Marcus, VP of Facebook Messaging Products
The hacking group called this just a "start of a new year."
The group also sent a screenshot of a web interface that was allegedly used to launch these attacks. The picture indicated an attack peaking up to 602 Gbps.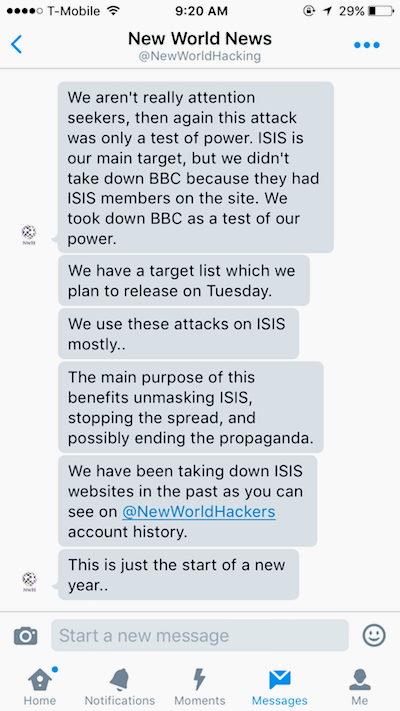 If this attack size is proved to be true, it would easily surpass the past record for the largest DDoS attack of 334 Gbps in 2015 recorded by Arbor Networks.
Detailing the attack, Ownz said that they have their own ways to bypass the security layers of the Amazon Web Services. He said:
The best way to describe it is we tap into a few administrative services that Amazon is use to using. The [sic] simply set our bandwidth limit as unlimited and program our own scripts to hide it.
We have contacted the Twitter handle of the New World Hacking group for more details and we'll be updating the article as we get some update.
Also Read: DDoS Attacks Are Now Stronger Than Ever, 12 Mega Attacks in Recent Times