It's that time again! Hold your horses and get ready for Google's new line of hardware.
The third annual "Made By Google" event is taking place on October 9th, precisely at 11 AM ET. We will be covering the whole event, so make sure you follow us.
It's quite possible that Google Pixel Event may turn out kind of dull, considering the information flooded over the Internet. Nevertheless, there are always a few things that will only unveil at the event itself.
Google Pixel 3 XL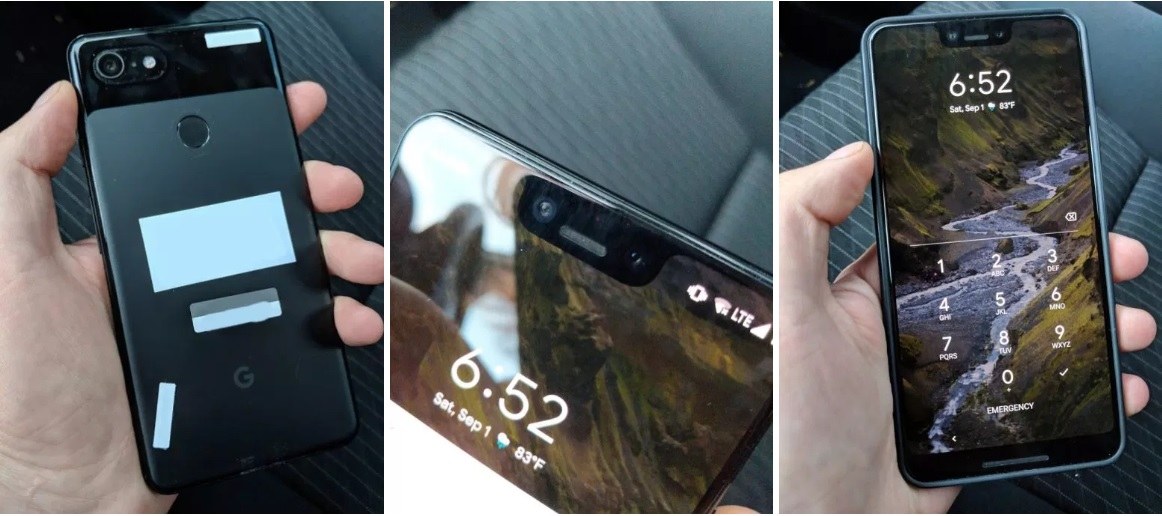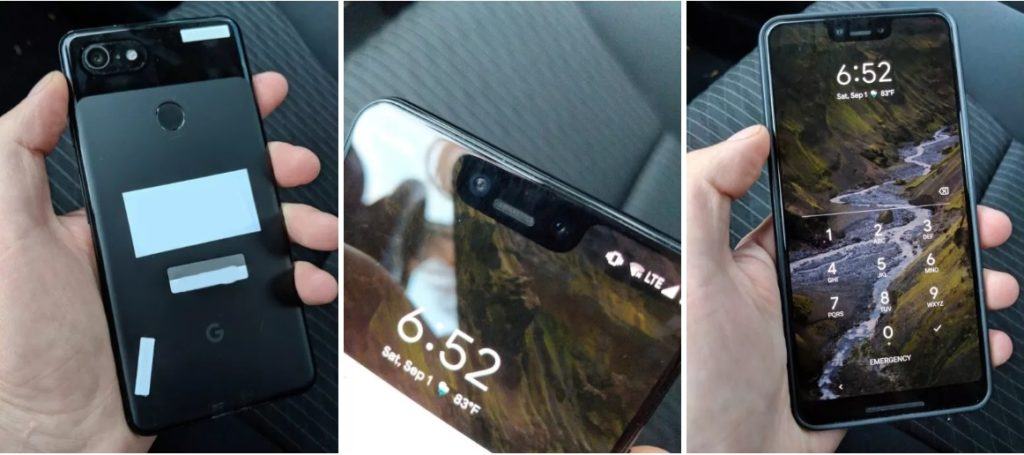 Let's address the obvious hardware first: Google Pixel 3 XL, successor to Google Pixel 2 XL. The flagship device will remain the spotlight for tomorrow and, probably, for the next whole year. But since the Google Pixel 3 XL leaks have reached to an extent where it's already selling on the black market, we literally know everything about the device.
Notched Display
Yeah. You heard me right! Google is going for a deep, ugly looking notch for its Pixel 3 XL device. Keeping my personal hate aside, it genuinely doesn't look good.
Screen size is still a mystery. Few experts believe the device will come with a monstrous 6.7-inch display. However, others suggest that it will be the same as the OnePlus 6, which is 6.2-inch.
Wireless Charging
One of the few good things about the new Google device is its Wireless Charging capability. Many leaks over the months have indicated that Google Pixel 3 will support wireless charging. This also means we will see a Google "Pixel Stand" for wireless charging.
Dual Camera (in the front), some Rear Camera updates as well
For the first time, Google device will carry an 8 MP dual camera setup, on the front. With a revamped camera app, the device will introduce new focus settings that will change into three different modes.
On the back, the device will again come with a single 12.2 MP camera. However, it is rumored that there will be massive updates to the rear camera. Camera capabilities have always been a major selling point for Pixel devices. If you don't believe me, look at the leaked camera samples yourself.
Everything Else
Behind the hood, Google Pixel 3 XL will run the latest Snapdragon 845 SoC. It will have the same 4 GB RAM. And as the rumors go, the battery capacity is believed to be 3,732mAh. It will be running on Android Pie, not to mention.
This time, the packaging box will consist of Google USB Type-C headphones, which means you can finally get rid of the dongle.
Google Pixel 3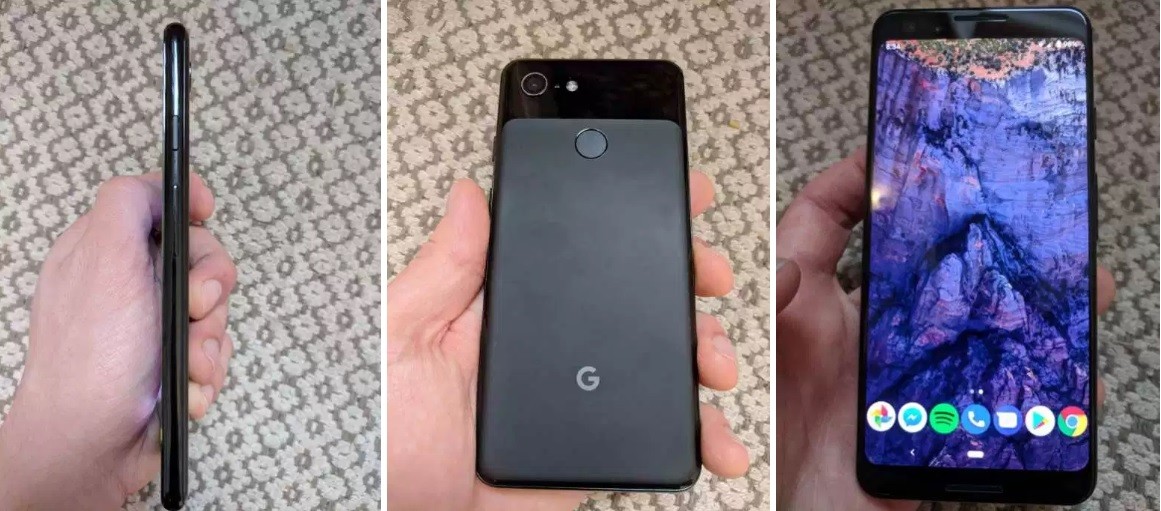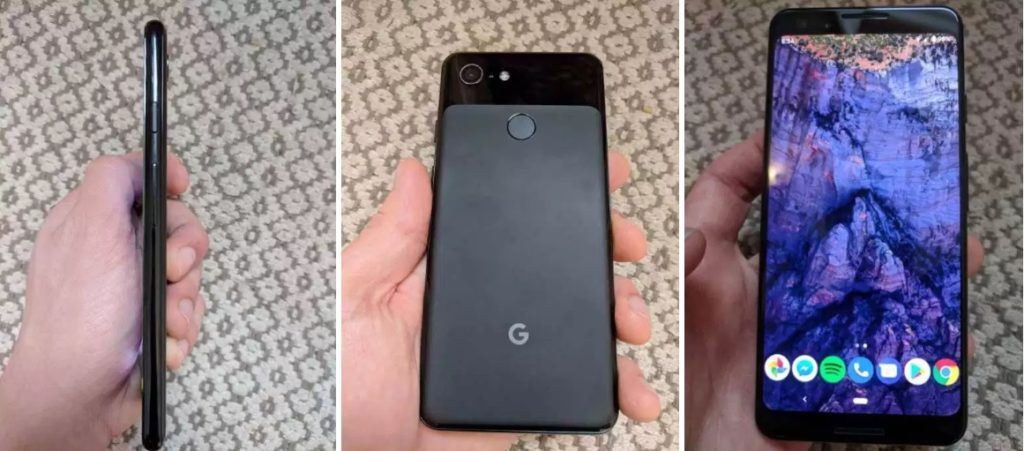 Of course, leakers have ignored the small brother, as always. So we know only little about it. However, I think any available information is enough, given the fact that the Google Pixel default version always seems to follow the Pixel XL version.
Google Pixel 3 will have the same configuration as the Google Pixel 3 XL. Except, it will not hold the notch, which means no dual selfie camera for this little guy. It may also support Wireless Charging, but that's just a speculation.
Apart from that, Google Pixel 3 will have the design dynamics of Google Pixel 2 XL with a 5.5-inch screen. Also, Google has largely cut-down the bezels to make Google Pixel 3 more stunning than ever.
Google Pixel Slate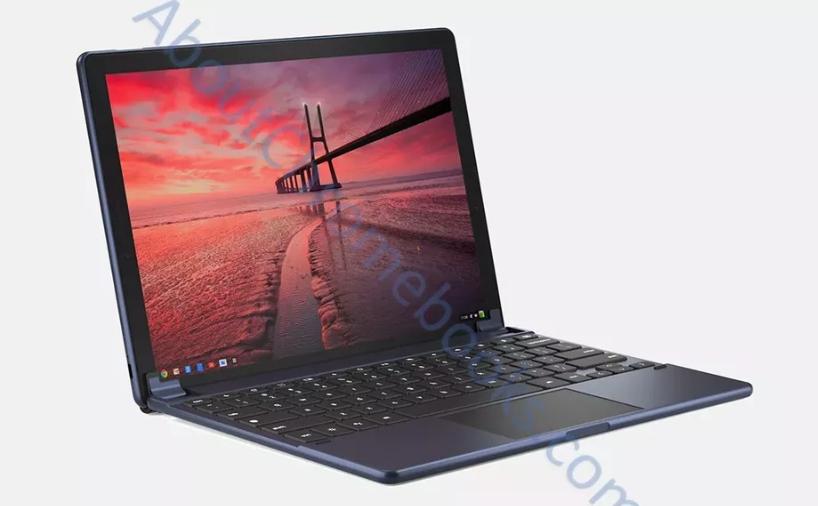 Probably, one of the most anticipated hardware of Google Pixel event is the Google Pixel Slate 2018: a brand new tablet "made from Google" that will work on Google Chrome OS.
The Google device will go against the new Microsoft Surface devices and iPad Pro (until new iPad series gets announced). The device codenamed "Nocturne" is considered to be super thin and light, at least that's what the renders say. Google Pixel Slate will include USB type-C ports which Microsoft failed to bring in their new hardware.
As for the specifications, the device will have a 3:2 aspect ratio. It is going to have Intel 8-Gen processors. And the tablet will likely to hold an SSD drive. One of its variant specification leaks showcased an Intel Amber Lake i7-8500Y processor and 16GB of RAM.
Interestingly, the device will likely to come with cross-platform support. In other words; we might see Android Pie and Windows 10 as well, apart from the Google OS. Google Pixel Slate also has a fingerprint scanner at the top of the display. And since it's a touch tablet, we might also see a new version Google Pixel Pen.
Google Home Hub


Another major hardware we are expecting from this Made By Google event is Google Home Hub. A new kind of device of Google which essentially connects a screen to a smart speaker
Thanks to the leaks, we already know a little about the Google Home Hub: a 7-inch display mounted to a base speaker. It comes with a volume rocker on the back side, WiFi 802.11ac, Bluetooth, ambient light and color sense, and it weighs in at 480g.
Rumors suggest that the device will not house a camera. In other words, no Google Duo support, which also means no video calling to your friends.
Google Chromecast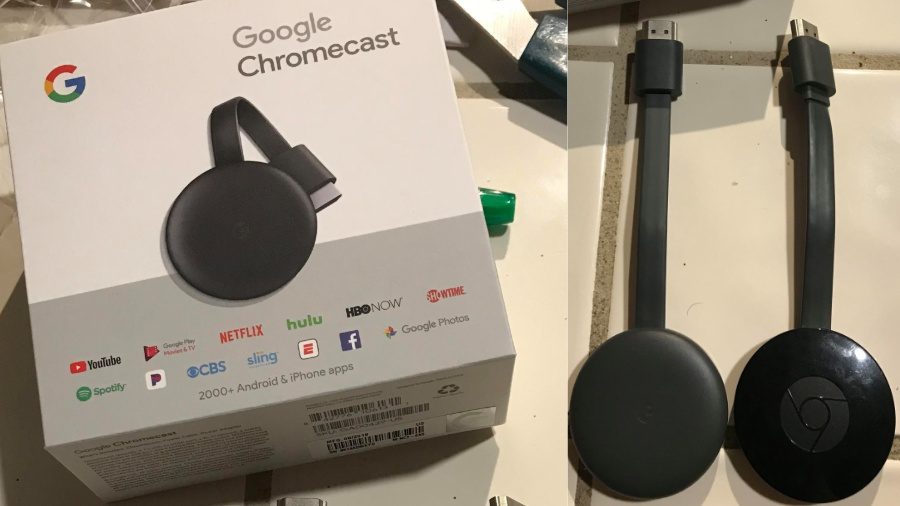 You would be surprised if I tell how people discovered the new Chromecast. Apparently, Best Buy accidently sold the new device to one of their customers who later posted its pictures online.
Anyway, we would see the new Google Chromecast at the Pixel event. If you'll notice the pictures, the Chromecast has ditched the magnetic connector that held the HDMI cable on the top of the device. Other than that, the glossy plastic design has been replaced with a matte coating. It's also a bit thicker, and the Chromecast logo is now replaced with a "G" on the top.
As far as we know, there are few internal changes as well. Like improved WiFi and Bluetooth. Apart from that, everything about the device is still a mystery. But since Google Project Stream is doing rounds on the Internet, we might see something related to it.
Google Pixel Stand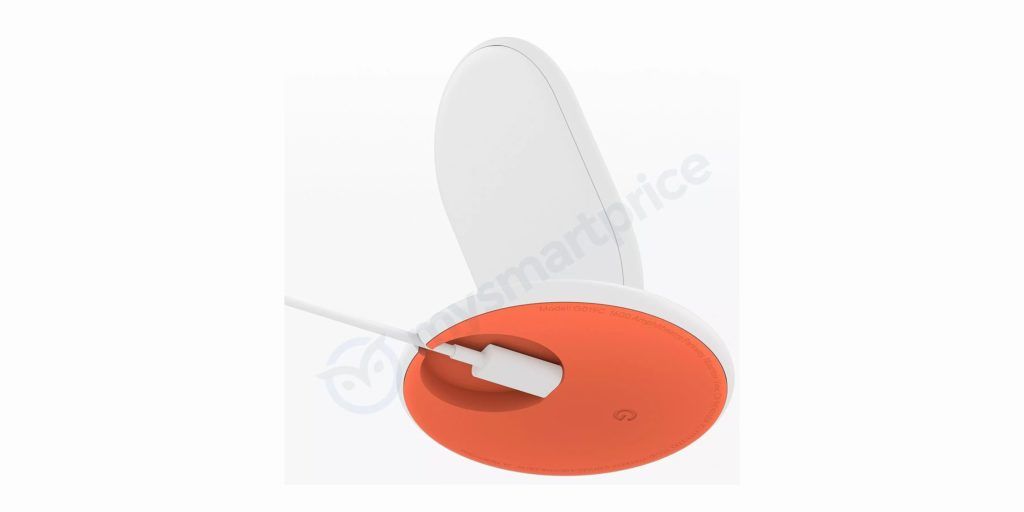 We have already discussed Google Pixel 3 will support wireless charging this time. So it's but obvious that we will witness a Wireless Charging gear at the Team Pixel event.
Since a bunch of leaked animation and the official press render are out there, we have a basic idea about the hardware. We know that there is USB Type-C port at the bottom the device and your Pixel device will showcase some cool stuff when docked.
For instance, it will include something called "Smart Display" and some sort of animations, specifically designed when the device is charged wirelessly. One of the animations also includes "Photo Frame" functionality which we often see Google smart devices.
There are a few other things which we may/may not see on Google Pixel Event –
Google Pixel Book 2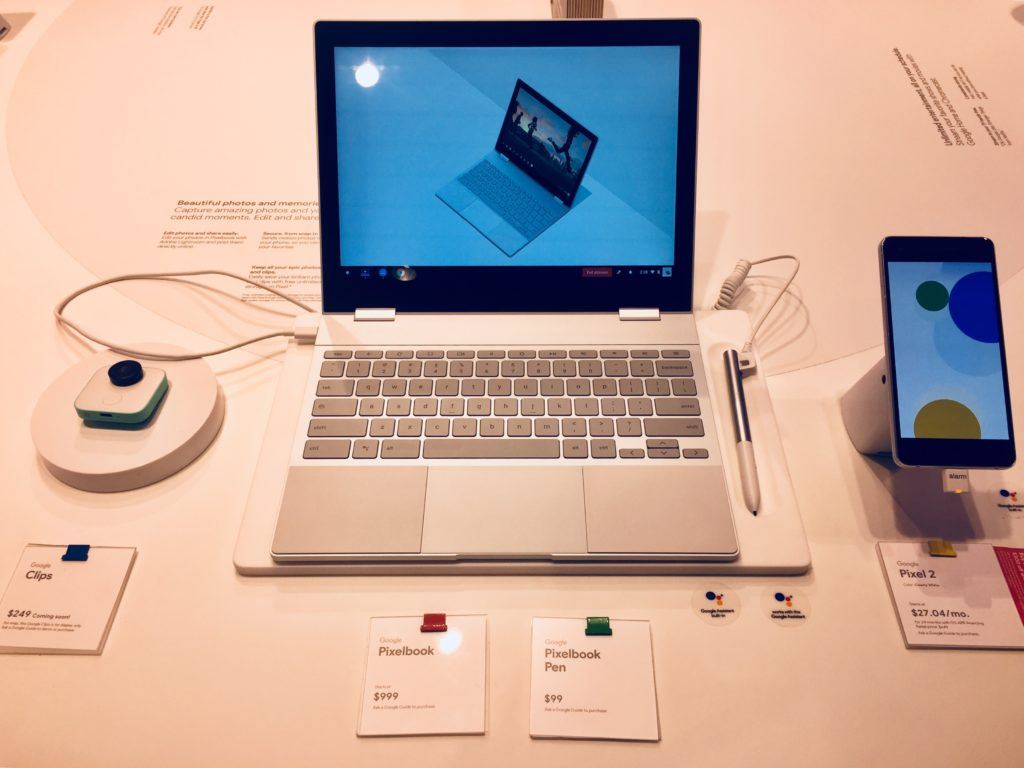 A few rumors are running around that we will see a new Google Pixel Book. The rumored device codenamed "Atlas" will have some similar features to Google Pixel Slate. However, it will follow the same Google Pixel Book design, i.e., a traditional notebook.
If Pixel Book 2 is unveiled at the Google event, it is speculated that it will come with a 4K resolution display. Also, it will feature a revamped camera bringing the support of 1080p recording.
Google Pixel Buds 2 (Completely Wireless?)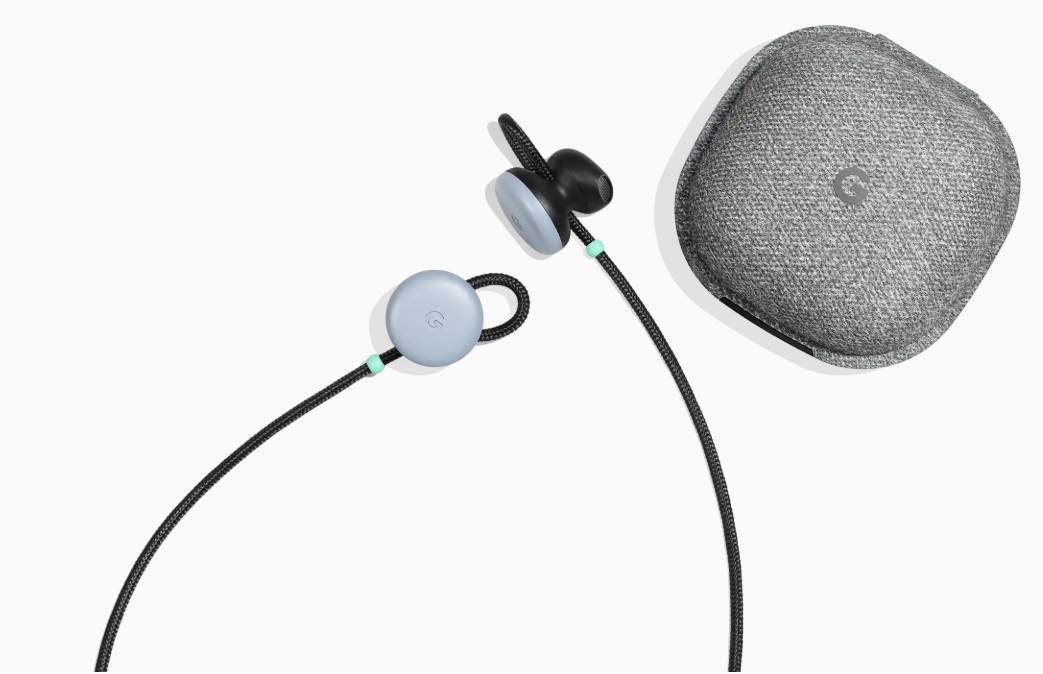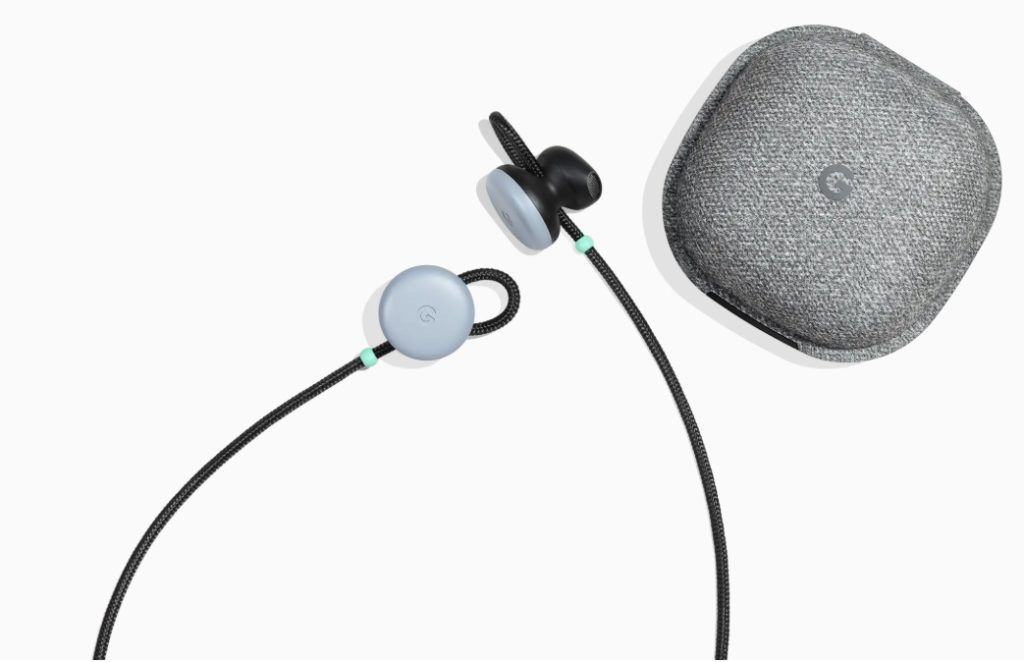 There is a slight possibility that the Google is going to launch Pixel Buds 2 – a successor to its previous wireless headphones. However, this time we might see completely wireless headphones like Apple AirPods.
Why? Because that looks like a reasonable next step. Google has already launched a wireless Google Buds which, to be honest, wasn't well-received. So, Google might try out a new version.
On the other hands, it's also possible that Google doesn't go for the wireless version at all, instead, call the USB type-C headphones as the new Pixel Buds 2. And we already know, they will be bundled with the Google Pixel 3 XL.
No Google Watch this time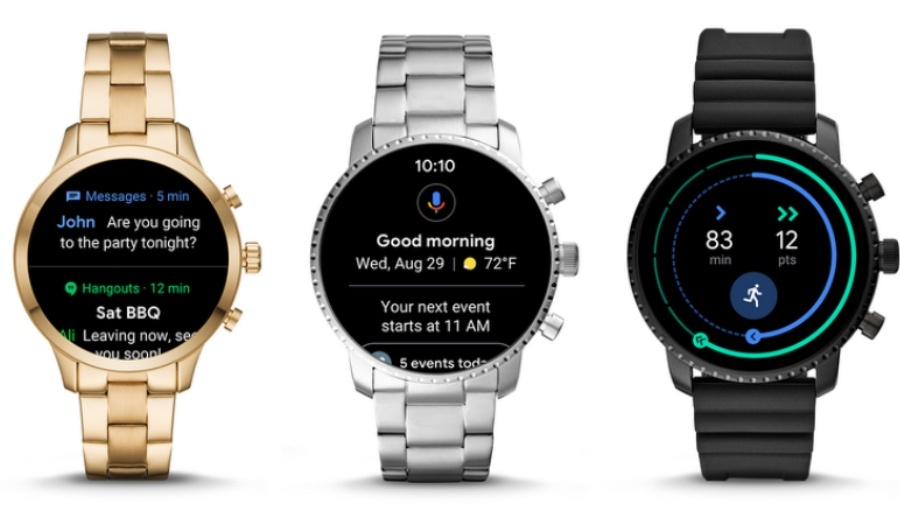 There is nothing we can do about it. It's already official; Google won't be releasing a new Pixel Watch on this hardware event. However, we know that Google is entirely focusing on the software part — the Wear OS. At least, it's a win for other manufacturers.
But it would've been cool if we get to see a new Pixel Watch? We just saw the Apple Watch Series 4, and the things it could do; I just wish Google brings something equally amazing to settle our hopes.
Wild Card Entries
Like every major tech event, we always leave room for new information that will come only a few minutes before the official event. And believe me! It does.
As of now, we can only make a wild guess about other stuff that will come out tomorrow. Like Google Clips, the AI camera that came out last February. The device never got the right amount of limelight; we might see its next version or at least some update to it.
And software! We all know Google devices are important, but without Google improvements in software, the day won't feel fulfilled. So again, there might be new announcements related to software, most probably AI-related.