T
alking to
Fortune
, in 1998, Steve Jobs said innovation has nothing to do with how many R&D dollars you spend. "It's not about money. It's about the people you have, how you're led, and how much you get it," he said. While it might be correct, Apple's money printing machine doesn't know how to take a break.
Since 2011, we have been hearing that Apple has more cash than the US government. The latest numbers, as per this quarter's report, suggest that Cupertino-based company has 268.9 million dollars in the pocket.
For those who are more interested in numbers, let me tell you that during this recent quarter, Apple sold 46.6 million iPhone units, 10.3 million iPads, and 5.3 million Macs. There is a yearly increase of 2%, 14%, and 25%, respectively. With its capital return program, the company also returned $11 billion to investors.
When it comes to competitors in terms of cash reserve, as per Bloomberg's data, Apple is followed by Microsoft, Cisco, Alphabet, and Oracle. If we combine the cash reserves of these companies, the final count will be just a little more than Apple's. So, if the bosses of these companies would indulge in a bragging contest, Tim Cook would surely be a winner.
Now, what if Apple were to go on a shopping spree or become a philanthropist after a change of heart? What can they do? Here are some example scenarios:
What can Apple buy using its cash reserve?
1. Let's go and shop some companies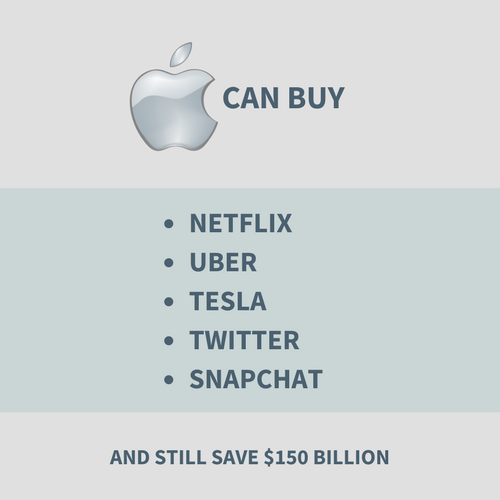 With its $269 billion cash, Apple can buy Netflix, Uber, Tesla, Twitter, and Snapchat and still have about $50 billion money left. This might sound crazy, but it's true.
2. Crypto-shopping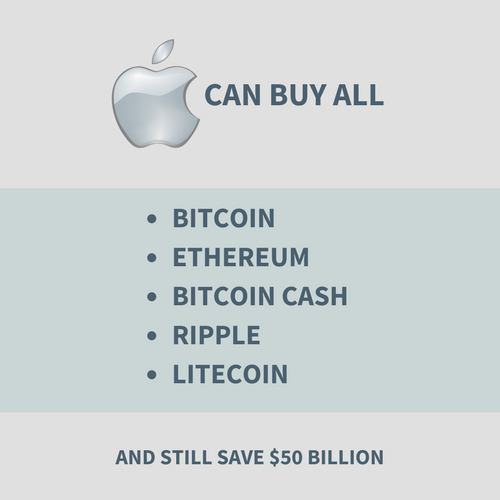 Bitcoin is all the rage these days. In case Apple wishes to bet its cash fortune on this cryptocurrency, it can buy all the bitcoins in circulation, i.e., 16,661,400 BTC. Apple will still have about $100 billion left, which would be enough to buy all existing Ethereum, Bitcoin Cash, Ripple, and Litecoin in the market. Even after this much crypto-shopping, Apple would be having $50 billion in its deep pockets.
3. Helping millions of students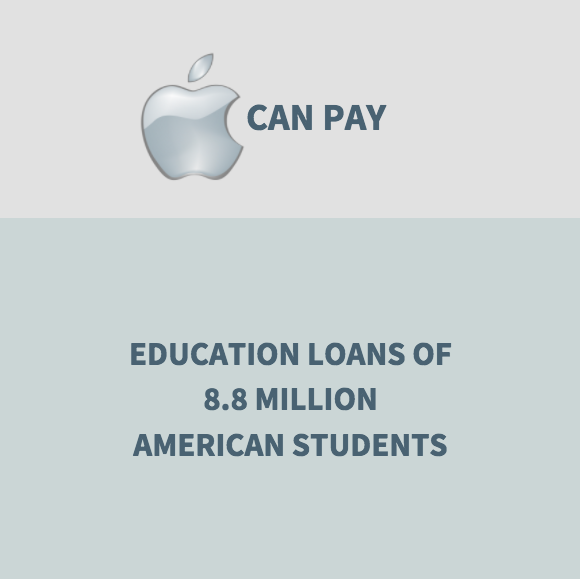 If we take America's case, the student loan debt is the second highest consumer debt, only behind mortgage debt. If Apple decides to spend its cash reserves, it can pay the education loans of 8.8 million students.
4. A trip to Hollywood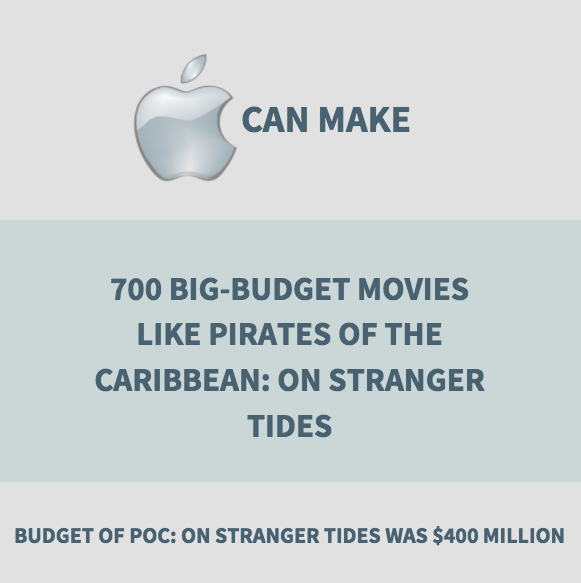 If we believe the rumors, Avengers: Infinity Wars is expected to turn out to be the most expensive movie ever made with over $400 million budget. Looking at the past, Pirates of the Caribbean: On Stranger Tides currently holds the record with a budget of about $380 million. In case Apple wishes to spend its cash on such A-grade movies with tons of theatrics, it can produce more than 700 movies like Pirates of the Caribbean: On Stranger Tides. In case Apple decides to do that, I don't think any cinephile would mind.
5. Buying pizza and burgers for every person on Earth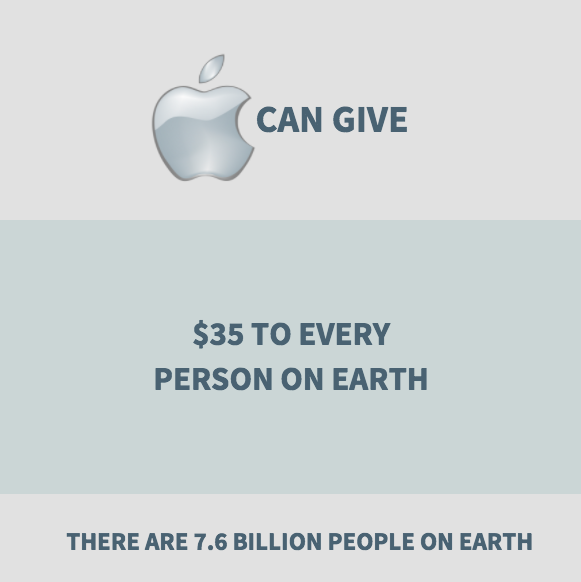 If Apple thought of giving away all its cash, every living person on Earth would get $35 each. And, in case, everybody thought of spending this money on some of the most popular chain restaurants, they'd be able to afford one meal each at MacDonalds, Taco Bell, Pizza Hut, Burger King, Subway, and Wendy's. After having all those meals, they'd still be left with a couple of dollars for an ice cream.
6. "Apple" farm on Mars?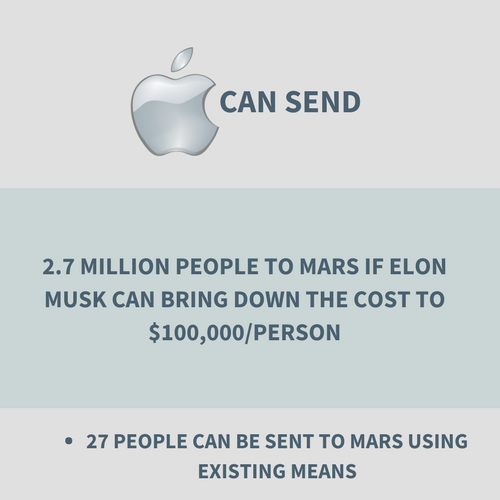 What if Apple decides to collaborate with Elon Musk and help humans to get to Mars? In the past, Musk has said that using existing means, it would cost $10 billion per person to reach Mars. So, in the current scenario, Apple can send about 27 people to Mars.
Musk hopes to bring down the cost of space travel to around $100,000. If that happens, Apple can use its cash to send 2.7 million people to Mars and establish a colony of Apple fans.
7. Sports? Anyone?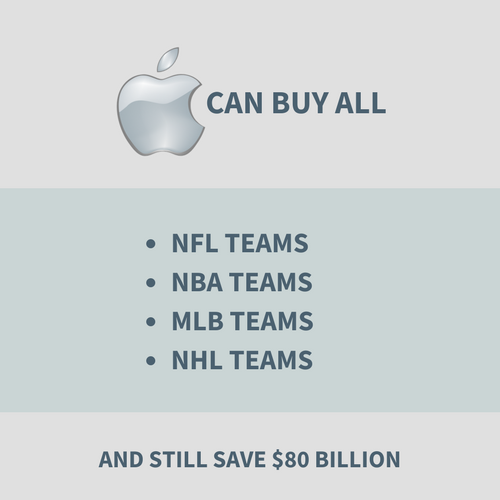 In case Apple executives and shareholders decide to try their luck in sports, they can buy all the top sports team (all NFL, NBA, MLB, and NHL teams) of the US and still have around $80 billion change left.
8. iPhone X giveaway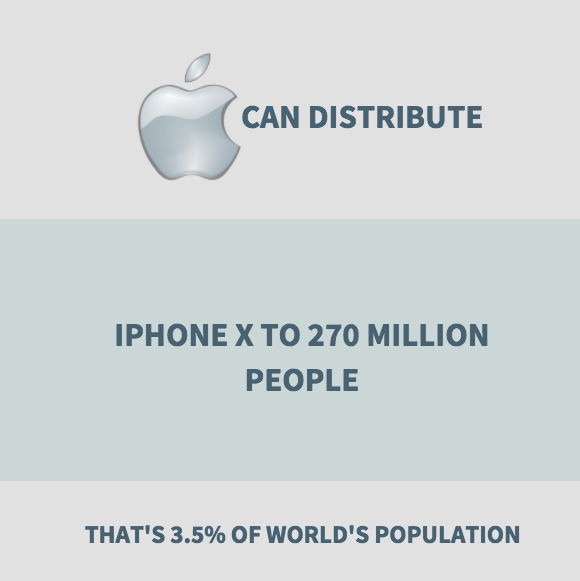 Apple is currently betting on its latest iPhone X to become the first company to kiss the 1 trillion valuation mark. After doing so, if Apple wishes to, somehow, spend all its cash to host a giveaway of iPhone X, it can give a free iPhone X to two hundred and seventy million people, which is about 3% of the whole world's population.
9. Real estate shopping on another level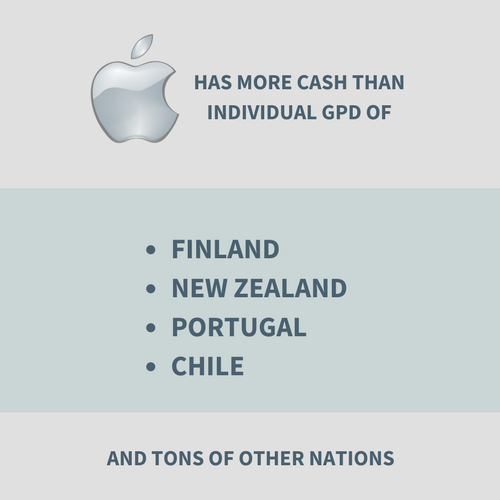 In case Apple wishes to buy an entire country and rename it as Apple Land or Apple Campus, it has enough money to so. If we take a look at the current GDP reserves of all nations, Apple could afford countries like Finland, New Zealand, Portugal, or Chile.
10. Let's collect some horsepower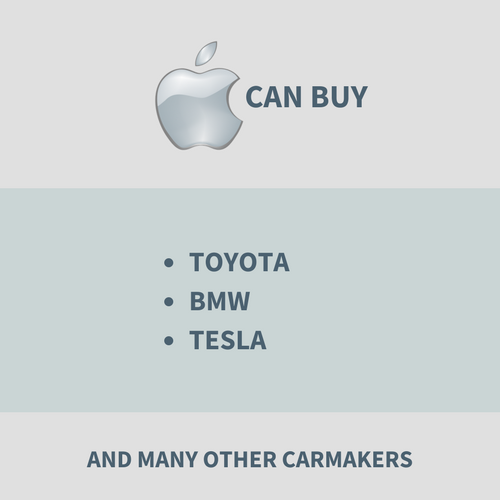 You might be knowing that Steve Jobs' cars never had a license plate. It's said that he spotted a loophole in Californa vehicle laws which said that "anyone with a brand new car had a maximum of six months to affix the issued number plate to the vehicle."
In case Apple wished to buy all the major car companies in memory of Steve Jobs, it can do so. With its cash reserve, it can buy companies like Toyota, BMW, and Tesla, altogether.
That's all folks. In case you've some more interesting analogies in mind, don't forget to share. Also, share this articles with your friends and family.