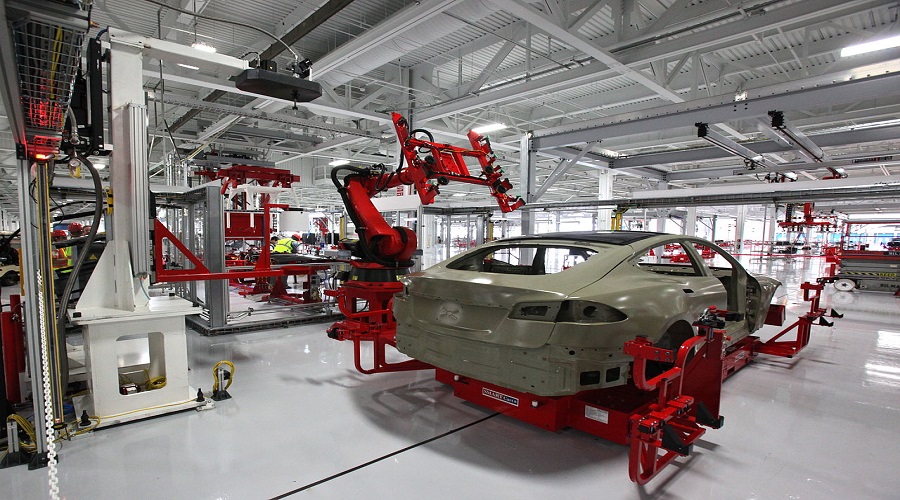 Short Bytes: An announcement made by Panasonic President Kazuhiro Tsuga indicates company's intentions to mushroom in the automobile market. The company will invest a whopping $1.6 billion to power Tesla's Li-ion battery facility in the Nevada, USA.
T
he Japanese company
Panasonic
has allied with the American electric car-maker Tesla, to invest in Tesla's upcoming Li-ion battery facility in Nevada, USA. Panasonic will capitalize $1.6 billion in the battery facility, hoping to spread its roots in the automobile industry in the coming years. The declaration was conveyed by Panasonic's President Kazuhiro Tsuga in an interview.
"If Tesla succeeds and the electric vehicle becomes mainstream, the world will be changed and we will have lots of opportunity to grow", said Kazuhiro Tsuga, while talking to MarketWatch. Panasonic's move to collaborate with Tesla accentuates the competition they have been facing from LG, who has partnered with GM and Volkswagen AG to supply batteries for their hybrid and electric vehicles. Panasonic's previous experience with the automobile market hasn't been very pleasant and they probably don't want to miss the shot this time.
The Osaka-based company wants to inculcate its current technical know-how into the future electric cars. They showcased car electronics products at CES 2016 last week in addition to their display of Televisions and other stuff – "The car is changing. It is getting to be an electrical object. We have those technologies, so I thought 'we need to shift our resources to automotive'.", said Tsuga – by the end of March 2019, they have ambitions to escalate their annual revenue up to Yen10 trillion (USD 85.4 billion) from their current expected Yen8 Trillion (68.32 billion) by the end of this fiscal year in March.
Mike Ramsey writes for the MarketWatch,
Their total investment is expected to reach between $4 billion and $5 billion when complete with the bulk of funding coming from Tesla and Nevada government incentives. Getting the factory to full speed hinges on Tesla's ability to successfully launch a mass-market electric car that it calls the Model 3. The Model 3 isn't due in the market until later next year.
Another deterrent to Panasonic's aspirations is posed by the ultra-secretive Faraday Future, the company with a $1 billion "highly secret" production facility, has been busy developing a service based on their "Variable Platform Architecture" that would remould the automotive industry as one would presume. The company unveiled their ostentatious all-electric concept FFZero1 at CES 2016.
The battery facility, ones in action, will be able to mass-produce li-ion batteries for 500,000 Tesla cars a year by 2020. Tesla's power storage division Powerwall will receive the very first benefits of the battery facility after the it comes into existence.
Also Read: The Anatomy of Copyright Lawsuits – Number Of People Sued Drops By 84% Since 2010
Write your thoughts in the comments section below.