The Tesla Semi prototype was spotted at Pixar's headquarters recently. The electric truck was there to participate in the company's event related to alternative energy. Along with the Tesla Semi, alternative fuel vehicles and electric cars also attended the event. Most notable among the crowd was a BMW i3 hybrid, a Drako GTE which is a 4-door electric sedan capable of producing 1,200 to 8,800 Nm of torque, and a vintage car with a retro electric conversion.
Tesla Semi Prototype Spotted
As is clear from the pictures, this version of the Tesla semi looks a lot like the early prototype version which was unveiled back in 2017. It has the same body design and similar dimensions as well.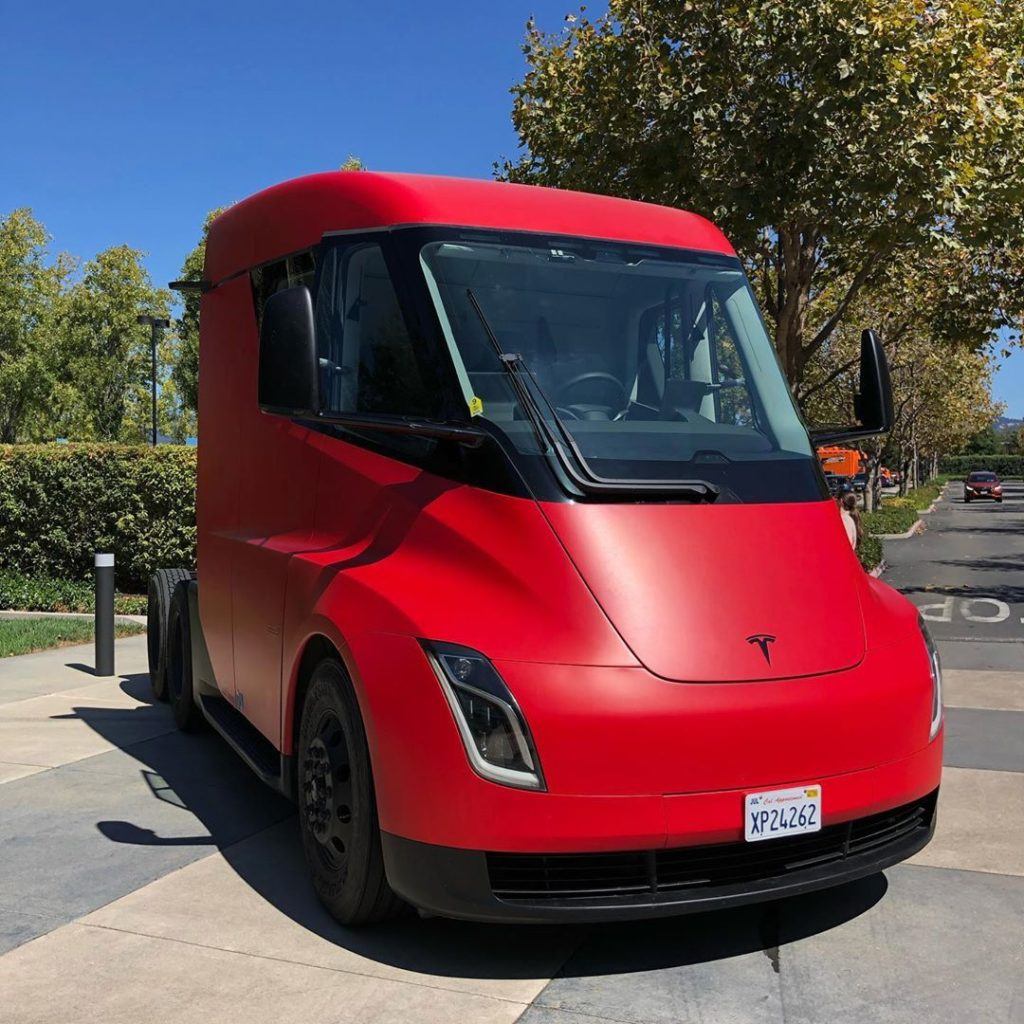 According to reports, the Tesla Semi will be available in two variants, one with a 300-mile range and the other with a 500-mile range priced at $150,000 and $180,000 respectively. However, going by the recent development in battery tech at Tesla, it is possible that we could see a 600-mile version of the Semi as well.
Tesla Semi has a plush interior and a middle placed seat for easy driving. It also comes with autonomous driving and a 0-60 mph acceleration time of 20 seconds when it's carrying a load of 80,000 pounds, which is very fast for a truck.
Along with enormous power, the Tesla Semi has a very aerodynamic design. It has a drag coefficient of 0.36. For comparison, a Bugatti supercar has a 0.38 drag coefficient.
Very recently, a Tesla Semi was spotted at the California Highway Patrol Inspection Centre. The truck was carrying a heavy load and its driver stated that the semi's range "exceeds 500 miles." It wasn't clear whether he received this high of a range while carrying a load or not. He was spotted towing away around 75,000 pounds of carriage.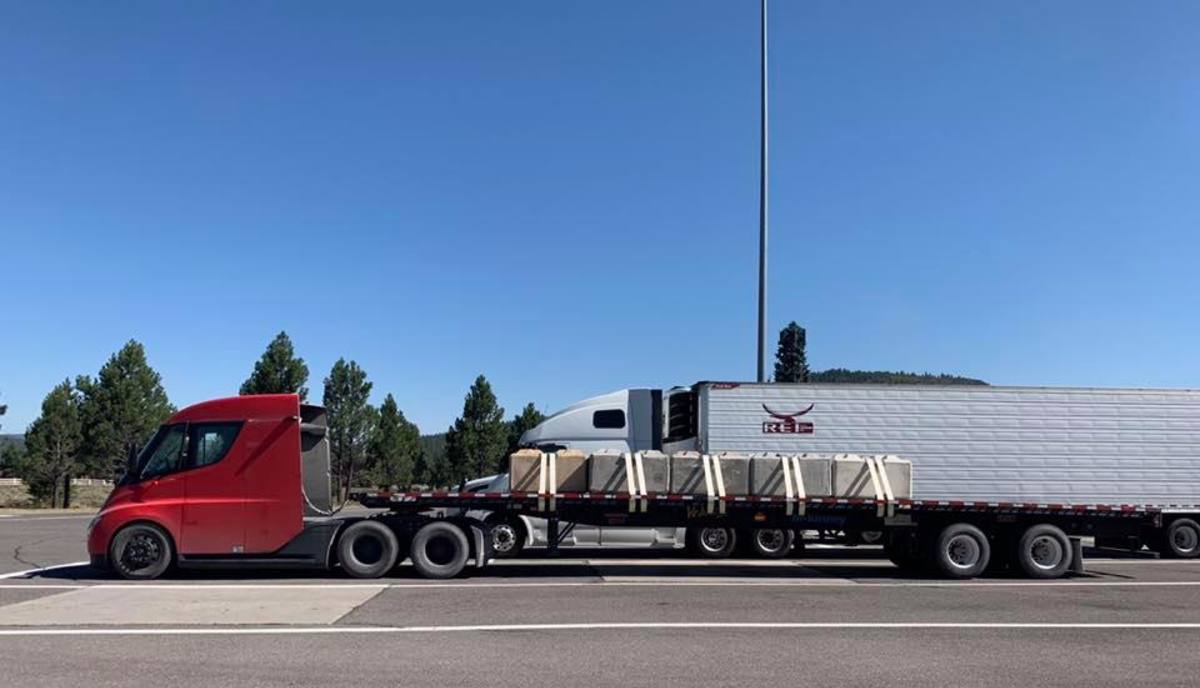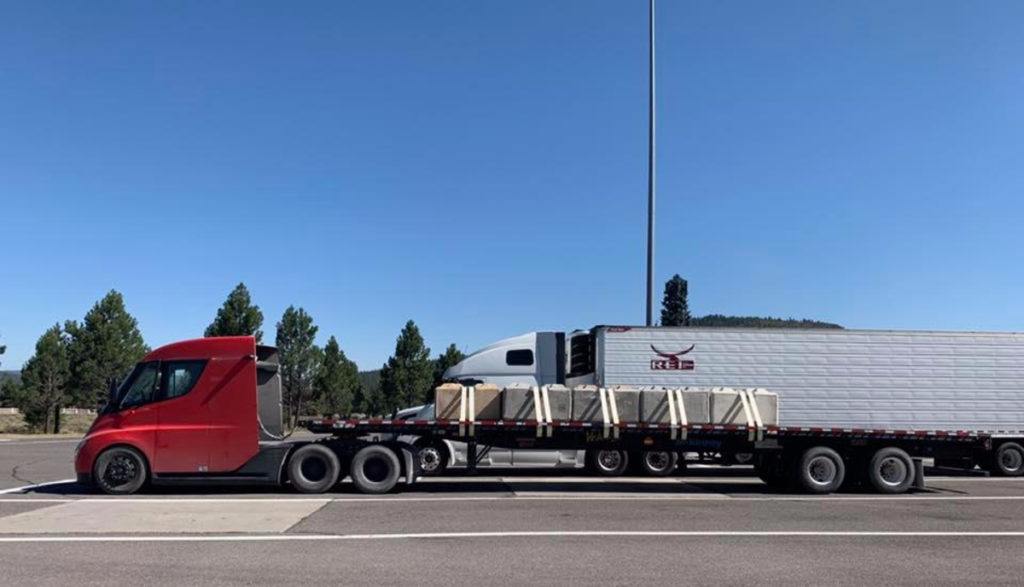 The Tesla Semi is a class-8 truck, a category currently ruled by Daimler, the parent company of Mercedes. Unsurprisingly, Daimler wants to maintain its position as a market leader thus recently they began supplying class-8 equivalent electric trucks.
The advantage that Tesla has over Diamler is the presence of Ex-Diamler, Jerome Gullien who worked under the company's Cascadia brand. Gullien spearheaded the development of Freightliner Cascadia Diesel-powered Class 8 semi-truck, which has been praised for its fuel-efficiency and top of the line design. Veteran trucking website Smarttrucking.com named the Freightliner Cascadia as the "best truck in the industry."
Another recent development is that the Chinese company CATL has agreed to supply Diamler with electric batteries. These will be used in the upcoming Freightliner eCascadia, Freightliner eM2, and Mercedes Benz eActros. According to the agreement with CATL, the production of these trucks will start in 2021.
Around the same time we'll see a Tesla semi on the road. Earlier, the truck was bound for a 2020 release date. However, production delays and prioritized launch of the Tesla Model Y pushed the semi release date a year later in 2021. Tesla will also launch the second-generation Roadster, the company's hypercar, in 2020.
Tesla Semi Prototype Is Already A Hit
We recently informed you about Rivian getting an order to deliver 100,000 electric delivery vans to Amazon. But the Tesla Semi prototype isn't far behind. The semi has already been pre-ordered by DHL, FedEx, Pepsico, United Parcel Service, Walmart and many more. The number of orders placed for the Tesla Semi does pale in comparison to the Rivian delivery van, but a class-8 electric semi is much more expensive.
After the event, the semi prototype headed to the headquarters of Yandell Truckway Inc, a major market player in transportation and logistics. The transportation company has placed a ten unit order for the 300-mile version of Tesla's semi to add to their fleet.
According to the company, they have always used the bleeding edge technology to serve their customers and right now nothing's better than a Tesla.