Tesla Model Y and Ford Mustang Mach-E are two of the hottest mid-sized SUVs on the market. Both these electric cars offer a great package and make it difficult for people to choose the best one. Considering the specifications, price, as well as segment, both are legit competitors. However, their rivalry is not as fierce as Model S and Lucid Air.
Tesla has a great reputation in the EV world and therefore has a huge customer base. Meanwhile, Mach- E is relatively a newbie, but it's backed by impressive specs and badging from Ford. Hence, it could give a tough time to Model Y.
Maybe not now but in the near future, it seems they'll have strong competition in the market. Anyway, let's explore these cars and see how they fare against each other.
Tesla Model Y Vs. Ford Mustang Mach-E: Comparing Specification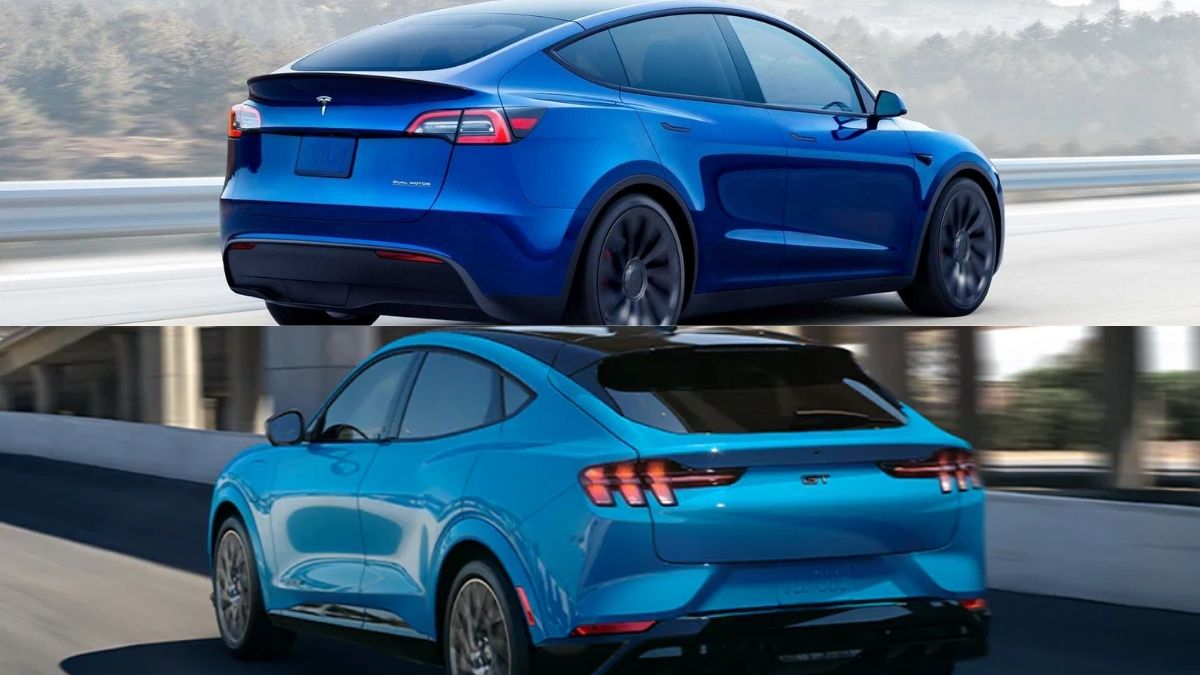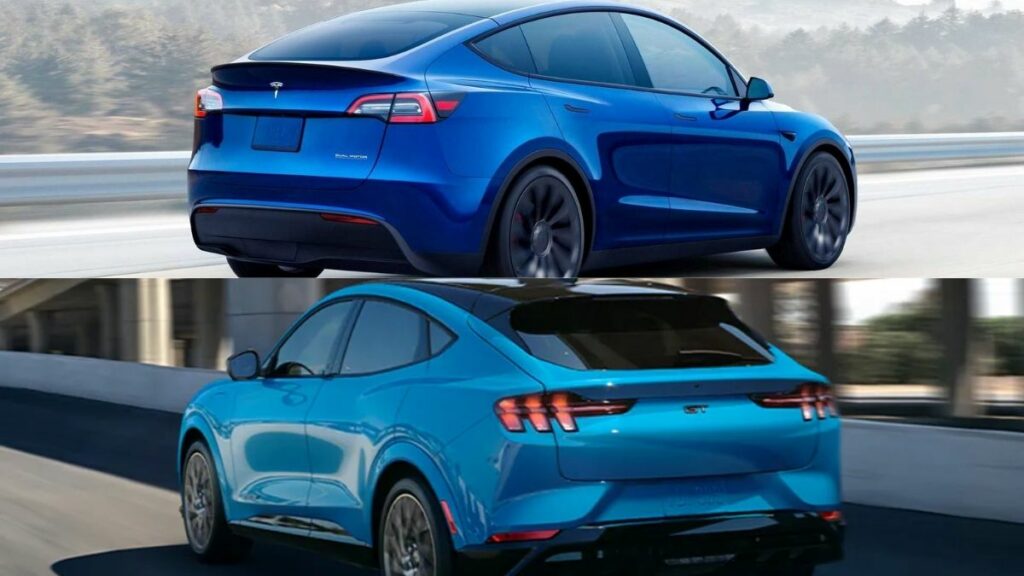 Model Y is the electric crossover SUV from the EV pioneer, Tesla. It's quickly becoming one of the best-selling EVs globally despite being the latest entry in Tesla's line-up.
Launched in 2020, Tesla Model Y is available in two variants: Long Range and Performance.
On the other hand, we have the brand new Ford Mustang Mach-E, the first all-electric SUV from the American auto giant. Mach-E is the newest electric crossover in the U.S. EV industry. The deliveries of Mach-E began only a couple of months ago.
It's offered in four different trims: Select, California Route 1, Premium, and top-of-the-line GT.
Dimensions And Seating Capacity
| Specification | Tesla Model Y | Ford Mustang Mach E |
| --- | --- | --- |
| Length | 4,749 mm | 4,714 mm |
| Width | 1,920 mm | 1,882 mm |
| Height | 1,623 mm | 1,626 mm |
| Wheelbase | 2,890 mm | 2,985 mm |
Although there isn't a huge difference, Tesla Model Y is slightly bigger than Mustang Mach-E. Also, you get around 68 Cu ft of cargo space compared to 59.7 Cu ft in Mach-E.
However, Mach-E is slightly taller and has a longer wheelbase than Model Y. Both these factors will help you feel more spacious inside the cabin, which is positive for Mustang EV.
Besides, Mach-E has a seating capacity for five passengers, whereas Model Y comes with an option of five as well as seven seats.
Electric Range And Battery Capacity
| | Tesla Model Y | Ford Mustang Mach E |
| --- | --- | --- |
| Battery Capacity | 75 kWh | Up to 88 kWh |
| Electric Range | Up to 326 miles | Up to 305 miles |
| DC Fast Charging | Yes (250 kW) | Yes (150 kW) |
Well, looking at the electric range, we can say Tesla Model Y is clearly more efficient. One possible reason for this better efficiency might be the presence of a heat pump in Model Y.
However, the difference in electric range is only 21 miles. It isn't imperative if we compare the performance models of both cars.
Also, despite a bigger battery pack, the price of Mach-E is quite competitive, and that's where it compensates for its slightly lower efficiency.
Performance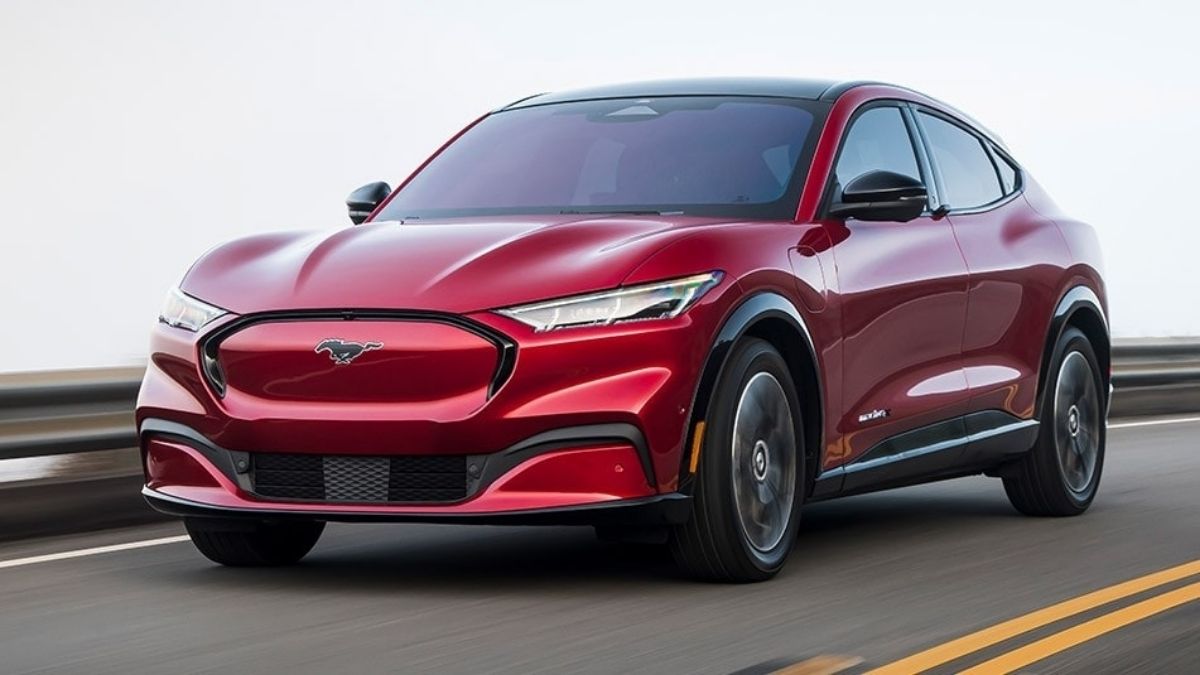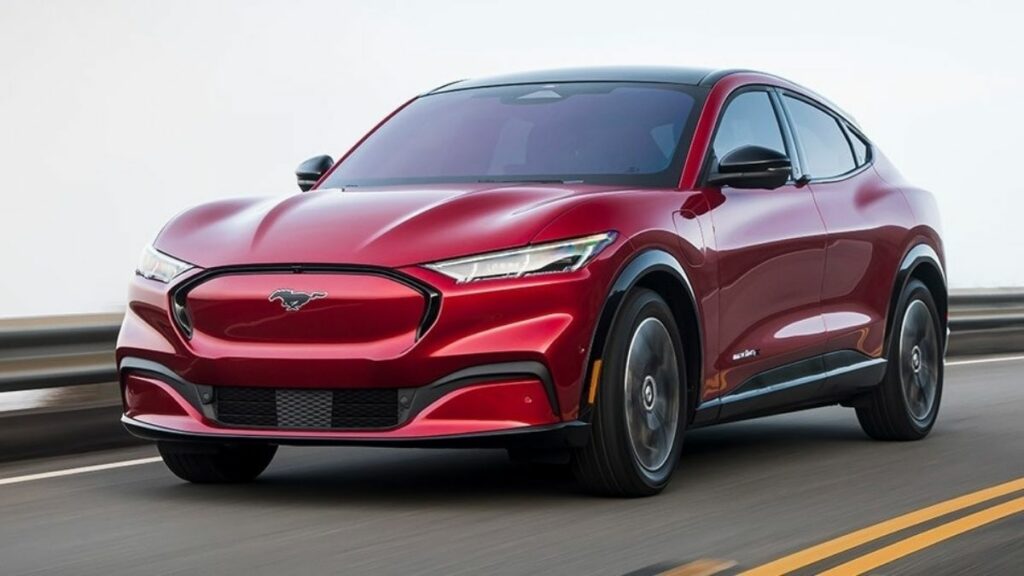 Both variants of Model Y are available in all-wheel-drive (AWD) configurations with a dual-motor setup. In contrast, Mach-E is available in both RWD and AWD configurations with single and dual motors, respectively.
The performance variant of the Tesla Model Y can accelerate from 0 to 60 mph in just 3.5 seconds. Interestingly, the top-end model of Mach-E with performance edition can sprint from 0 to 60 mph in 3.5 seconds as well.
Features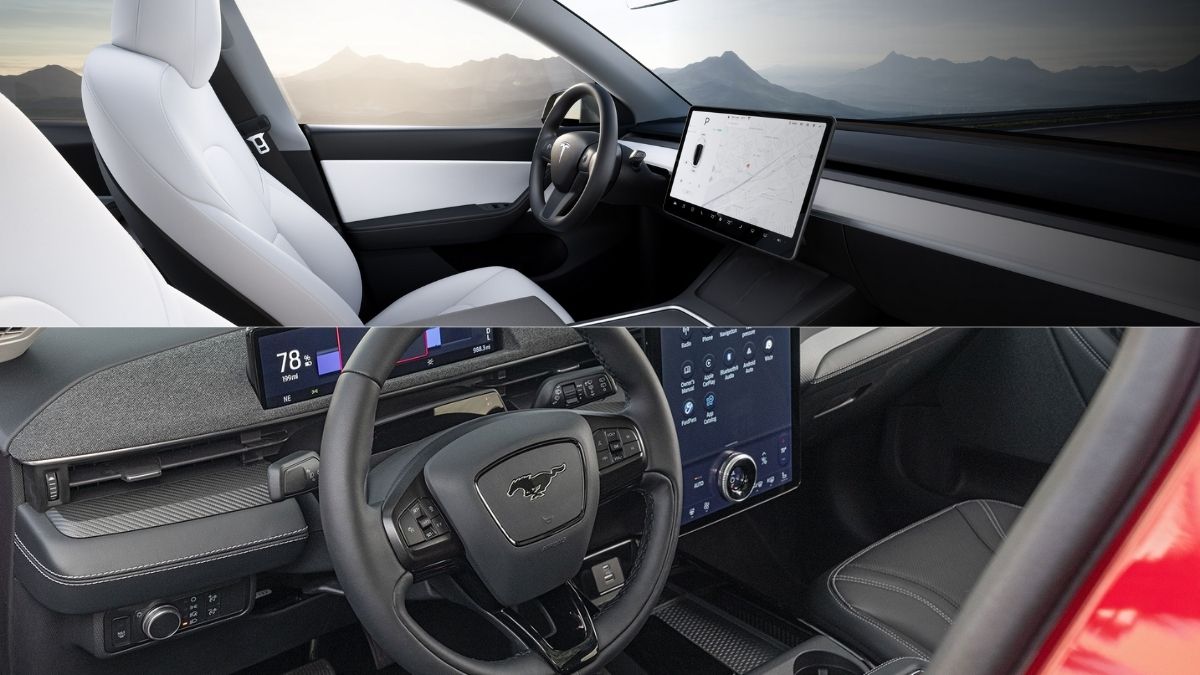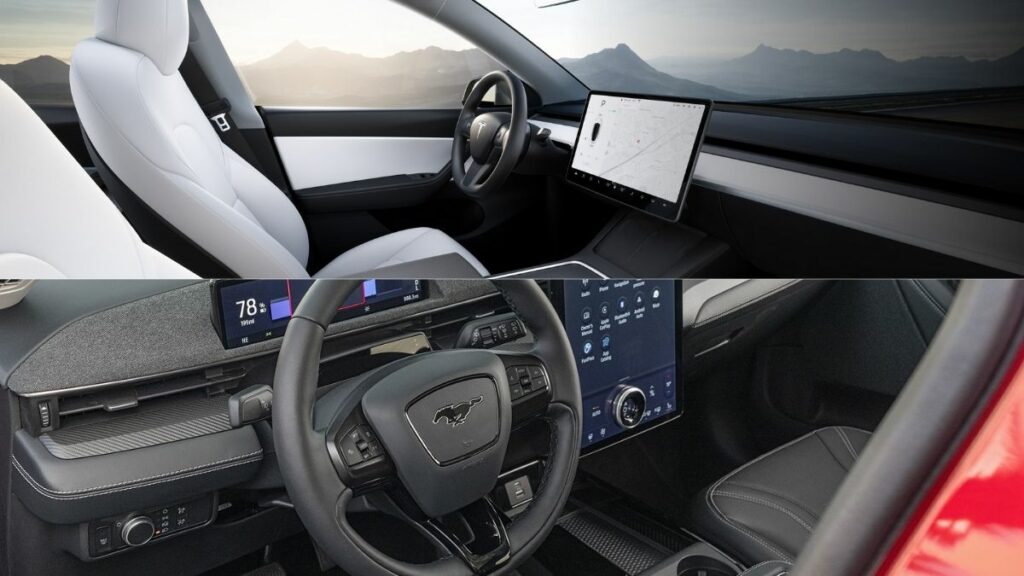 Tesla Model Y is equipped with features like an advanced driving assistance system (Tesla Autopilot), 15-inch massive center display, Camp Mode, glass roof with UV protection, digital torque control system, OTA updates, and much more.
Meanwhile, Mach-E also comes equipped with features like a panoramic glass roof with IRR windshield, BlueCruise, Active Park Assist, Voice Recognition & Connected Built-in Navigation System, and much more.
Price
The price of the Tesla Model Y base variant starts at $52,990 and goes all the way up to $60,990 for the performance model.
Meanwhile, the starting price of the Ford Mustang Mach E is $42,895, which goes as high as $59,000 for the top-end GT trim. The performance edition is even more expensive and costs around $66,000.
Tesla Model Y Or Ford Mustang Mach-E
Tesla has a predominance in the EV industry; still, some people are looking for a better alternative and may choose Ford.
Although Mach-E is not being sold in huge volumes as Model Y, Specification-Wise is the latter's biggest competitor. What makes Mach-E a potential rival to Model Y is its affordability and value for money attribute.
The base price of Ford Mustang Mach E is more than $10,000 less than Model Y, and that too before the federal taxes. Even if we pick the more equipped Premium variant of Mach-E, it will still cost $5,000 less than the base trim of Model Y.
However, Tesla Model Y still provides a seven-seater option, faster-supercharging ability, and a slightly better driver assistance system.
In any case, it's still a challenging task to choose. Most people prefer Model Y because of its extra space, features, and Tesla's reputation in the EV industry.
In the end, we would like to say, no doubt Model Y is a great car, but Mach-E seems a more value for money car. We can say it's a bit underrated electric car. However, the popularity of Mustang Mach E will increase more in the future.