Tesla is bringing its best-selling electric crossover SUV, Model Y, to Hong Kong. Recently, the EV maker put on display the variants Model Y will have for customers in Hong Kong.
Interestingly, there will be an affordable Standard Range Model Y in addition to the existing versions. It came as a surprise as neither U.S nor China have this additional cheaper variant.
Earlier this year, Tesla introduced a Standard Range Model Y variant for American customers. However, clinging to its volatile nature, Tesla removed the Standard Range variant from the configurator only after a couple of weeks.
But since Hong Kong is a new and different market, it might be a good idea to offer multiple variants of the Tesla Model Y.
Tesla Model Y Variants, Price, And Specs: Hong Kong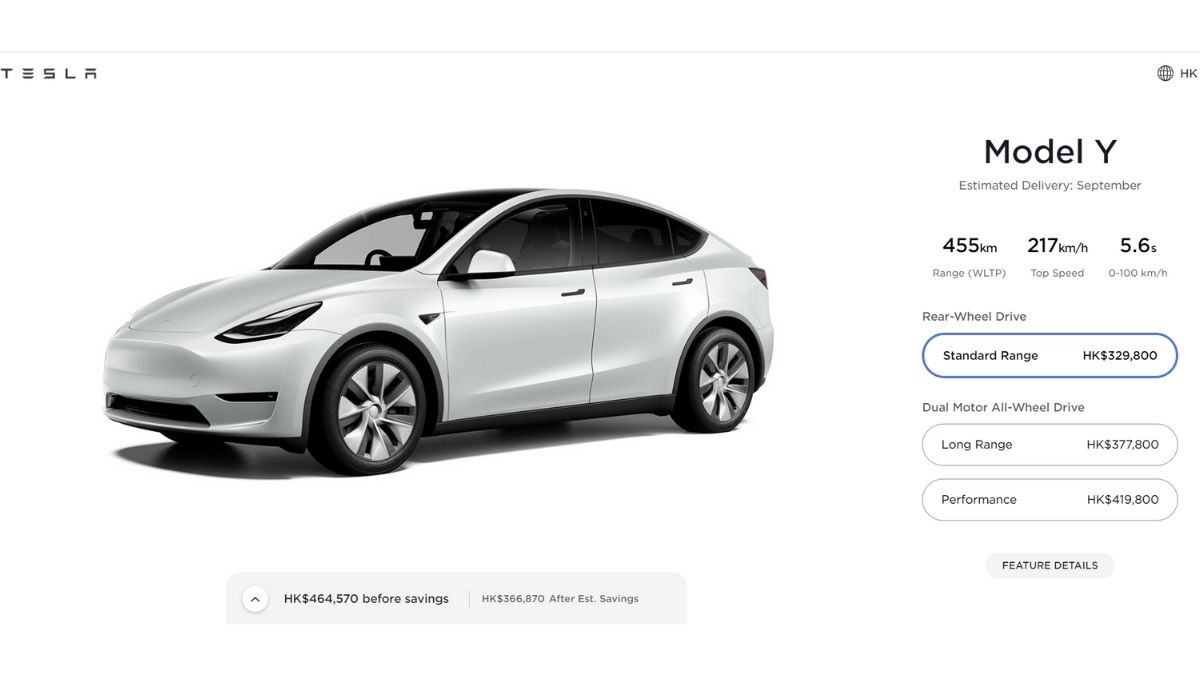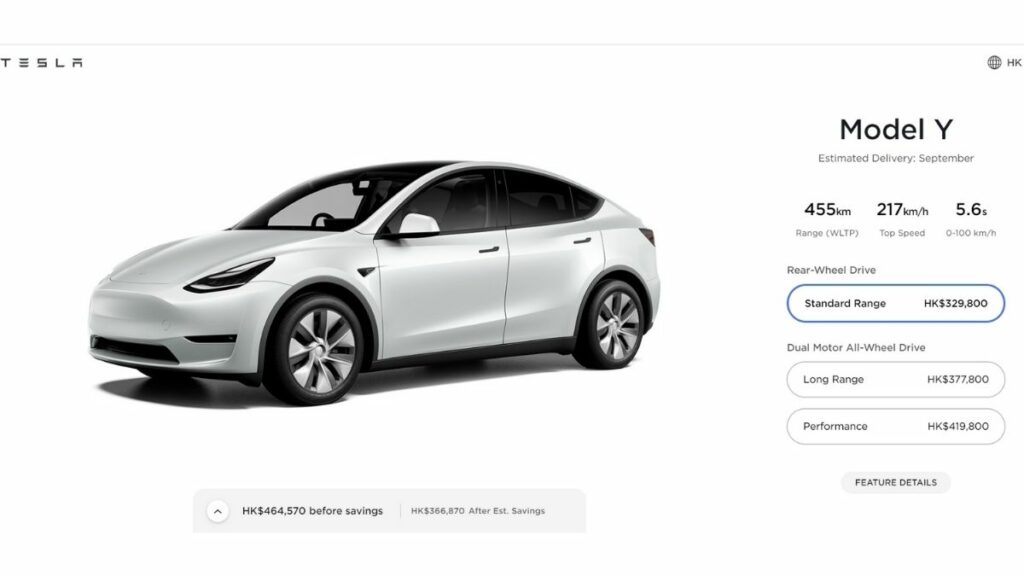 In Hong Kong, Tesla Model Y will be available in three variants: Standard Range, Long-Range, And Performance. In the rest of the countries there"ll only be Long-Range and Performance trims.
Tesla Model Y Standard Range
Unlike other variants, Standard Range will have a single motor with an RWD configuration. It'll be capable of achieving a top speed of 217 km/h (135 mph) and hitting 0 to 100 km/h (0 to 62 mph) in just 5.6 seconds.
It also offers a relatively low driving range of 455 km (282 miles) as per the WLTP cycle. However, in the EPA cycle which is used in the U.S, this figure will further reduce.
The price of Standard Range Model Y in Hong Kong starts at HK$329,800, after the incentives and potential; savings, which is roughly around US$42,468.
Long-Range Variant
The Long-Range has pretty much the same configuration. It's equipped with an AWD powertrain and offers an electric range of up to 542 km (336 miles) on the WLTP cycle.
It could accelerate slightly quicker than Standard Range and needs just 5.0 seconds for 0 to 100 km/h while having the same top speed.
The price starts at HK$377,800 ($48,650) post tax credits and savings.
Performance Variant
As the name suggests, it's the top model with high-end performance. Similar to long-range it's also AWD, however, it's significantly better in performance.
The Performance variant can sprint from 0 to 100 km/h in about 3.7 seconds as well as obtain a top speed of 250 km/h (155 mph).
Moreover, it can deliver an electric range of about 528 km (328 miles) which is quite impressive.
Speaking of the price, it would cost around HK$419,800 ($54,058) after the incentives.
When The Deliveries For Model Y Will Begin In Hong Kong?
According to Tesla, the estimated delivery time for Standard Range Model Y is September 2021. However, for Long-Range and Performance, the EV maker has not mentioned any specific time period. We have to wait for the company to reveal more on this.