What could be better than to watch a Tesla Model S Drag Race against this muscle car Dodge Hellcat Red Eye? Brooks from the YouTube channel Dragtimes had organized this Tesla Model S Performance (Raven) Vs. Dodge Challenger Red Eye Widebody drag race in NS, Texas.
So, it was three times when the best of electric cars went against the best of muscle ICE cars. Let's find out how they rolled against each other:
Tesla Model S Raven Vs Dodge Hellcat Red Eye (Drag Race)
Mark from Oaklahoma had provided his Tesla Model S and was driven by the host and YouTuber. On its counterpart, Hellcat was provided by Hell Storm, and Stephen-one of the friend of YouTuber drove it.
It was mutually decided that stock for the Red Eye would be street-legal tires and no other modifications. In most of the drag races, people highly customize their cars, like drag pack kits, and try to reduce weight tune engines and other stuff.
However, there was only an aftermarket exhaust that had no role in adding any extra performance to the car.
Furthermore, there were Nitto 555R Drag Radials used in Hellcat Red Eye.
Here are the brief figures of both the contenders:
Tesla Model S Performance (Raven)
A dual-motor with AWD Model S was picked up for the race. The motors could produce a maximum power of 588hp and a whopping toque of 920 lb-ft (1247 Nm). The overall weight of the Model S was 4900 pounds. This electric car has a price of $103,000.
Dodge Challenger Hellcat Red Eye Widebody
This Hellcat Red Eye is powered by a 6.2L Supercharged V8 engine that can churn out 797hp and a peak torque of 707lb-ft (959Nm). Unlike Model S it is an RWD — the engine is mated with an 8-speed Auto Transmission System.
The muscle car is somewhat lighter than Model S and weighs 4500 pounds. The vehicle has a price of $82,000.
Model S Vs. Hellcat Red Eye (Showdown)
In every drag race, it is the torque and weight of the vehicle that acts as the primary ingredient of a winning recipe. However, a powerful engine, aerodynamics, engine tuning, optimized power delivery, and other stuff also play a crucial role.
Here we go for the first attempt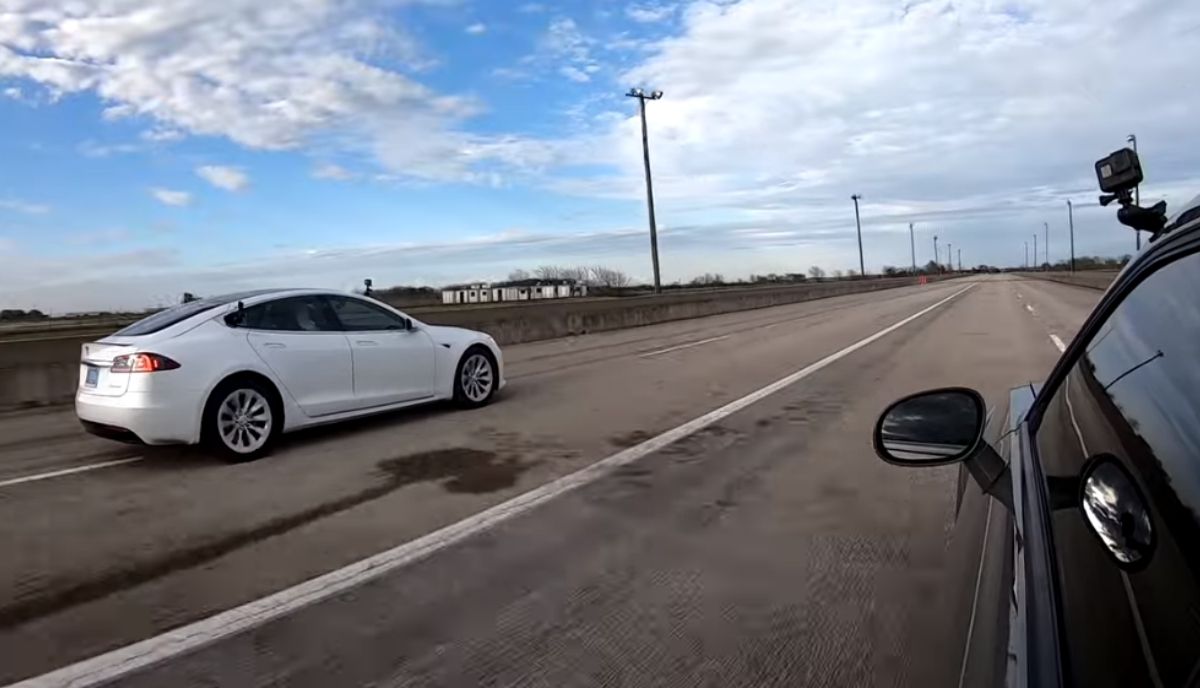 Tesla Models S steals the show here with a blistering acceleration in this quarter-mile drag race. But before judging any car, one should consider that both vehicles are very different from each other in terms of the source of energy.
Model S is an electric car that gets this instant acceleration as both the motors are placed very close to both the front and rear wheels. Whereas Hellcat needs time to rev up its engine and other mechanical parts. It also takes some time to send power to the wheels.
In the first race, Tesla Model S completes the quarter-mile in 10.629 seconds with a top speed of 125.04mph. On the other side of the track, Dodge Challenger ends it in 11.362 seconds with a top speed of 127.21mph.
Second Attempt:
In the second attempt, Hellcat was all heated-up. As a result, Hellcat touched the finish line in just 10.677 seconds with a top speed of 129.09mph and won the race. Nevertheless, Model S took 10.744 seconds with a top speed of 124.76mph.
Third attempt:
The final attempt wasn't fun at all. The Model S took a full kickstart, whereas the Hellcat driver failed to launch his car with that acceleration, and eventually, he didn't try to chase the Model S. In short, it was a one-sided race.
The first two races were absolute fun. However, it is very difficult to announce who is the final winner. I think this is one of the closest Tesla Model S drag races ever. What do you guys think?