A Tesla Model 3 owner's cameras recently caught the perpetrator in a "hit and run" case. The Model 3 belonged to Chris, who owns the Tesla centric YouTube Channel "Dirty Tesla" and regularly tests new Autopilot features.
Chris' Tesla Model 3 was rear-ended by a GMC truck at a traffic light. And although there wasn't a lot of damage, some sensors in the rear bumper of the Model 3 could have been broken.
Luckily for Chris, his Tesla Model 3 cameras recorded the entire incident on tape. As the offender was trying to escape by overtaking him, the dashcam caught the footage of his license plate.
Here's how the entire incident played out
Tesla Model 3 Cameras Save The Day
Chris was heading home when he got off the highway ramp and stopped at a red light when a GMC truck owner slammed the back of his Model 3 sending him forward a couple of feet.
Chris was driving himself, he wasn't using any Autopilot when his car was hit from the back. Immediately after the hit, Chris turned his right signal ON to tell him that he was going to stop on the side of the road. However, the truck owner had other plans and it kept going forward.
Therefore, Chris decided to follow them for a second just so he could get their license plate. He mentioned that he could have stuck with them until they stopped but he was scared at the possibility of the truck owner possessing a lethal weapon.
The damage at the back of the Model 3 wasn't serious. Chris checked all his back sensors and all of them were working properly.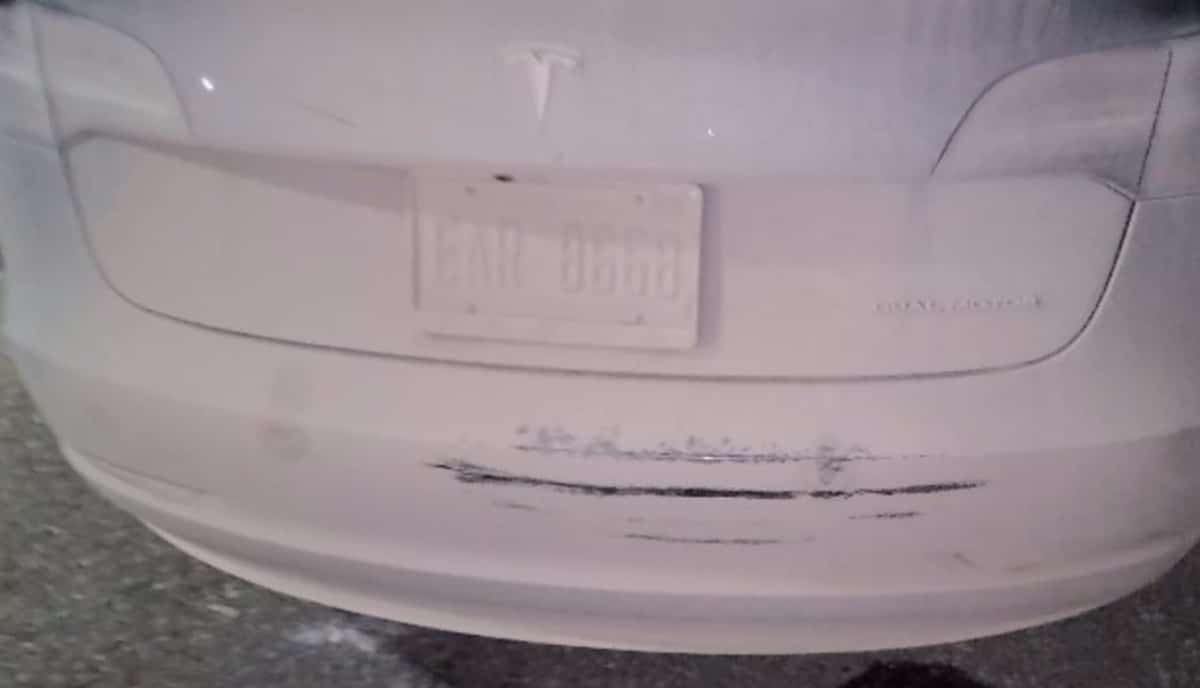 He said he tested the rear ultrasonic sensor for any signs of damage but there wasn't any, which was a relief for him.
Was It A Hit And Run?
The cop who arrived at the scene dubbed the entire incident as "not hit and run." He explained that it can't be so unless there is a $1,000 worth of damage involved.
He did label the crime a "failure to report property damage." The cop explained that in this case, the owner can claim insurance based upon the crash report provided by the police.
However, he did mention that insurance companies try to boss the owner and the police around in such cases.
Luckily for Chris, the cop gave him his business card and told him that he deals with such incidents on a regular basis.
Chris that he doesn't want to go through insurance, however after seeing the scratch up close he is considering a possibility for it.