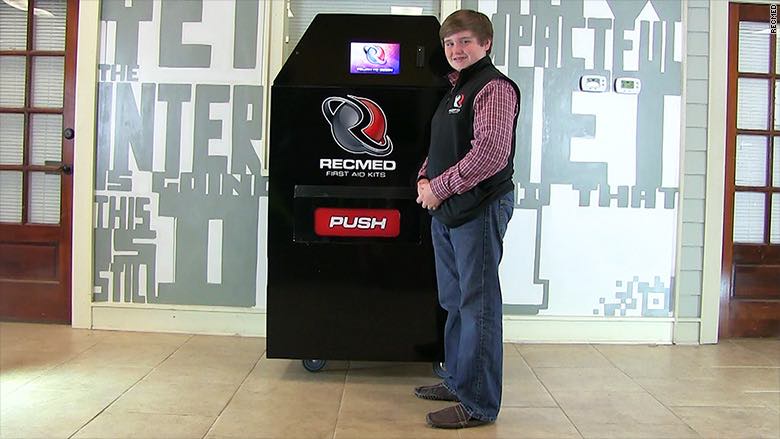 Short Bytes: Taylor Rosenthal, a young innovator from Alabama says that he has turned down a $30 million buyout offer from a large company. He is the founder of a RedMed, a company that makes first aid dispensing vending machines. Rosenthal came up with this innovative idea when he was working on a eighth-grade project.
A 14-year-old boy has come up with the innovative idea of a first aid dispensing vending machine. This genius boy, Taylor Rosenthal, from Alabama, has said that he rejected a $30 million buyout offer from a "large national healthcare company".
It looks like the young inventor is ready for the big leagues. He is also the youngest person to ever get accepted for giving a demo at TechCrunch Disrupt.
Rosenthal launched his startup RecMed in 2015. He has already gained $100,000 in angel investments. This first aid dispensing machine was started as an eighth-grade project when he was a part of a Young Entrepreneurs Academy class.
Also read: How This 19-year-old Student Invented A Feasible Solution To Clean Up Our Oceans
Talking about the source of inspiration of this business idea, he tells that he needed to come with a  business idea in that class.
"Every time I'd travel for a baseball tournament in Alabama, I'd notice that kids would get hurt and parents couldn't find a band-aid," he told CNN Money. "I wanted to solve that."
To solve this problem, initially, he tried to set up a pop-up shop that would sell first-aid kids to the players. Realising that this isn't the best model, he prepared a new design and took some advice from his parents, who already work in the medical industry.
By December, he was successful in obtaining a patent by preparing a prototype that worked.
Now, he plans to sell the machines for $5,500 each. These first aid kid dispensing vending machines come with first aid kits and basic medical supplies like gloves, plasters, gauze pads etc. that cost $4-$11.
Over the summer, Rosenthal plans to deliver these machines to beaches, stadiums, and amusement parks. As a start, Six Flags theme park has already placed an advance order for 100 machines.