The news of the Tata Altroz turbo petrol variant coming to the market has circulated over the internet for a while now. In our previous articles, we reported the turbo variant of the hatchback under testing at various times. Now, a leaked spec-sheet on the internet unveiled the prices and details of the turbo petrol variant of Altroz.
Tata Altroz is a premium hatchback from the Indian automaker. The hatchback has become quite popular in the Indian market within a short time. What attracts customers the most is its safety standards, which are even better than some European cars like the Volkswagen Polo.
Most of Altroz's owners are highly impressed and satisfied with their car. However, many people have pointed out the issue of initial power lag in the car and wished for more power.
Now, it seems, considering the same Tata is finally going to launch the turbo variant of Altroz, and soon it'll be seen on the roads. Let's tell you everything we have learned about the upcoming Altroz turbo petrol.
Also read: Tata Altroz Owner Review
More About Tata Altroz Turbo Petrol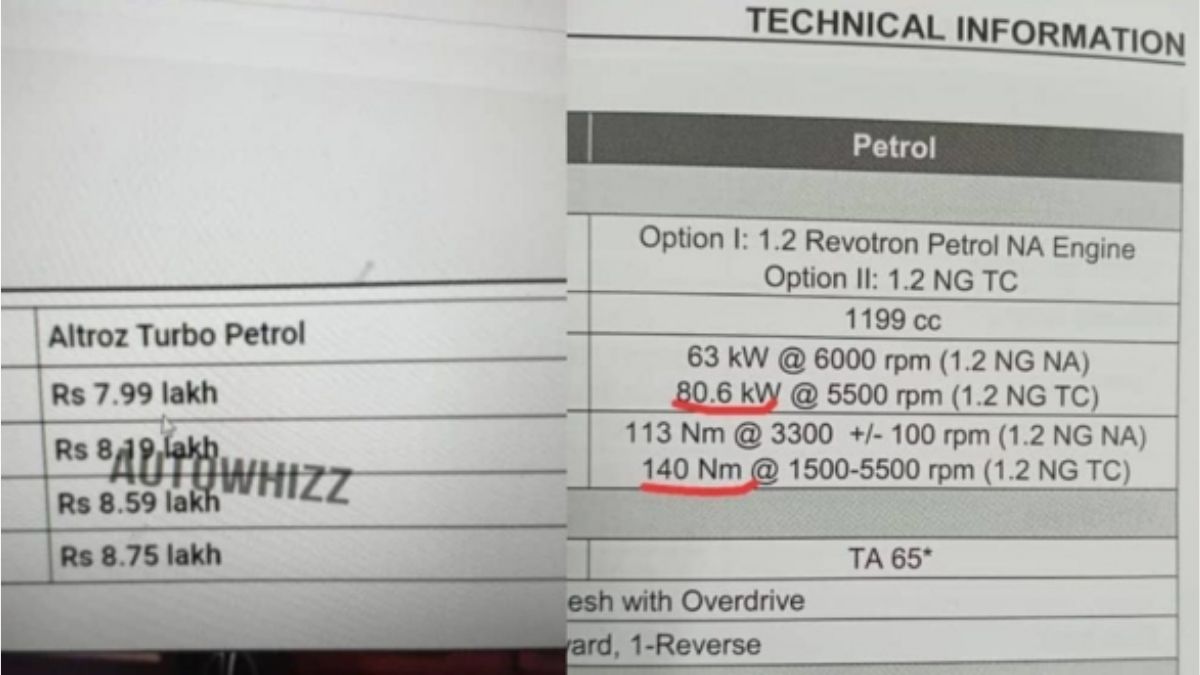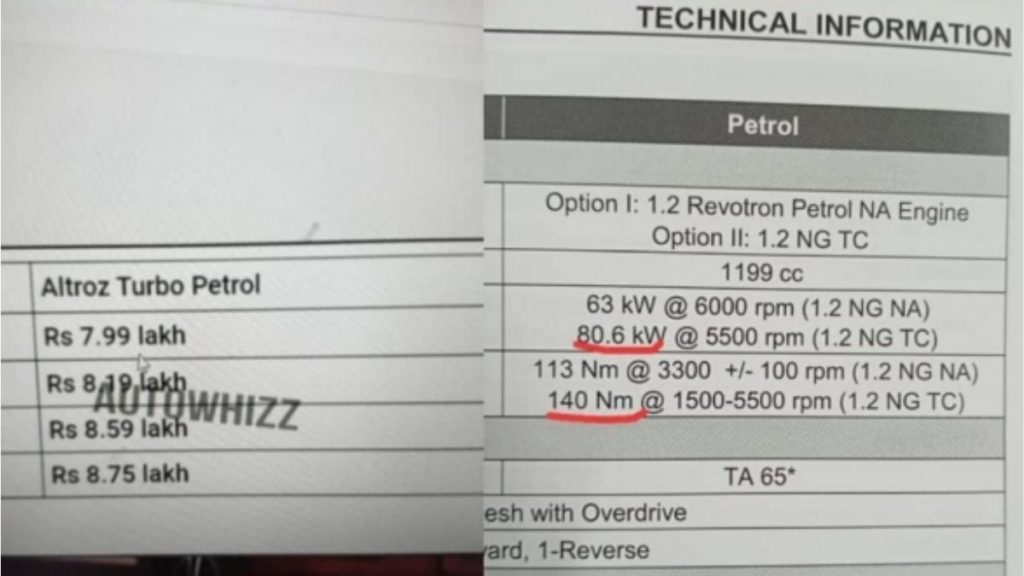 Engine
According to the leaked document, the upcoming Tata Altroz will be available in two engine options. There will be a naturally aspirated engine, the same one currently being used in the car, and a turbocharged engine.
The turbocharged engine will be a 1.2-liter three-cylinder engine capable of producing 108 BHP at 5500 RPM and 140 Nm of peak torque at 1500-5000 RPM.
It seems that the automaker detuned the Tata Nexon engine to fit in Altroz. For reference, Tata Nexon is also powered by a 1.2-liter three-cylinder Revotron engine. However, Nexon's engine output is slightly higher, with 118 BHP and 170 Nm torque.
Price And Variants
As per the leaked document, the Altroz turbo will be available in four variants. The price of the base model will start at Rs 7.99 lakh(ex-showroom) and will go as high as Rs 8.75 lakh for the top variant.
The price of naturally aspirated Altroz starts at Rs 5.44 lakh(ex-showroom) which make its turbo variant expensive by at least Rs 1.55 lakh.
Tata Altroz Turbo Petrol Will Rival VW Polo
If we believe the information in the document, then both the prices and power seem to be inspired by Volkswagen Polo. Both the engines of VW Polo TSI and Altroz turbo are capable of producing 108 BHP. However, VW Polo considerably generates a higher amount of torque of up to 175 Nm.
If we talk about the prices, then there's a negligible difference between the two. In such a case, will an Indian automaker be able to challenge this legendary European brand?
Do share your views in the comments section below?