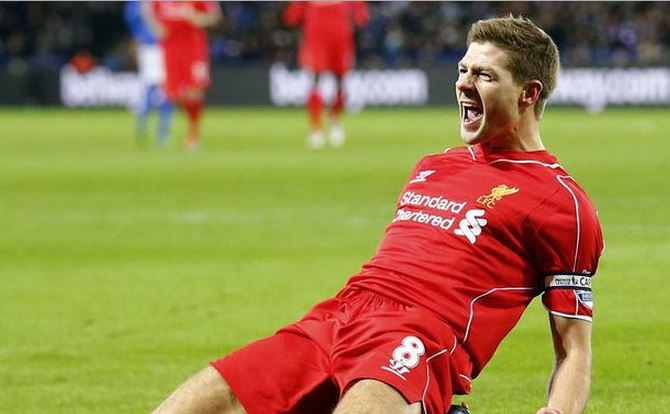 Liverpool Midfielder and Current Skipper Steven Gerrard has announced his decision to leave Liverpool when his contract expires at the end of this season. He announced this decision on Friday morning following Liverpool's 2-2 draw at Leicester City, where he scored two penalties.
Regarded as one of the best of his generation, Gerrard's decision of leaving Liverpool comes as a huge blow for Liverpool supporters who had hoped that Steven might stay at Liverpool.
Gerrard's contribution to Liverpool over the past 16 years has been colossal and Liverpool may find it impossible to replace him. He joined Liverpool at aged nine and has spent his entire career at Anfield. He has scored 180 goals in 695 games for them in an illustrious career that has seen him win two FA Cups,three League Cups, one UEFA Champions League, one UEFA Cup, and two UEFA Super Cups so far.
"This has been the toughest decision of my life. Liverpool Football Club has been such a huge part of all our lives for so long and saying goodbye is going to be difficult, but I feel it's something that's in the best interests of all involved, including my family and the club itself."
"My final message is for the people who make Liverpool Football Club the greatest in the world – the supporters. It has been a privilege to represent you, as a player and as captain. I have cherished every second of it and it is my sincere wish to finish this season and my Liverpool career on a high," he added in his statement regarding leaving Liverpool.
"It is almost an impossible task to find the words to appropriately sum up Steven Gerrard and his importance to Liverpool. This is an era where the word 'legend' is vastly overused, but in his case it actually doesn't do him justice. At times he has carried this club on his back and in my time here he has always shown the ability that has rightly seen him be regarded as one of the world's best for well over a decade," said Liverpool Manager Brendan Rodgers.
While speculations remain rife that Gerrard could be on his way to join MLS Club LA Galaxy after leaving Liverpool. He said that: "I'm going to carry on playing and although I can't confirm at this stage where that will be, I can say it will be somewhere that means I won't be playing for a competing club and will not therefore be lining up against Liverpool – that is something I could never contemplate. My decision is completely based on my wish to experience something different in my career and life and I also want to make sure that I have no regrets when my playing career is eventually over", when quizzed about his future.
Watch the video below showing the journey of Steven Gerrard with Liverpool: