Short Bytes: Apple co-founder Steve Wozniak has said that Steve Jobs was never fired from Apple and he left the company on his own. In the past, Steve Jobs has claimed, "We had just released our finest creation — the Macintosh — a year earlier, and I had just turned 30. And then I got fired."
T
he mysteries surrounding the Apple co-founder Steve Jobs and Steve Wozniak are starting to unfold and Wozniak is here with some interesting comments. "Steve Jobs wasn't pushed out of the company. He left. After the Macintosh failure it's fair to assume that Jobs left out of his feeling of greatness, and embarrassment about not having achieved it," he wrote on
Facebook
(see the first comment).
The comments of Wozniak have come in the wake of the new Steve Jobs movie directed by Danny Boyle. The movie will be hitting the theatres next month and Steve Wozniak has praised the movie. He acted as the consultant for the film and calls it the best adaptation since Pirates of Silicon Valley.
He says that Steve Jobs was great at productizing and marketing Apple products. "After the Macintosh failure it's fair to assume that Jobs' left out of his feeling of greatness, and embarrassment about not having achieved it," he adds.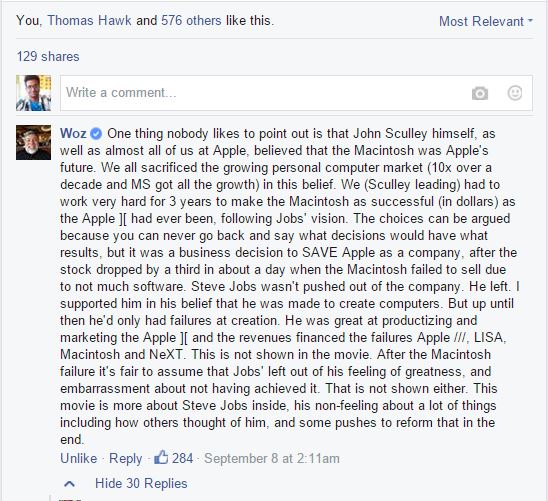 It should be noted that at his 2005 Stanford commencement address, Steve Jobs portrayed a different picture. He said, "We had just released our finest creation — the Macintosh — a year earlier, and I had just turned 30. And then I got fired." He added, "How can you get fired from a company you started? Well, as Apple grew we hired someone who I thought was very talented to run the company with me, and for the first year or so things went well. But then our visions of the future began to diverge and eventually we had a falling out. When we did, our Board of Directors sided with him. So at 30 I was out."
In the past, John Sculley has made remarks similar to Wozniak. According to him, "Steve was never fired. He took a sabbatical and was still chairman of the board. He was down, no one pushed him, but he was off the Mac, which was his deal — he never forgave me for that."
Steve Jobs, starring Michael Fassbender will release on Oct. 9 in North America. Watch the trailer below: