Update: March 18, 2018
The job application has been sold for $174,757 (roughly £125,416, AU$226,376) at an auction, according to RR Auction.
Original story continues from here:
Before revolutionizing the tech industry, Steve Jobs was just a regular person looking for an employment opportunity. A job application signed by him, which dates back to the year 1973, has surfaced and is estimated to fetch over $50,000 at an auction.
This employment form was filled by Jobs when he had dropped out of the fall semester in 1972 after six months of getting enrollment at Reed College.
The job application questionnaire that was filled by him offers an insight of the Apple founder's young mind and exhibits his aspirations to work in the field of technology and design.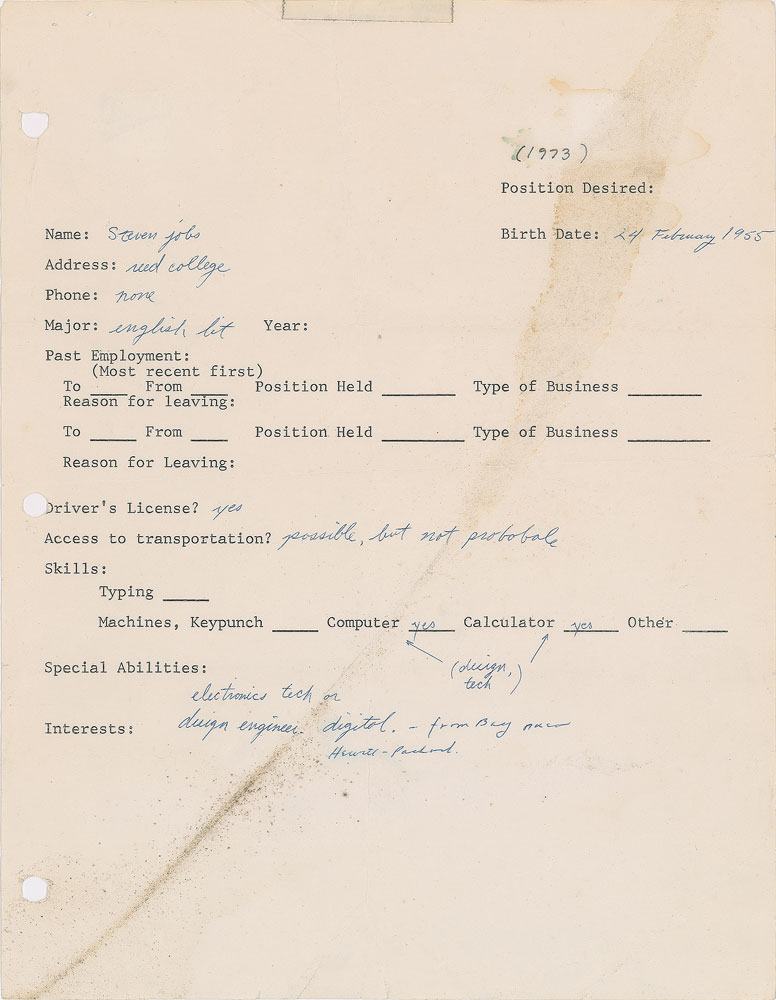 It isn't the first time when employment forms or resume of iconic figures have been made public. In a separate event, an online resume-writing firm Novoresume created one page resume for Elon Musk which went viral.
The one-page application undersigned by Jobs contains a section titled "Special Abilities" where he mentioned "tech or design engineer in digital electronics – from Bay near Hewitt-Packard," referring to the California based tech corporation Hewlett-Packard.
The application contains other handwritten information with spelling and punctuation errors. Yes, even Steve Jobs misspelled words!
Although the document does not specify what position Jobs was applying for. However, after three years, he went ahead and co-founded Apple with his friend Wozniak.
The bids for his job application can be placed at RR Auction's pop culture sale until 15th March, 2018.