You've probably heard about the audio social audio app called Clubhouse. It's an online social platform where users can pick their interests and participate in audio-only discussions. Due to its growing popularity, Clubhouse has spurred several other companies into action. One of them is the music streaming giant Spotify.
Spotify's answer to Clubhouse was acquiring rival platform Locker Room and re-launching it as "Spotify Greenroom." Since then, the new platform, which was launched on June 16, has grown rapidly on the back of Spotify's reputation. In other words, it has emerged as a popular Clubhouse alternative, alongside Facebook Live Rooms and Twitter Spaces.
Spotify Greenroom Features
Spotify Greenroom is another social audio platform available for Android and iOS. It allows you to find interesting conversations and become a part of them. Whenever the moderator allows, an audience member can speak during the session. However, you can also choose to stay out of the conversation and just be in the audience.
To show special appreciation for the content, users can also give the creators "gems" as a reward. There is no special use of these gems, other than reflecting a creator's popularity. Also, they are free and can be given by anyone to a creator.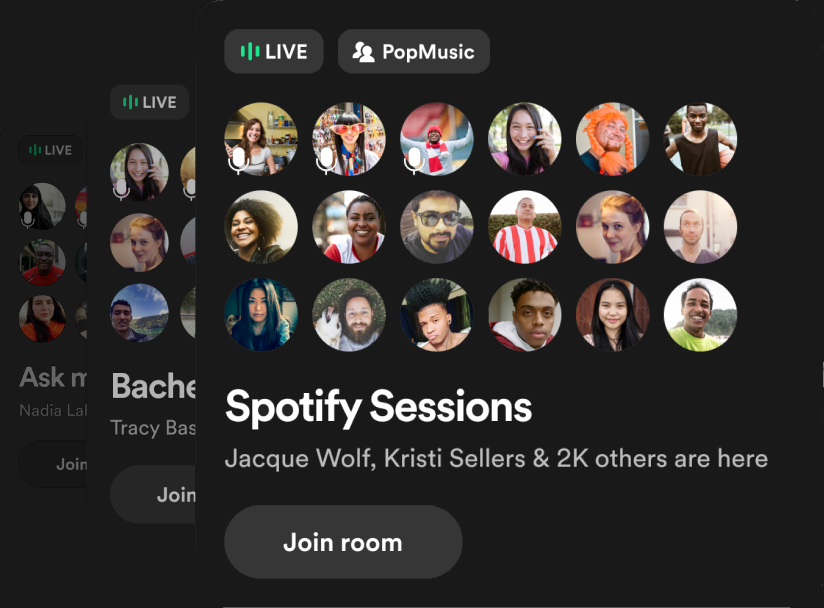 Whether it be sports or art or gaming, there is a dedicated "Live Room" for virtually every topic. These chat sessions can also be scheduled for a later date. Such events that are planned in advance can be added to your calendar app.
Moreover, you can choose your interests to find out relevant "Groups" and "People." Following them would let you know instantly — via default push notifications — every time they go on air.
Spotify's drop-in chat platform allows users to talk to various personalities, from sportspersons to actors, about a topic they truly care about. At its heart, it is a modern incarnation of radio talk shows which invite live callers.
Although Greenroom exists as a standalone app, it is still an extension of Spotify. This means that you can seamlessly log in to the app with your existing Spotify account. However, if you don't have one, you can sign up for Greenroom exclusively.
A big drawing factor for the social network is its "Creator Fund," which is basically a source of revenue for users whose chat sessions draw in a certain amount of audience. Spotify pays such creators on a weekly basis for bringing engagement to the platform.
How Is Greenroom Different From Clubhouse?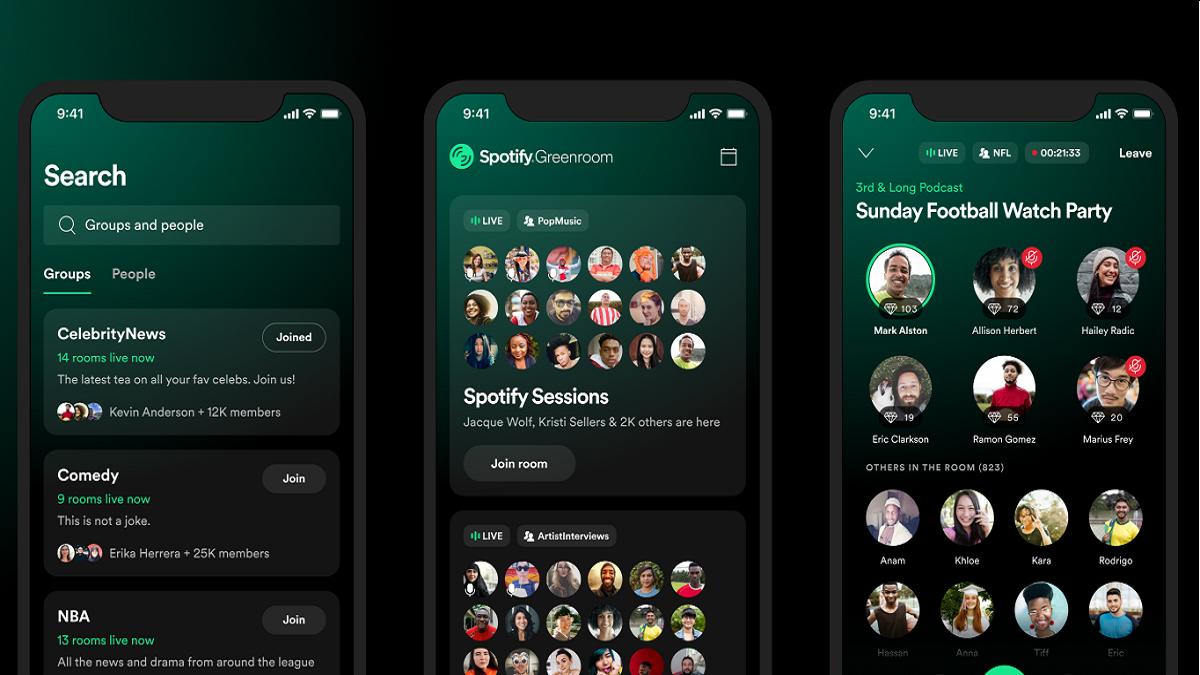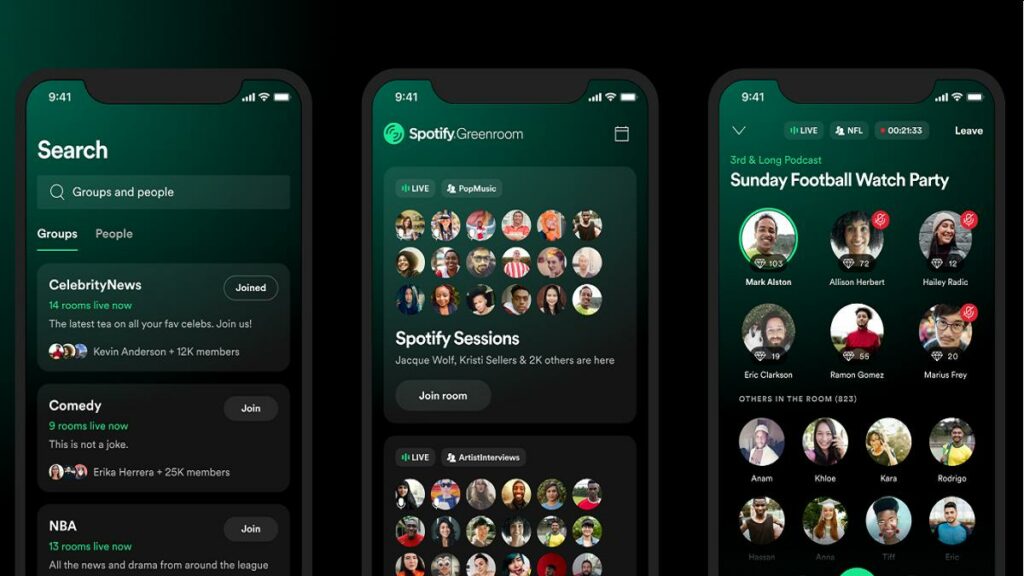 Despite being similar, there are some factors that differentiate Spotify Greenroom from Clubhouse.
First of all, the session host on Spotify's platform has more control over his content. This is because the host can manually enable/disable live text chat for the audience — this happens in real-time. In addition to that, the host can also request to receive the session recording and convert it into a podcast.
To make sure rules of conduct are not violated, Spotify records all the chat sessions. This is different from how moderation takes place on Clubhouse, which uses a temporary encrypted buffer of a session instead. Importantly, Clubhouse has also received flak in the past for its weak content moderation.
The creator revenue system is a significant point of difference between Greenroom and Clubhouse. While Spotify's platform offers guaranteed weekly payout based on certain conditions, most of the funds creators receive on Clubhouse are from donations and sponsorships.
Spotify Greenroom FAQs
What is Spotify Greenroom?
It's a drop-in chat social platform where users can engage in voice-only conversations about their favorite interests.
What are the differences between Spotify Greenroom and Clubhouse?
Although both are quite similar platforms, there are a few differences. Firstly, the Live Room host can manually enable/disable live text chat at any time. Moreover, Spotify records all sessions for moderation purposes. The host can request to download the recording and turn it into a podcast. Finally, a major difference between the two platforms is how they pay creators. Spotify has a weekly payout system, whereas Clubhouse creators can only rely on donations and sponsorships.
Is Spotify Greenroom free?
Yes, it is completely free for both Android and iOS users.
Where is Spotify Greenroom available?
The audio-based social app is available in 135 countries around the world, including India.
How can I download Spotify Greenroom?
You can download the app from either the Play Store (Android) or the App Store (iOS).
Do I need a Spotify account for Spotify Greenroom?
While you can simply log in to Greenroom if you already have a Spotify account, it is not mandatory. You can create a new account just for Greenroom.
How can I earn on Spotify Greenroom?
Users can earn weekly sums based on how many listeners their sessions attract. For more details, you can visit the official page.