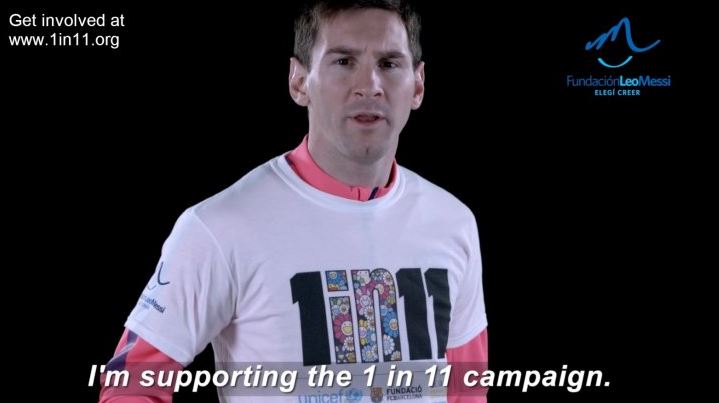 Education is the most powerful weapon which you can use to change the world; truly said Nelson Mandela. But it is very unfortunate to mention that still there are millions of children who are out of school, some because they never got the opportunity to go to school and some because they don't know the very need of education and literacy in one's life. But there's a good news.
Sports stars – Argentinian footballer Lionel Messi and American tennis star Serena Williams have come forward to enlighten the lives of unprivileged children in East Asian nations by bestowing the gift of education via UNICEF campaign. They are promoting an Asian schooling campaign which aims at providing schooling for 58 million children in Bangladesh, Indonesia and Nepal out of 650 million who are globally deprived of an education; with a goal to expand it later to other nations as well.
Also Read: Cristiano Ronaldo, Lionel Messi & Manuel Neuer on Ballon d'Or Shortlisteg
The campaign named '1 in 11' is organized by the United Nations Children's Agency UNICEF, the FC Barcelona Foundation and the Qatar Foundation's Reach Out to Asia (ROTA) organization.
A UNICEF campaign film featuring both these star sportspersons was shot and shown during Sunday's Barcelona against Atletico Madrid La Liga match. Here at fossBytes, we bring to you the video clip.
The organizers hope that the UNICEF campaign will be able to raise funds between $12 million and $15 million to kick-start the project at an art auction of donated works by Takashi Murakami, Damien Hirst and Jeff Koons at Sotheby's in London next month. It will be the very first event in the effort to raise funds.
"Funds will go for building schools and training teachers in Bangladesh, Indonesia and Nepal to put nearly half a million children in school, including many who are handicapped," said Essa Al Mannai of ROTA.
Messi said in a statement – "I am supporting the campaign because I believe every child has the right to fulfill their potential and realize their dreams."
William's statement expressed her wish of getting the number of youngsters not going to school "down to zero".
---
 Read more sports news here at fossBytes.
---