After many media publications wrote about Snapchat CEO alleged "poor India" remarks, thousands of angry Indian users started tweeting #BoycottSnapchat and deleting Snapchat from their phones. Those users, and many others who didn't have the app installed on their phones, started leaving 1-star ratings and harsh reviews on Play Store and App Store.
But, how did this controversy start? Did Snapchat CEO Evan Spiegel actually make those remarks? The truth, which many Indian publications chose to ignore while writing their juicy and clickbait headlines, is that we don't know anything for sure at the moment.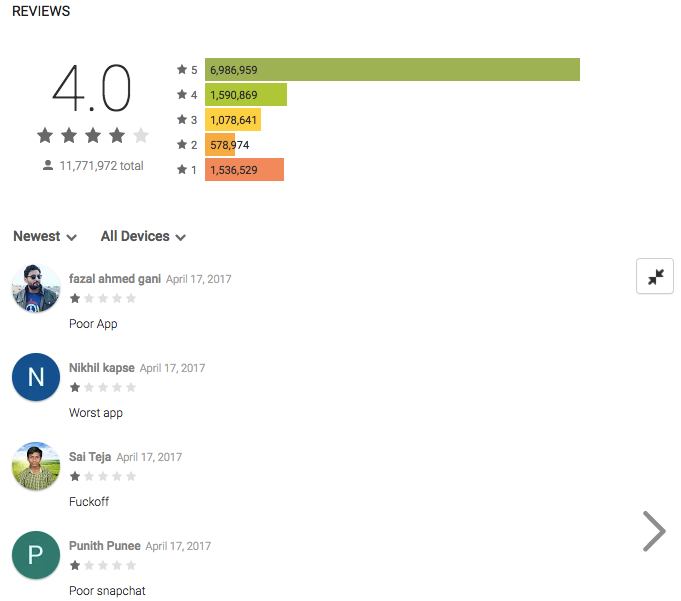 The alleged remarks of Spiegel came into the limelight when a former Snapchat employee, Anthony Pompliano, filed a lawsuit in L.A. Superior Court in January. Snapchat, which initially made efforts to keep the complaint under seal, released the contents in a public filing.
"This app is only for rich people. I don't want to expand into poor countries like India and Spain," Spiegel said, according to Pompliano.
The foreign media reported the story with headlines like "Snapchat CEO Said….Ex-Employee Alleges" or "Snapchat CEO….lawsuit claims", which highlighted the allegation or lawsuit part. On the contrary, the Indian media chose to take its usual path of writing stories without citing the original links. Moreover, the reputed publications like Economic Times, YourStory, etc., pronounced Evan Spiegel guilty in their headlines. For e.g., "Snapchat CEO: 'India too poor to expand Snapchat'" or "I don't want to expand into poor countries like India and Spain: Snapchat CEO."

Such headlines soon attracted people's attention, who started posting about it with angry tweets and #BycottSnapchat. Soon, the #BycottSnapchat started trending on Twitter. Some people even started highlighting the CEOs of Google and Microsoft are Indians.
https://twitter.com/pavneet_sudan_/status/853635492767780864
This insanity reached new heights when many confused users even started uninstalling the popular Indian e-commerce platform Snapdeal to mark their protest.
Thanks bud. Ppl asking us to make a statement that @snapdeal is not @snapchat was possibly the last thing I thought I would ever need to do.

— Kunal Bahl (@1kunalbahl) April 16, 2017
The media again used flawed headlines while covering the news of increased 1-star ratings for Snapchat. The websites chose titles like "Snapchat ratings drop to one star on App Store (The Hindu)" and "Snapchat ratings drop from 'four stars' to 'one star' on App store (India Today)."
Just in case you're wondering what's Snapchat's response, here's what Snap Inc's spokesperson told the Huffington Post India:
"This is ridiculous. Obviously, Snapchat is for everyone! It's available worldwide to download for free. Those were the words of a disgruntled former employee. We are grateful for our Snapchat community in India and around the world."
To my surprise, the same websites are now again reporting Spiegel's denial and earning page views. It's an endless loop of seasonalization that our media has mastered.
So, is it just the fault of news websites? Well, shameless click bait like this doesn't happen on its own. As Wired points out in its excellent piece — "Editors write headlines in an effort to manipulate you—or at least grab your attention—and always have." At the end of the day, the final decision is yours. You are the one to decide how to react to a particular story that didn't get its facts right. You are the one who has to choose between lashing an app with harsh review and trying to get to the bottom of the story. If you'll choose to ignore the big picture, such headlines with continue to fool you and make money.
In the nutshell, I think, being misinformed is more dangerous than ignorance. So, don't believe anything blindly and spend more time in fact checking. Also, let us know your views on this story. Is our media performing its job with responsibility and verifying the facts? Don't forget to share this article with your friends and family.