According to a report which covers mobile device repairs, Xiaomi Redmi 4 was the worst-performing Android phone in Q4 2017 whereas Samsung topped the list of Android manufacturers with the highest failure rate.
The Mobile Device Repair and Security Report published by Blancco has listed the top 10 list of phone models that underwent device repairs. Along with Redmi 4, Xiaomi's Redmi Y1 was also on the list. The second spot for the worst-performing phone was taken up Moto G5S Plus.
However, it was Samsung that had the most number of devices in the top ten with Galaxy S7, Galaxy S8 Plus, Galaxy S7 Active, etc. Other phone models from different manufacturers included the Nokia 6 and Lenovo K8 Note.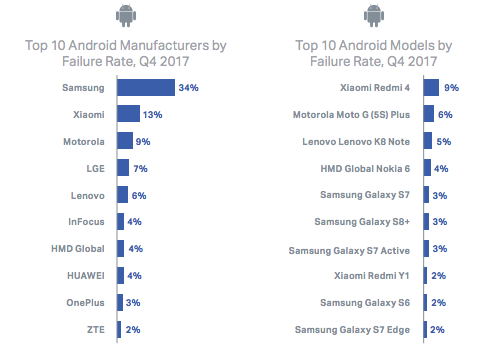 On the list of phone brands with bad performance, Samsung was given the first position with a massive 34% failure rate which is apparently less than the previous reports. Xiaomi came second in the list with 13% followed by Motorola with 9% and LG with 7%.
Given that Samsung and Xiaomi are two of the highest selling brands, it wasn't surprising to see their models appearing on the list. But the most interesting takeaway from the report was that Huawei's devices managed to evade the list of worst-performing phones, and the brand itself came in at 8th position for worst-phone brands.
Let's take a look at iOS
As far as iOS is concerned, iPhone 6 was found to be the worst-performing phone by Apple with a whopping 26% failure rate followed by iPhone 6s (14%) and 6s Plus (9%). If you observe the chart given below, failure rates in iOS are way much higher than compared to Android.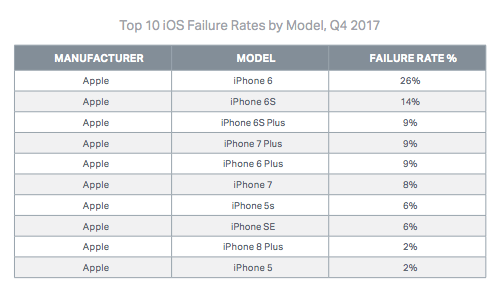 Factors contributing to the failure rates
As far as the reasons behind these failure rates are concerned, Performance was found to be the biggest issue on Android phones, followed by the Camera and Microphone. Given that a large number of Android devices are just budget phones, they lack the mettle to deliver high performance.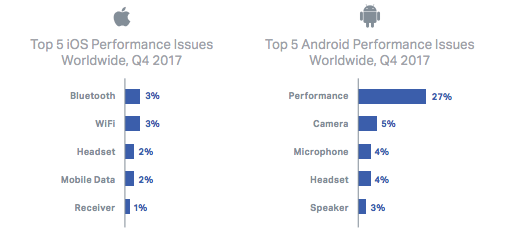 On the other hand, iOS users found Bluetooth and Wi-Fi connectivity to be the most troublesome areas. One big reason why performance isn't an issue on iPhones is that Apple has a firm control on both the hardware and software – which is difficult to achieve on most Android phones.