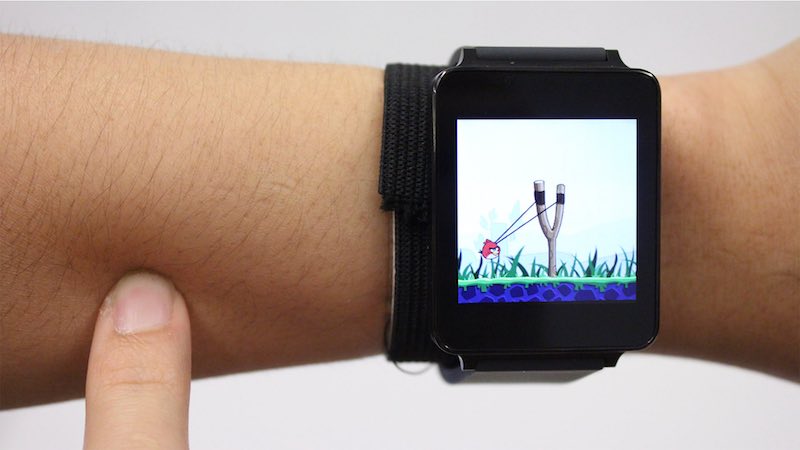 Short Bytes: SkinTrack tries to resolve the issue of the small working area of a smartwatch by creating additional working area (touchscreen) on our wrist. This is done with the help of a ring emitting high-frequencies from the opposite finger and a smart wristband which can sense the movement of the finger with the ring.
O
ne of the biggest problems people wearing smartwatches have faced is the small screen area. If we really get into the technicality of this problem, at the macro level, using the touchscreen of a smartwatch with our finger is somewhat like trying to write alphabets with a big rock on the ground.
To address this solution, a research team from the Carnegie Mellon University research lab has come up with possibly a unique solution and that is, increasing the field of view by turning our wrist skin into an additional working area for the same.
So, to turn the additional skin area into a working area, a signal-emitting ring is used which is worn on the finger of your opposite (non-watch) hand. To catch the signals from the signal-emitting ring, a smart sensing band is worn along with the smartwatch.
Also Read: How To Turn Any Ordinary Watch Into A Smartwatch With Trivoly
Upon touching the skin, the ring from the opposite hand's finger sends a high-frequency signal that traverses across the length and breadth of the arm calculating the length and breadth of the additional working area.
On the other hand, the smart wristband the distances between itself and the ring. Once the distance is calculated, the smart wristband keeps tracking the movement and gesture of the finger with the ring.
On top of that, using SkinTrack, you can also drag apps out of the watch and do your work on your wrist. Unfortunately, this wristband might not be available anytime soon. However, such ideas could help the smartwatch companies to improve the interactions further.
Watch the amazing video here: