The disappearance of websites in the torrent world is very common. While many services shut down and pirates move on to their alternatives, sometimes sites also transfer their data to other sites.
A similar retirement development (Via: TF) has recently taken place in the case of SevenTorrents. If you're only familiar with biggies like The Pirate Bay, YTS, or KAT, let me tell you that SevenTorrents has been around for more than ten years; just last year only, it served more than 5 million visitors.
"Today we have decided to retire. But this is not the end for you and we will not let you down, there is a good news for you," the retirement announcement read.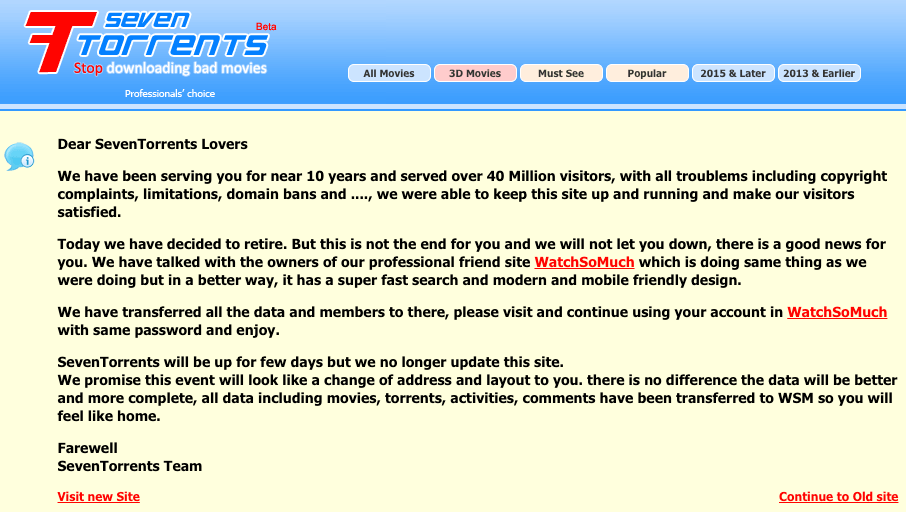 The owners of SevenTorrents have decided to transfer their database to the friend site WatchSoMuch, which is a relatively newer site. So, if someone had an account on SevenTorrents, their account will be transferred as well.
"WSM owners are friends of us and very professional, they can be the no #1 movie site in next months because of what they are offering," SevenTorrents told TorrentFreak. However, doubts regarding the database transfer and its integrity won't go anytime soon.
Now coming back to the reason why SevenTorrents is calling it off, there's no particular reason. Just like other torrent site operators, SevenTorrents also faced their share of challenges in the form of domain bans, copyright complaints, warnings, etc.