Appreciation of a beautiful sunset is a universal phenomenon and I haven't met a single person in my life who doesn't like it. Till now, we've loved and watched Earth's azure sunset. But, what about the sunset on other planets? What about the sunset on our neighbor Mars?
Here we are with some stunning images captured by NASA's Mars Rover Curiosity. These images show that sunset on the Red Planet is actually blue. It should be noted that few weeks ago, New Horizons sent the first color pictures of Pluto.
Curiosity landed on Mars in 2012 and is busy to send us more and more data from Mars Planet. These sunset pictures are taken with the help of its powerful Mastcam.
Why is the sunset on Mars blue?

Well, the answer to this mystery lies in the dust. The very fine dust is the correct size for the light with blue-range wavelength to penetrate the atmosphere effectively. When the light corresponding to the blue color in spectrum scatters off the dust particles, it remains closer to sun than other colors.
These images were taken between dust storms and some dust remains suspended in the air that is the reason of this blue tinge.
The Earth sunset similarly picks up the orange and red color of the light.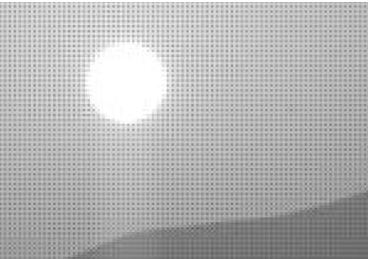 These pictures were sent back to Earth on April 15 from the Mars rover. The images were received in black and white and were decoded to reveal its color. If you look at the black and white picture above, you will notice some hashed pattern named Bayer matrix. This Bayer matrix was then decoded into colors.
Let us go then, you and I When the evening is spread out against the sky Blue sunset on Mars https://t.co/eMwViPNsGppic.twitter.com/7CkIqrVXan

— Curiosity Rover (@MarsCuriosity) May 9, 2015
This tweet quoting T.S. Eliot was tweeted by Curiosity's Twitter handler.
Images: NASA
Did you like the blue sunset on Mars? Tell us in comments below and share with your friends!
Recommended: This is the First Ever Color Picture of Pluto, Captured by New Horizons