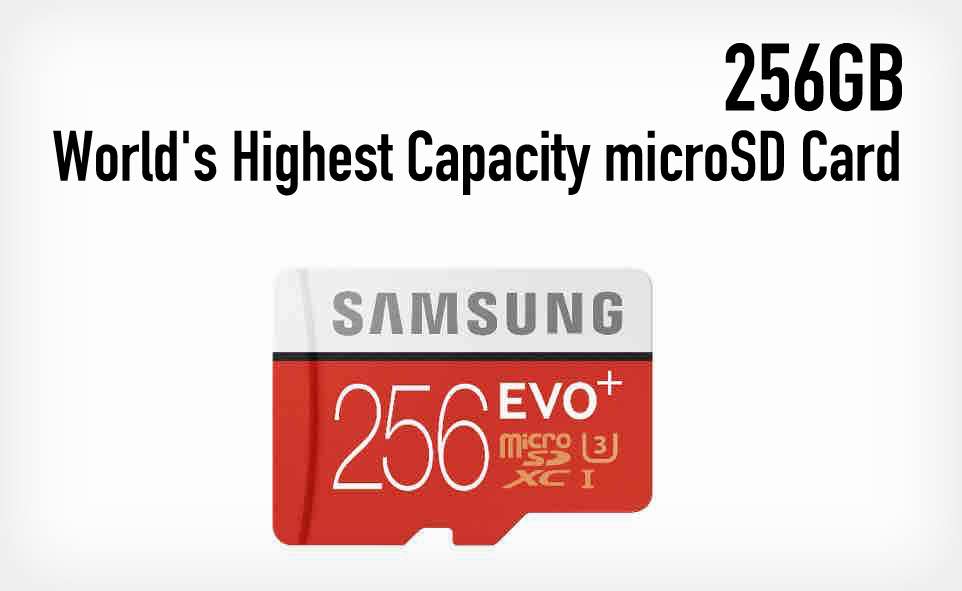 Short Bytes: Samsung, a leading company making a wide range of electronics products, has just released the EVO Plus 256GB microSD card — the world's highest capacity microSD storage device. This microSD card's sale will go live in the upcoming month of June and it'll be available in more than 50 countries.
It was only recently when SanDisk launched a 200GB microSD card and earned the title of the world's highest capacity microSD card maker.
However, now SanDisk will need to settle for the second place as Samsung has just unveiled a 256GB microSD card, making it the world's highest capacity microSD card.
Called the EVO Plus 256GB, this microSD card supports95MB/s read and 90MB/s write speeds. This storage device sounds like the perfect missing piece needed for the advanced HD camera drones or 360-degree VR camera that record videos is high quality.
Taking another close look at the storage capacity, this tiny piece of plastic holds up to 12 hours of 4K clips, 46 hours of HD video, and 55,200 pictures. Apart from drones and camera, this microSD card can also be used in smartphones, tablets, and other portable devices.
If you're looking for detailed specifications, we've got your covered:
256GB of content storage capacity
Waterproof (IEC 60529, IPX7), Temperature-proof, X-ray-proof, and Magnetic-proof
Read and write speeds of up to 95MB/s and 90MB/s, respectively
Speed Class: UHS-1, Class 10, (U3) compatible
Limited 10-year warranty
The company's new V-NAND-based 256GB microSD cards will give users an option to read and write high capacity data at high speeds, according to Mr. Un-Soo Kim, Senior Vice President of Brand Product Marketing, Memory Business at Samsung Electronics.
Samsung's EVO Plus 256GB microSD card will go on sale in more than 50 countries, including USA, China, and Europe. The sale will go live in June 2016 and you'll need to spend $249.99 for the same.
Have something to add? Share your views in the comments below.