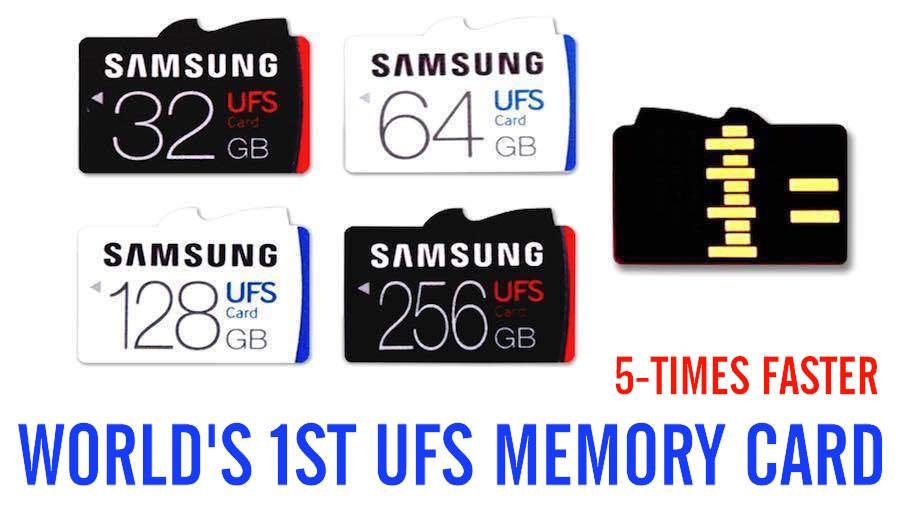 Short Bytes: Samsung has just unveiled the world's first UFS memory cards with about 5-times faster data transfer speed as compared to the commonly used miroSD cards. These storage devices will be arriving in 256, 128, 64 and 32GB capacities. At the moment, the availability and pricing of UFS memory cards are yet to be announced.
R
emovable storage in the form of microSD cards is one of the key points people keep in mind while buying a smartphone. While it might have its disadvantages in terms of speed, there is no denying the fact that people love devices with an option to extend the storage.
Samsung, the Korean technology giant, has just unveiled the successor to microSD cards. Named the UFS (Universal Flash Storage) memory cards, these tiny miracles of technology support blazing fast data transfer speeds. These cards will be soon available in a wide range of storage capacities 256, 128, 64 and 32GB.
These cards could prove crucial while capturing videos in high resolution and situations where one is concerned about the speed. In its announcement post, Samsung also points out the advent of 360-degree videos that need a removable device that supports faster data transfer.
"Our new 256GB UFS card will provide an ideal user experience for digitally-minded consumers and lead the industry in establishing the most competitive memory card solution," said Jung-bae Lee, senior VP, Memory Product Planning & Application Engineering at Samsung.
The latest series of UFS memory cards boast a blistering sequential reading speed of 530MB/s. Thus, compared to the current best-in-class microSD cards, the UFS memory cards are about five times faster. This means the new UFS cards can read a 5GB full-HD movie in 10 seconds. They can also handle the 2-3 times faster sequential writing speeds up to 170MB/s.
The UFS memory cards have already been used as an embedded memory in Samsung's previous flagships Galaxy S6 and S6 Edge. Apart from them, at the moment, there are no products in the market that support UFS memory cards.
Samsung is yet to announce the availability and pricing of these storage devices. So, we'll be keeping a close eye on any developments and announcements being made regarding this successor to microSD cards.
Did you find this article interesting? Don't forget to drop your feedback in the comments section below.
Also Read: Samsung's World's Highest Capacity 256GB microSD Card