Apart from seeing amazing technologies, we often witness grin-worthy fumbles on the part of tech giants. The most recent entrant in the gaffe list is a new tweet by Samsung.
As per a tweet by Samsung Nigeria's Twitter handle, the company promoted the Galaxy Note 9's display, which is posted via an iPhone. The tweet read: "Enjoy stunning cinematic experience on the Galaxy Note 9's SuperAMOLED Infinity display."
However, once the goof situation was noticed by renowned YouTuber @MKBHD, not only was the tweet pulled down, the Twitter handle was deleted too.
Might as well add "Twitter police" to my bio at this point 🤦‍♂️ pic.twitter.com/DRlrXl7bak

— Marques Brownlee (@MKBHD) December 2, 2018
Another thing worth noting is that the recent iPhone XS Max's display has won the 'best smartphone display' award by DisplayMate, which makes the whole incident a lot more humorous.
Furthermore, this is not the first time tech majors have had their blooper moments which involved Apple as their source of promotion campaigns, all spotted by @MKBHD;
A month back Samsung's Saudi Twitter account posted a similar tweet, via the iPhone.
Even our branch 🤦‍♂️ pic.twitter.com/UY2mpeVMMe

— Cool Mohsn (@mohsn95) December 2, 2018
The Huawei Mate 10's promotion by Wonder Woman actress Gal Gadot involved an iPhone too.
Gal Gadot with the Huawei ad… tweeted from an iPhone. Niceeeee pic.twitter.com/aEKJVwoyBL

— Marques Brownlee (@MKBHD) April 24, 2018
Way back in 2015, BlackBerry, via Twitter, promoted its Instagram account, also via an iPhone.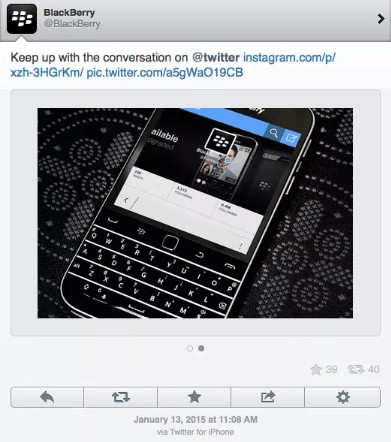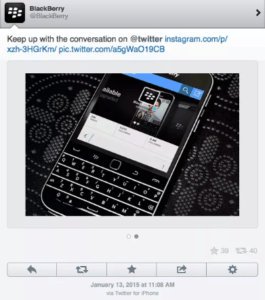 While such incidents offer us a laugh we all need, I think tech companies should start using their social media with discretion!