South Korean tech giant Samsung has published a new white paper detailing its vision for the next generation of telecommunications networks, i.e., 6G. The article addresses various questions, such as when will the 6G launch? What would be the download speeds on 6G? What use cases would it address?
Samsung estimates that the first 6G network should launch sometime around 2028, with broader adoption by 2030. Various nations across the globe are upgrading their network to 5G, yet it hasn't become mainstream. India, which has one of the biggest mobile networks, hasn't upgraded to 5G.
As per the white paper, there will be obvious improvements in connection latency, reliability, and transfer speeds. Samsung says it aims to provide a "peak data rate of 1,000 GBps and a user experience data rate of 1 GBps."
So, on paper, the numbers are enough to dwarf the current 5G network that can offer up to 20GBps of peak data rate.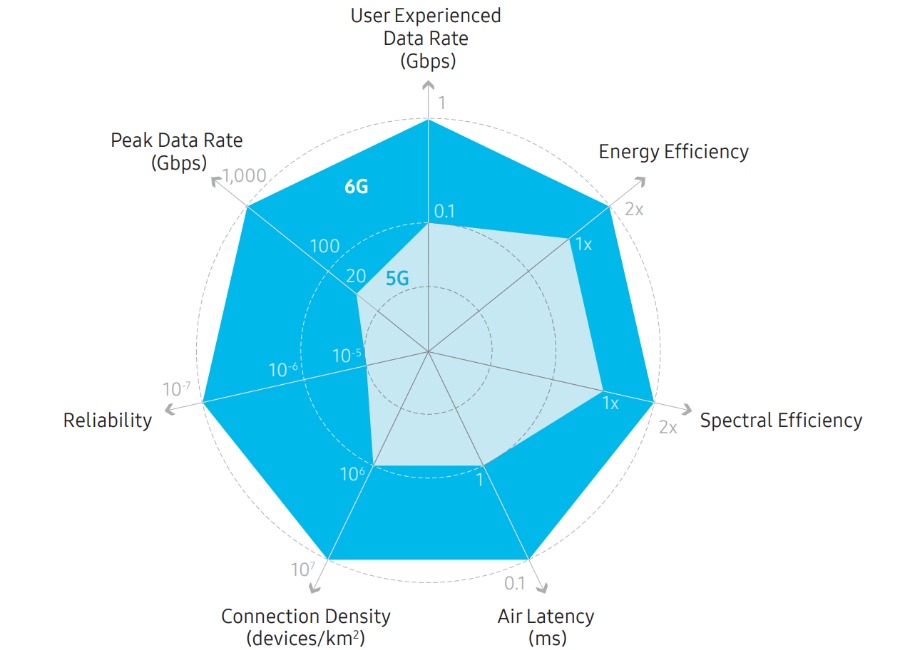 What can you do with these mind-blowing 6G speeds?
Of course, binge-watching Netflix in the highest resolution possible with zero-buffer isn't the only thing we should imagine. Samsung says 6G services will be built on top of what our current 5G network offers.
Here, we are discussing immersive XR (Extended Reality) experiences, mobile holograms, and digital replicas. As per the paper, providing XR experiences in 16K UHD quality will require network throughput beyond what 5G can offer.
For instance, current technology requires 55.3Mbps to stream AR (Augmented Reality) content on an 8K display. Here, a truly immersive AR experience will need 0.44Gbps, so the XR requirement would be a couple of notches higher.
Samsung predicts that mobile devices will be able to render media for 3D Hologram displays. So, maybe in the future, we could expect Star Wars-style hologram video calls. Transmitting hologram data in real-time may show us the real potential of 6G networks since a human-sized hologram in real-time might need several Tbps of bandwidth.

Other 6G uses would include creating digital replicas i.e. creating digital versions of real-world objects and putting them in VR, which will again be a bandwidth-intensive process. In addition, sensors fitted on physical devices could be used to interact with them from the VR world. For instance, someone controlling a robot by interacting with it its digital replica.
It goes without saying that AI will be a part of the next-gen telecom networks. It will be used to reduce bandwidth consumption and other tasks like predicting and fixing network problems.
Furthermore, 6G networks can be made more efficient by using technologies like Split Computing, where the processing workload is distributed across devices.
Here, the paper suggests that open sourcing of a split computing platform would be beneficial given the diverse nature of hardware and developers.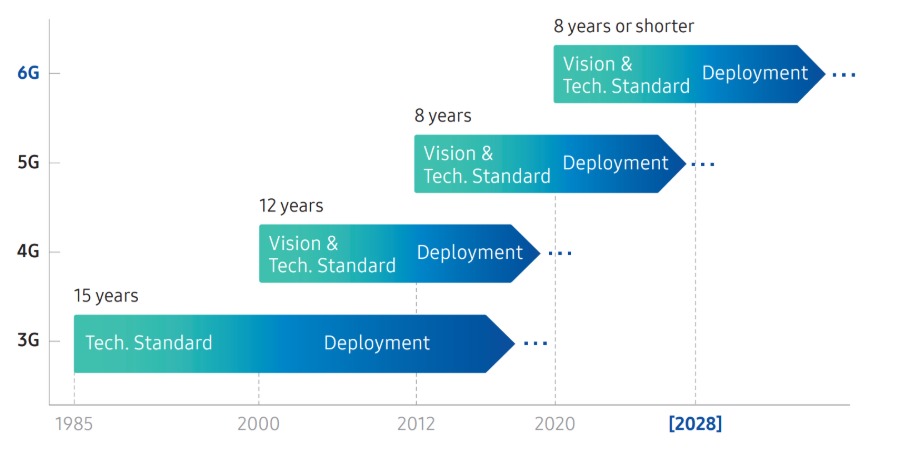 Samsung also notes that the deployment time for consecutive telecom generations have reduced over the years. It was 15 years for 3G, while the world only took 8 years to jump to 5G networks. With that said, let's see how 6G networks actually turn out and what major telecom giants such as Ericsson and Huawei have in store.
Huawei CEO Ren Zhengfei told CNBC last year that the company had already started working on 6G a long time ago, parallel to 5G, but its commercialization shouldn't be expected before 10 years.