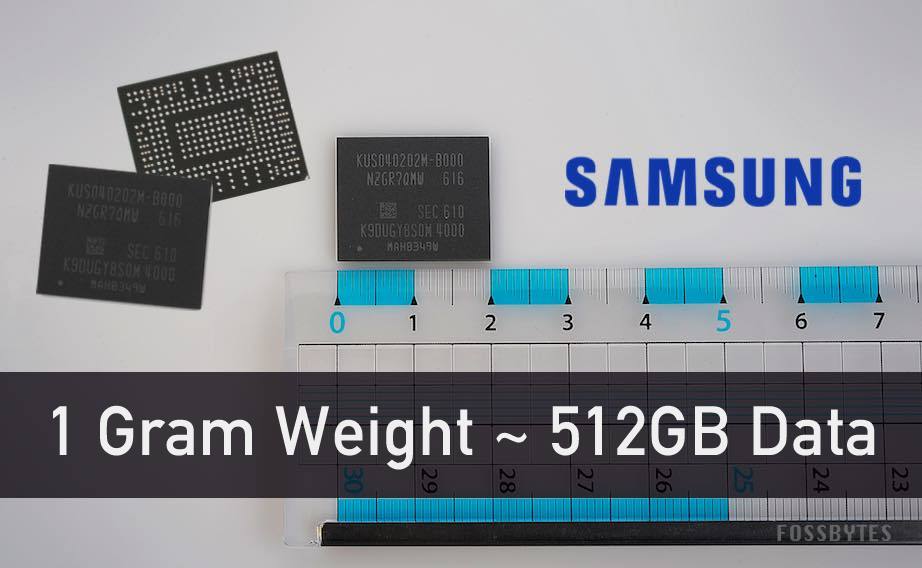 Short Bytes: South Korean tech giant Samsung has announced the first NVMe PCIe SSD in a single ball grid array package. This SSD stores 512GB of data but weighs only 1 gram. Samsung is mass producing these SSDs and it aims to provide them to the customers this month.
A
fter launching the
world's highest capacity microSD card
that stores 256GB data, the technology giant Samsung is here with another surprise in the form of its latest SSD.
In an official announcement, Samsung revealed that it has started the mass production of NVMe SSD of 512GB data storage capacity.
Smaller than a normal postage stamp, Samsung's new SSDs will find use in the next-gen PCs and ultraportable laptops. This is the first of its kind NVMe PCIe SSD in a single ball grid array package. It comprises of 16 48-layer 256-gigabit V-NAND flash chips, a powerful controller, and one 20nm 4GB LPDDR4 mobile DRAM chip.
Talking about its physical specifications, the SSD weighs just 1 gram and measures around 20mm x 16mm x 1.5mm.
This revolutionary storage device will "triple the performance of a typical SATA SSD", said Samsung's Jung-bae Lee in a statement.
With the help of TurboWrite technology, you can get a read and write speeds of up to 1,500MBps and 900MBps respectively. This means that you can transfer a Full-HD movie in just 3-4 seconds.
"Later this year, Samsung plans to introduce more high-capacity and ultra-fast NVMe SSDs to meet increasing customer needs for improved performance and greater density," Samsung said about its future plans.
Samsung will roll out this new PM971-NVMe SSD line-up in 128GB, 256GB, and 512GB storage options.
The South Korean tech giant aims to make these SSDs available to the customers next month.
Did you find this article helpful? Don't forget to drop your feedback in the comments section below.
Also Read: What Is SSD And How SSDs Work?