Leading tech titan Samsung has unveiled two new revolutionary upgrades for the smartphone camera department. One such upgrade raises the pixel-packing capacity in cameras to 200-megapixels (MP), while the other introduces an advanced auto-focus technology that can speed up the time it takes to get the right picture.
These feats are possible because of Samsung's latest image sensors, ISOCELL HP1 and ISOCELL GN5. Remarkably, the former is the world's first 200MP camera sensor, whereas the latter becomes the first sensor to adopt the advanced Dual Pixel Pro technology.
In an official blog post, Samsung listed down the specs and applications of these two sensors. Here's a summary of what they have to offer.
Features Of ISOCELL HP1: The Sharpshooter Sensor
As mentioned earlier, the ISOCELL HP1 boasts the title of the first-ever 200MP mobile camera sensor, thanks to its advanced 0.64μm-sized pixels. This means that the camera can capture highly detailed large pictures in a compact gadget such as a smartphone. The ridiculous amount of megapixels translates into a reasonably sharp picture, whether you resize the original image or crop it.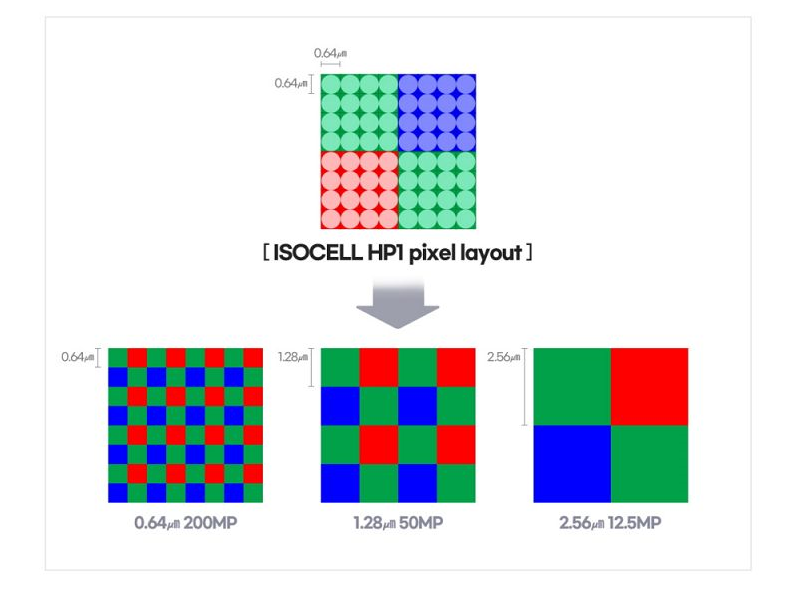 For low-light photography, the camera sensor packs a new pixel binning technology called "ChameleonCell." As the name suggests, this technology helps the sensor transform its pixel size to suit the lighting conditions. The 50MP sensor with 0.64μm pixels switches to 12.5MP mode with 2.56μm pixels indoors or in dark places. This increase in pixel size helps the camera capture more light, resulting in a bright picture even during the night.
When it comes to videos, the HP1 can successfully record 8K-quality videos at 30 frames-per-second without any noticeable compromise in the field of view. While recording 8K footage, the sensor automatically merges pixels to bring it down to 50MP or 7680×4320 (8K).
Features of ISOCELL GN5: Faster Focus Than Ever Before
It's worth noting that ISOCELL GN5 is the world's premier 1.0μm sensor to use the all-directional autofocusing Dual Pixel Pro technology. The GN5 contains a million photodiodes — a pair within each 1.0μm pixel. These photodiodes can analyze the surroundings in all directions and detect any changes that occur. Consequently, this helps the GN5 sensor instantly focus on a scenario and produce a sharp image in any lighting condition.
Moreover, the image sensor also employs Samsung's Front Deep Trench Isolation (FDTI) to enhance the photodiodes' Full-well Capacity (FWC) and reduce pixel crosstalk.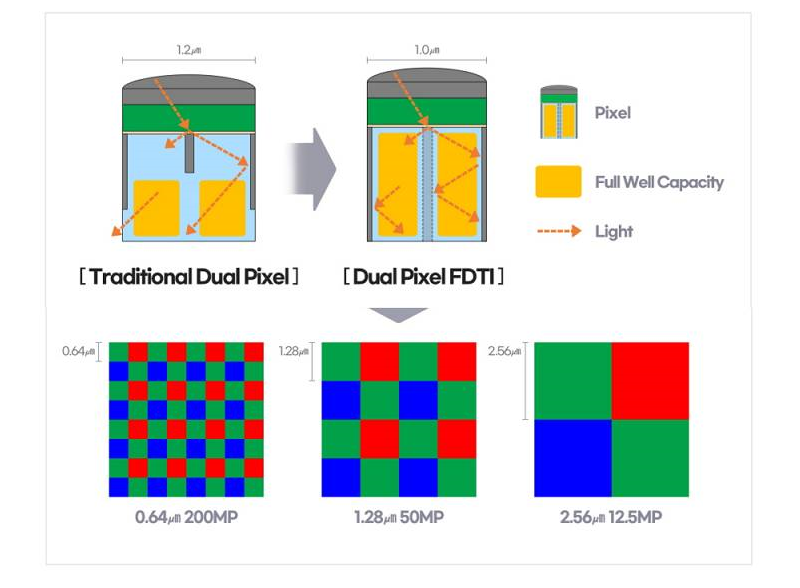 Talking about the newly launched sensors, Samsung Electronics' Duckhyun Chang said, "With the ISOCELL HP1 that is breaking barriers and ISOCELL GN5 bringing ultrafast autofocus, Samsung will continue to lead the trend for next-generation mobile imaging technologies."
Hopefully, these technologies will further bridge the gap between smartphone cameras and professional cameras. This can redefine how much raw camera power you carry in your pocket soon.